Alona Beach in Panglao Island, Bohol is one of the most popular white-sand beaches in the Philippines. This beach was named after the actress Alona Alegre (born 1948).  The reason why this beach was named after her is that she's the first visitor to wear a swimsuit on this beach.
Exploring Alona Beach
This wide beach has plenty of resorts like Boracay because it's beautiful and affordable enough to attract large crowds. Speaking of large crowds, I remember seeing lots of foreigners when we went here. It could be because of the non-working holiday (Thanksgiving) in the U.S that time. Since we prefer the quiet and cost-effective section of this beach, we booked at Alona Tropical Beach Resort.
The beach still looks awesome despite the cloudy weather. The beach's water is very clear and its waves are gentle and safe enough for kids to swim. There were no seaweeds and the sand feels smooth and subtle. Its blue sky and ocean horizon look very relaxing. Exploring this paradise was really a wonderful experience.
We can see in the picture that there are lots of coconut trees. It looked nice at first until we saw one of its large fruits falling on a chair. Ouch! I was even planning to sit there earlier.
Alona Beach at Night
This beach resort is livelier at night. We've seen more people outside at night compared to daytime.  Its flashing Christmas lights and Parols (star lanterns) will keep you awake and make you stay up late.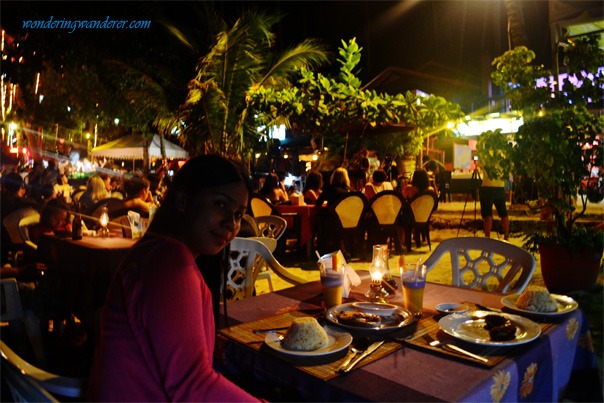 We later saw a kid with an adult (could be his brother, dad, uncle, etc.) performing a fire dance. This reminded me of the time when I told my son not to play with fire. This kid's case is an exemption. He was taught to play with fire but the proper way and with grace.
Live-band Music
A large section of the beach is loud because of the live bands. There was one talented audience who asked a band to let her sing a song she composed. She performed it with a guitar and got a rave from the listeners.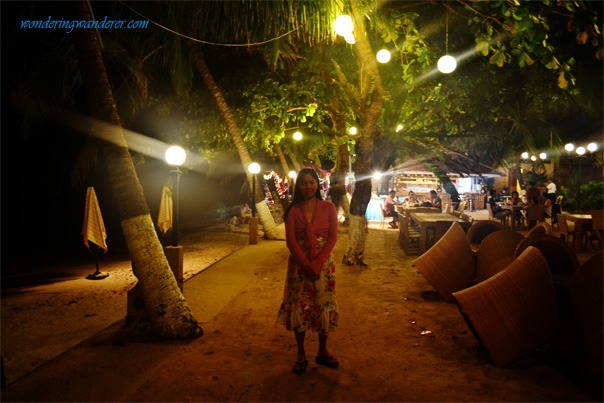 Every night on this beach is so alive with music that it chases you. It chases you to the point where a guy carrying a guitar will come to serenade you if you're eating somewhere not reached by the live band's music.
Seafood and More
This place gives you plenty of seafood options to choose from. You'll find freshly caught lobsters, giant crabs, shrimps, squids and much more. There are lots of restaurants as well which offer Swiss, Italian, Thai and other foreign dishes on top of the local food. So if your trip is food trip, you'll go a very long way here because of the great variety they offer. This is one of the best spots in Bohol for beach bumming.