Sierra Madre Hotel and Resort in Tanay, Rizal is a fantastic getaway that is inexpensive but has a lot to offer its visitors. The kind of experience we had in this large resort went beyond our expectations. What's more nice about it is the fact that it's close to the Metro Manila area which makes it a perfect escape from the city's noise and heat. This serene place is definitely a great venue for retreats, seminars, family outings and team building activities.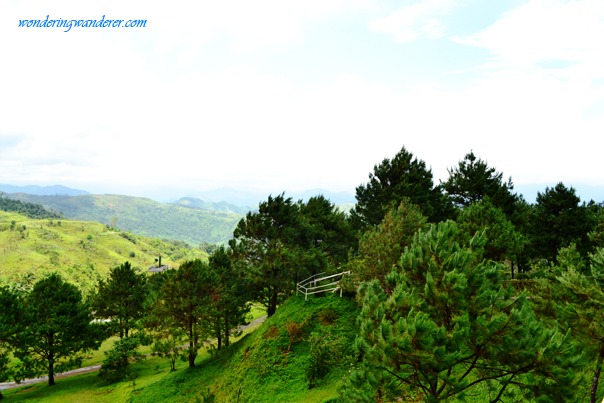 Nature lovers would surely have a great time in this resort as it's brimming with lush green plants and pine trees. On top of that, the resort has its own waterfall and a Prayer Mountain which has an awesome view of Rizal's mountainous slopes. If you've been to Baguio City before, I'm sure you'll notice how this place is clearly a sweet slice of it. All three of us exclaimed the same impression of how it looks like Baguio City the moment we explored it. Anyone who wants to have an idea of what it's like in Baguio City can have a bite of this slice of it. It's funny how the road going here is also called Marcos Hi-way.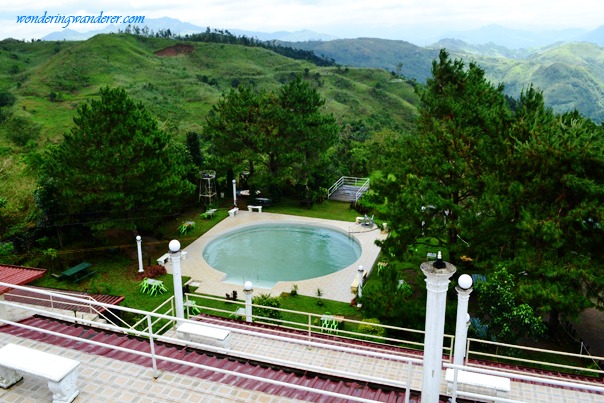 Discovering Sierra Madre Hotel and Resort
It's odd how we got here by accident. Our real intention of going to Tanay, Rizal was to check out Mt. Masungi's stunning karsts. But since we woke up late and took the wrong way—we got short of time. We later decided to just stop by the roadside and take pictures anywhere since the mountainous view along the way looks great anyway. While discussing it inside the jeepney, I saw a resort banner with a P50.00 entrance fee. I told my wife and brother about it right away and they agreed to stay there instead since we won't make it to Mr. Masungi anymore.
The resort's entrance looks modest and we weren't really expecting anything much out from it. We're just happy that we were able to stay somewhere where we can eat our packed lunch comfortably while getting a better view of the mountain slopes compared to our original plan of just doing it by the roadside. So we paid the P50.00 per person entrance fee plus our lunch table of P100.00. They were kind enough to lend us some plates when we bought some soft drinks in their restaurant.
When we're about to get to our lunch tables, we were all surprised by how wonderful the place is and how it greatly resembles Baguio City. Despite our hunger, instead of taking our lunch right away, we couldn't help but have a quick glance at the place first. Our short exploration made our lunchtime a real pleasure because we had a fun time eating at their elegant Greek-themed garden while talking about how wonderful the resort is—and there is still a lot more to be explored!
Rooms and Log Cabins
After finishing our lunch, we rested a bit in their viewing deck where we enjoyed looking at the awesome view of the mountainous slopes. It's really nice to enjoy the relaxing view of the mountains and trees while getting refreshed by the cool fresh air at the same time. We took some pictures then decided to check out the whole resort further. We started by checking out the rooms which we found to be cozy enough for our planned family trip in the future. Its setup is good because all floor levels have its own terrace.
It was a long way down from the viewing deck going to the log cabins. These log cabins seem to be the best option when you are visiting this resort with a large family. Its accessibility to the swimming pool makes it easy for children to go back and forth their rooms. They've even put up some statues of totems, cowboys and Indians to give it the old Wild West theme. With just a few steps from these log cabins, a cement trail can be seen which you can use as a guide to explore the other section of the resort.
Swimming Pool and Zipline
We followed the cement trail and along the way, we saw the resort's tall zip line platform with rope-climbing cables attached. Since the resort is on a hill, we had to be a bit careful going down because the path is very steep in certain areas. When we reached the other section of the resort, we found out that there's another swimming pool along with a set of rooms. It's actually larger than we thought! As nature lovers, what we're really targeting to see first is the resort's waterfalls. We found out later that the waterfalls are at the exact opposite section of the resort which took us a very long walk.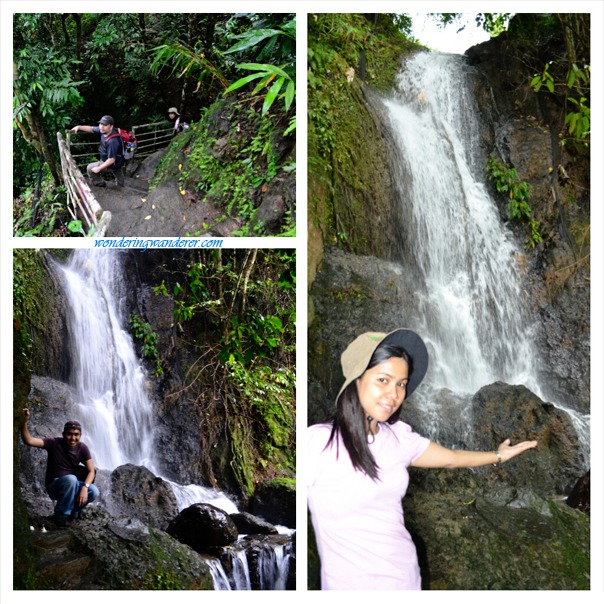 Sto. Niño Waterfalls
The name of the waterfalls is Sto. Nino Waterfalls. A small statue of the Sto. Nino (Baby Jesus) can be seen along the way while going down its stairs. So far, this is the smallest that I've seen but it's also the only waterfalls that I've seen inside a pool resort. Big or small, the splashing sound coming from these never fails to give me that relaxing feeling. After checking out the waterfalls, we saw a rope bridge then took photos with it as if we're crossing it. It's really unsafe to cross it all the way because the height of the ravine below it is enough to cause a serious injury. I remember showing this picture to my mom and told her that she needs to pass that rope bridge before reaching the waterfall which made my wife and brother chuckle.
Prayer Mountain
Our next goal was to climb up the Prayer Mountain. We were motivated by the fact that we'll see a fantastic view of the resort up there from a different angle. It's nice that they've placed some roofed chairs up there where the visitors can relax after the long climb. Before heading there, we came across an empty swimming pool with a children's playground around it. We played a bit there while taking turns in the restroom to brace ourselves before taking the challenge of reaching the top of the Prayer Mountain.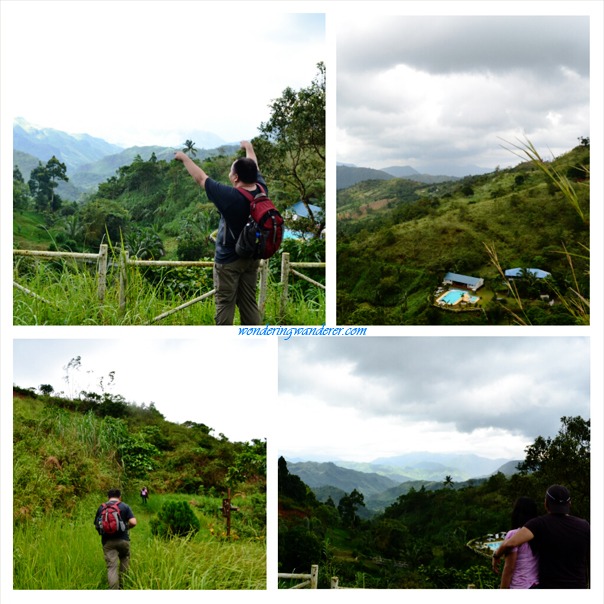 They made it easier for the visitors to find the right path to climb up the hill by placing some crosses and handrails as guides. The hill looks small from afar but climbing it wasn't really easy. For someone who's not used to climbing—you would really get forced to pray to make it on top. After a long and tiring climb, we knew that we're half-way to the top when we saw some roofed-chairs along the path. The view half-way there was already awesome so we rested a bit then took some pictures first.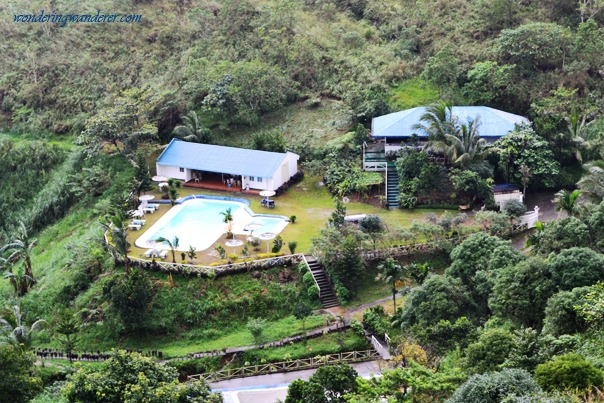 Sudden Rain
After around 5-7 minutes, we started climbing again. Things started to get gloomy when we were close to the top—then a small amount of rain started to drizzle. We hurried to reach the top to get shelter. It was a dramatic moment for us because the odds have favored us. The moment we reached the very top and got ourselves sheltered by the roofs—that's when the rain poured heavily.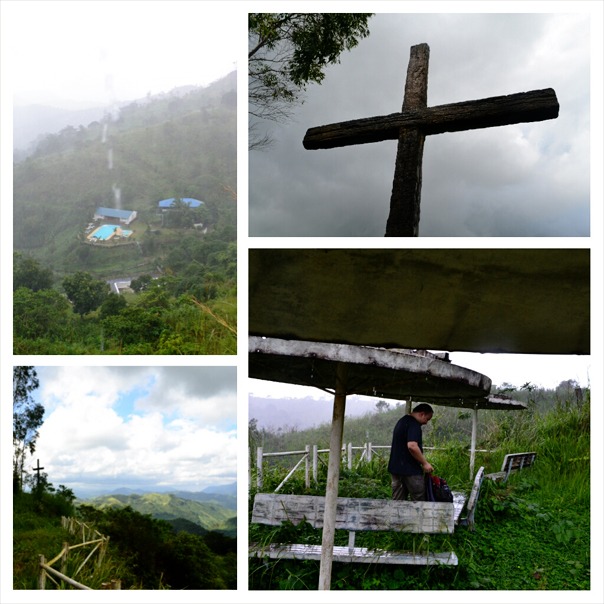 The rain lasted for ten minutes only. After the rain, despite our exhaustion, we managed to do some jump shots out of joy because we made it on top and the awesome view was all worth it. We savored every moment up there by simply relaxing and enjoying the view. After having enough fun, we decided to go back home already because we can't stay late since we need to catch up on my birthday celebration which starts around six in the evening.
Getting Muddy
While walking down the hill, we saw a rope shortcut half-way the path which we didn't notice before. Because of our adventurous spirit, my wife and I gave it a try but when we were close to the ground—she, unfortunately, slipped a bit which caused her clothes to get muddy. It didn't turn out to be a good shortcut at that time because everything became slippery and muddy after the rain—we had to be extra careful going down. It's ironic how my brother who took the walkway, which is supposed to be a long way, got ahead of us.
After getting down, we immediately looked for a faucet where we can clean our shoes filled with mud. The caretaker was kind enough to direct us to the closest faucet and had a laugh with us about what happened. After getting ourselves clean, we decided to head back to the reception area to exit. Along the way,  we saw an enclosed area which made us curious. After a closer look, we saw some horses standing quietly but are untied. We checked later if they offer a horseback riding service but we haven't seen one on their list.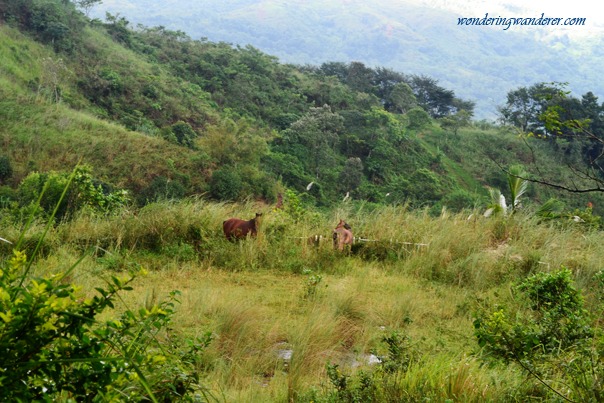 Leaving Sierra Madre Hotel and Resort
When we finally got out of the resort we waited for a jeepney to head back home. It took around 15-20 minutes before we were able to ride one. We expected it since it's common for public rides like these to have long intervals in a remote area like this. Along the way, we saw Mt. Masungi which is our original target to visit. We just laughed when we saw it because we have no regrets even if we missed it. Our experience reminds me of J.R.R. Tolkien's poem line "Not all who wander are lost."
Large But Budget Friendly
On our way home, we've talked about how a typical resort here in the Philippines is in a small closed area with swimming pools, cottages and some have slides but are charging much more than this resort. Who would have thought that a wonderful resort like this existed in the middle of nowhere like an oasis? What's more nice about it is the fact that it's not crowded (yet) and is just sitting alone in the long stretch of Tanay's road unlike the resorts in Laguna. I like the resort's tag line on their website which says "Where nature is at its extreme…" because a visit here would really put your heart much closer to nature.
How to get to Sierra Madre Hotel and Resort from Metro Manila:
Cubao, Quezon City is the closest gateway to this resort.
The first step is to ride a jeepney or an FX van from Cubao to Cogeo. Once in Cogeo, ride a jeepney going to Sampaloc and look on your left until you see Sierra Madre's signboard. The travel time is approximately 1 1/2 hour from Trinoma depending on the traffic situation. Make sure to leave around 5 PM to be safe. The jeepneys passing by the resort is until 6 PM only.

The Sierra Madre Hotel and Resort
Address: Km 58 Marcos Hi-Way, Bgy. Mayagay, Tanay, Rizal
Contact Person: Miss Cha
Contact numbers: 09196563081, 09087208234, 9132001 or 6974321
Facebook page:
https://web.facebook.com/sierramadrehotel123/
Please check their updated rates in their official facebook page

The Sierra Madre Hotel & Resort Video