Picnic Grove is a pleasant attraction in Tagaytay City that lets you embrace the beauty of nature. Surround yourself with its lush green trees and plants while enjoying a scenic view of the Taal lake and volcano. Escape the city noise and heat with its serene environment, cool temperature and soothing fresh air.
Your Picnic Grove experience won't be complete without having a delightful picnic in their Picnic Town. Your food will taste much better because of its blissful surroundings. The soft touch of the cool breeze, gentle sway of the pine trees and the sweet whispers of the birds will make you feel refreshed as you take every bite.
Whether it's a short afternoon nap on its grassy field or a fun family gathering on their wooden tables—this charming place won't fail to enhance the quality of your experience.
Exploring Picnic Grove
I've been here a few times since high-school and I used to enjoy old-school skating at their oval. We later saw that the oval was converted to a motor parking lot. For most parts, I'm really happy that Picnic Grove hasn't really changed a lot since my first visit. In fact, it actually improved for the better. The huts, rails and walkways were regularly repainted and the entire place is clean and green as before.
Every time we visit this place as a family, we make it a habit to bring a picnic mat to have a better outdoor feel. It's really nice to just lie down and relax on its picnic area while enjoying the beauty of nature. There was one time that I took a nap because its cold temperature will really make you feel sleepy. The picnic mat can also help you save money because renting their table will cost you P100.00.
Horseback Riding
It was our first time to ride a horse when we went here in 2005. Their field is wide enough for the horse to get that chance to gallop a bit. The trainer made the horses walk more carefully most of the time for safety reasons. Having watched a lot of movies with horse riding scenes, it was really nice to experience what it's like first hand.
It made me nostalgic about my childhood experience riding a water buffalo. I was about four years old and I can't remember anymore who placed me on top of the water buffalo when I was playing with my friends in the province.
What I can't forget is how the spine of the water buffalo was hurting my bottom every time it walks because it doesn't have a saddle. That experience made me appreciate the importance of having a saddle at the back of a horse.
Viewing Deck and Eco-trail
The viewing deck is practically the starting point of the Eco-trail. It allows you to get the widest view of Tagaytay and nearby provinces because it's on top of an elevated corner in the Picnic Grove. The pergola that they added there made the viewing deck look more elegant. It also lets you brace yourself for a long and tiring walk as you look at the length of the eco-trail on its right side.
A leisure walk at the Eco-trail is where you'll get the best nature experience. It may seem tiring and hard if you look at the long trail but once you start walking and appreciate the view—you'll feel more energized as your adventurous spirit fuels you. Having a fun conversation with your family and friends as you walk will make you forget about the time and distract you about your worn-out feet. You'll just get surprised that you're already at the end of the trail once you get there.
Hanging Bridge and Zip Line
Several stops to take a photo or to simply check the view is expected here—especially if you travel with a group. The most popular stop, of course, is the hanging bridge. Picnic Grove's shaky wooden-bridge adds thrill to your leisure walk. Stopping by in the middle of the bridge then looking down below to see how high you are is a bone-chilling fun experience.
If you're too lazy to walk and want to get ahead of your group, you can consider riding their zip line. This will take you straight to the opposite end of the eco-trail and will even spare you from the steep climb at the last part of the trail. If it's the entire group that is lazy to walk—they also have a cable car that can take everyone there.
Signature Picnic Huts
I bet that the reason for having a lot of picnic huts at the end of the eco-trail is its closeness to the Taal volcano. Their strategic position in the slope gives the visitors an unobstructed view of the Taal lake and volcano. It's great to see that these sheds are still looking good as before. Their concrete and sturdy built are clearly reliable.
On top of providing shelter, they're also there for aesthetics enhancement. Seeing them grouped together is an inviting sight that makes the Picnic Grove more charming. Their images are in fact used to represent the place.
Shopping and Recreational Activities
There's a small group of stores near the picnic huts where you can buy souvenirs, ornaments and many other items. After our long and tiring walk, we can't help but buy some refreshments there to make up for our lost body liquids. We also bought ice cream for our child to keep him from misbehaving.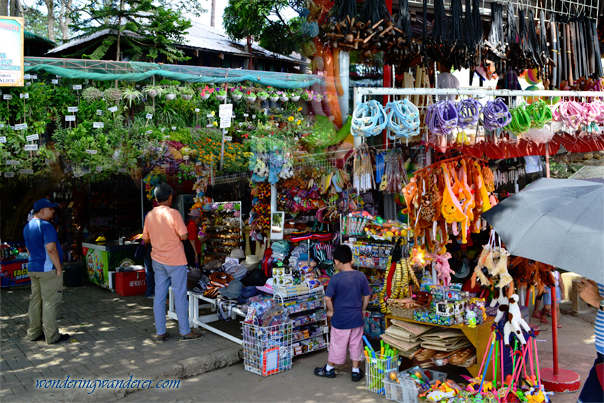 They have a new playing area called Picnic Bounce where parents can let their children play while they go look for items to buy. If you're trying to save some money for your child's recreation, you can feel free to bring your own kite and have them play at the kite flying area.
Picnic Grove Rates
Entrance Fee: P50.00
Parking Fees
Cars or Vans: P35.00
Jeepneys: P50.00
Buses: P100.00
Cottages and Sheds
Table (8 pax): P100.00
Picnic Huts (8 pax): P150.00
Family Shed (16 pax): P300.00
Pavilion (20-25 pax): P500.00
Function Room at Viewdeck (70 pax): P2,500.00
Horseback Riding
Small Horse: P150.00
Big Horse: P200.00
Zipline & Cable Car
Weekdays
1 Way Ride: P200.00
2 Way Ride: P300.00
Weekend/Holidays
1 Way Ride: P300.00
2 Way Ride: P400.00
Additional Coffee Mug Souvenir: P200.00
Picnic Grove is open from 7:00 AM to 7:00 PM
Picnic Grove Map

Overnight Stay in Picnic Grove
If you want to have an overnight stay in Picnic Grove, it's actually not available anymore. They used to have hostels inside the area in 2005 but we later saw they were already demolished. You may see some tents on their grounds but those are for day tour use only.
But if you want to have an overnight stay near the Picnic Grove, we have 5 hotel recommendations for you listed below.

Alzeah's Place Room for Rent
900 m from Picnic Grove
Address: 001 Seis De Junio Village, Barangay Sungay East, 4120 Tagaytay, Philippines
Mobile: 0922 894 0792

Private Unit at One Tagaytay Place Hotel Suites
1.4 km from Picnic Grove
Address: 5th Floor, One Tagaytay Place Hotel Suites, 445 Tagaytay-Calamba Road, Bo. Sungay West, 4120 Tagaytay, Philippines
Mobile: 0977 857 7750

One Tagaytay Place Private Residences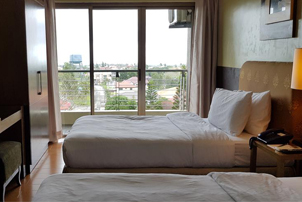 1.3 km from Picnic Grove
Address: One Tagaytay Place, 445 Tagaytay-Calamba Road, Sungay West Tagaytay City, 4120 Tagaytay, Philippines
Mobile: 0917 847 3964
One Tagaytay Place – Room for Rent
1.5 km from Picnic Grove
Address: 445 Tagaytay – Calamba Road Unit 422, 4120 Tagaytay, Philippines

One Tagaytay Place by JG Vacation Rentals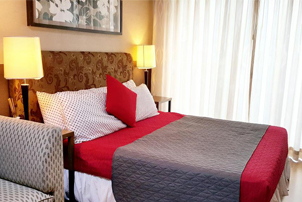 1.5 km from Picnic Grove
Address: 445 Tagaytay-Calamba Road, Barrio Sungay West, 4120 Tagaytay, Philippines
Phone: (02) 274 5236