Sky Ranch is known for its Sky Fun Amusement Park, cafés and picturesque view of the Taal volcano. Situated on a high altitude cliff in Tagaytay City—its cold temperature makes it an ideal escape from the country's hot climate. It became the Philippines' first carnival park on a mountain when it opened on May 2013.
A Ferris-wheel allows you to get a wonderful elevated view of your surroundings but how much more if it's standing close to the edge of a mountain? This theme park is called "Sky Fun" for a very good reason. As the Ferris-wheel slowly turns upward, you would literally hold your breath as you gaze at the breathtaking view of Tagaytay and Batangas.
Exploring Sky Ranch
We went here after having our lunch at the Picnic Grove. The first thing you'll see when you line up at the ticket booth is their horse-back riding attraction. I guess they're making it clear up front so you won't wonder anymore why the place is called Sky Ranch. The length of the queue wasn't really bad considering that it was summertime when we went here.
It was great to see that there were plenty of options where you can eat. From luxurious restaurants to fast foods and budget-friendly stalls—you won't have to worry about getting there on an empty stomach. Since we're a large group on a budget, we found it best to bring our own food and eat at the Picnic Grove before heading here.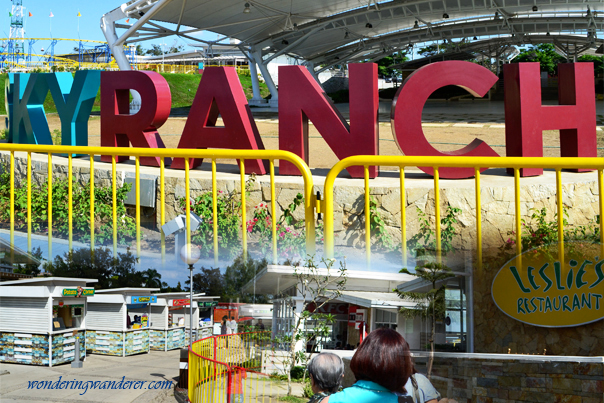 Sky Eye
The moment we got here, we were eyeing at one thing only—the Sky Eye! It's like the elevation of Sky Ranch wasn't high enough that you have to ride this thing to reach for the sky. You'll have that delightful heightened feeling because of the thrill of moving upwards on an already high spot. This literally lets you reach greater heights in terms of motion and emotion.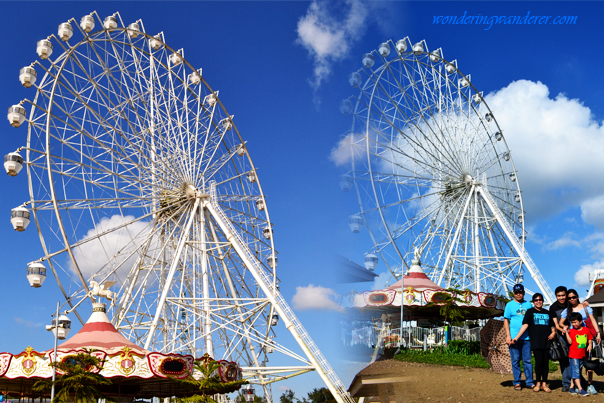 The long line of visitors to this ride is not really surprising because the Sky Eye lets you enjoy a higher view of the Taal Volcano, the lake and the greeneries. What I found odd is its enclosed and air-conditioned gondolas because of the cool temperature of the site. What's more ironic is that most of the Ferris-wheel gondolas in the humid Manila are the ones which are open-air.
I can say that this is the best Ferris-wheel ride that I've enjoyed so far. The location of this ride really made a big difference.
Various Rides
Having been to different theme parks with unli-ride tickets, it's nice to know what rides we can skip and just pay for compared to the ones we want to try again. The Super Viking ride is definitely a fun and thrilling ride but it's not a good option when your stomach is full so we skipped it. Having a kid around, we went for the Nessi Coaster.
This sweet small ride brought a big jolly smile to our little kiddo. It was his first time to ride one so he was laughing and shouting out of enjoyment during the ride. The mild thrill for us adults was healthy for our digestion. This is a fun ride that is suitable for all ages.
There are more rides that we didn't bother to check anymore because of the long queue and wait time. Since we're more about enjoying the view and chilling out, we just let our son enjoy a cute bumper boat ride as we relax and appreciate the beauty of nature around Sky Ranch.
An amusement park on top of a mountain slope like this is truly a brilliant concept.
Sky Fun Amusement Park Rates
Entrance Fee:
Weekdays (Monday to Friday) – Php80.00
Weekends (Saturday & Sunday) and Holidays – Php100.00
Free entrance for children 3ft and below.
Hours of Operation:
Monday to Friday: 10:00 AM to 10:00 PM
Saturday, Sunday and Holidays: 8:00 AM to 10:00 PM
Rides:
Bubble-O-Fun: P50.00
Drop Tower: P100.00
Flying Bus: P100.00
Express Train: P80.00
Grand Carousel: P50.00
Jump Around: P50.00
Log Coaster: P100.00
Mini Viking: P50.00
Nessi Coaster: P50.00
Red Baron: P50.00
Safari Splash: P80.00
Snail Attack: P50.00
Sky Cruiser: P100.00
Sky Eye: P150.00
Super Viking: P100.00
Top Dancer: P100.00
Wonder Flight: P50.00
Zipline: P500.00
Sky Ranch Map
How To Get There:
Take R-6, Paco-Sta. Mesa Rd/Tomos Claudio and Quirino Ave/C-2 to S Luzon Expy/Osmeña Hwy/R-3 in Paco, Manila
Take Metro Manila Skyway and S Luzon Expy/Pan-Philippine Hwy/R-3 to Santa Rosa – Tagaytay Rd in Pulong Santa Cruz, Santa Rosa. Take exit 38 from S Luzon Expy/Pan-Philippine Hwy/R-3
Continue on Santa Rosa – Tagaytay Rd to Silang Junction South, Tagaytay
Continue on Tagaytay – Nasugbu Hwy. Drive from J.P. Rizal St/Mahogany Ave to Kaybagal South
Turn right to reach Skyranch