Sea Breeze Resort and Restaurant is Taguig City's first swimming pool resort which was constructed in the late 90s. Having been expanded and renovated over the years—it now has 10 swimming pools and boasts its very own wave pool. Aside from its tall slides and several swimming pools, it also has an events hall and a climbing wall. Located within Metro Manila, this is a great option for team building activities, weekend escape or summer outings.
Background
As a former student of the school behind this resort, I've seen how it was constructed from the ground up. I still remember how my classmates suddenly stood up and flocked the windows after someone shouted that he saw the actress Ynez Veneracion during the resort's debut. They eventually constructed a small hotel that blocked the view of the students but some parts of the resort can still be seen from our school.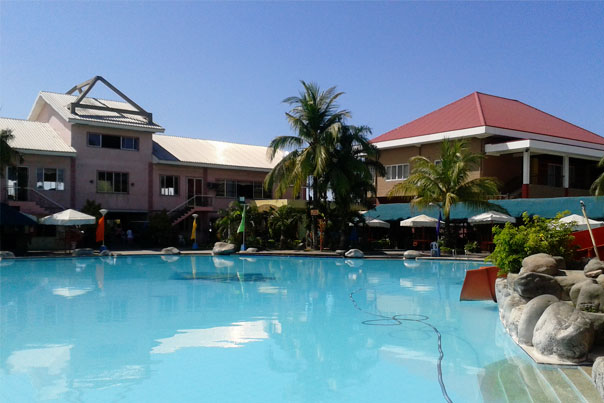 Its name is technically a mismatch because what you'll get there is a bay breeze instead of a sea breeze as it used to be beside the Laguna de Baý (Laguna Lake). I still remember how the lake's water went high enough to flood our school premises. Perhaps they named the resort that way to avoid any confusion or association with the Bay Breeze subdivision. The gradual reclamation project to expand the subdivision and the construction of C6 road made this resort far from Laguna Lake now.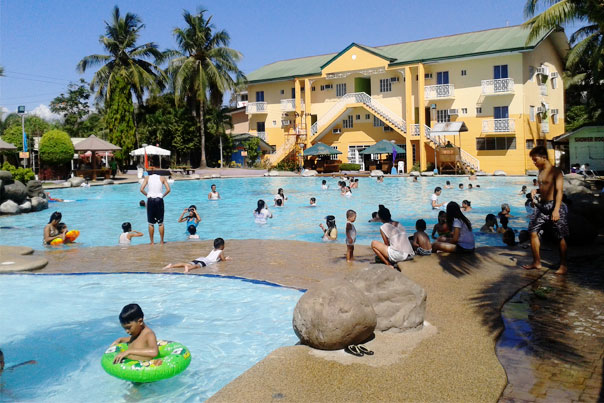 Upon its completion, our family and friends were delighted with the fact there's now a swimming pool resort which is just a 15-minute drive away from home. At least, back in the late 90s. Since then, we've been visiting this resort on different occasions.
Sea Breeze Resort and Restaurant Experience
During the resort's early days, our number one complaint about it is their pools' strong chlorine. I remember my cousin telling us that he accidentally drank about 1/4 of a glass of swimming pool water by accident and got a fever the next day. As the resort improved and expanded over the years, what we were complaining about eventually changed. The water quality was better during my last visit there.
The resort's entrance fee is a bit higher compared to most of the swimming pools in Laguna but it's still getting plenty of visitors because of its accessibility. They used to allow their guests to bring their own drinks but they're now restricting soft drinks and alcoholic drinks. You can only buy those in the resort's restaurant.
With regards to accommodation, they have a good number of huts and cottages to accommodate plenty of visitors. Despite that, it's best to visit this resort during weekdays because it can get overcrowded during weekends and holidays. You'll have a very small space to swim and have a hard time getting a parking space.
Sea Breeze Resort and Restaurant Info
Address: M. L. Quezon Avenue Taguig
Phone: 837-38-37/838-10-02
Mobile: 09228342687
Open 24 Hours
Day swim 7:00 AM TO 5:00 PM
Overnight 7:00 PM TO 5:00 AM
* Bringing of soft drinks and alcoholic drinks are not allowed. Beverages are available inside the resort.
* Pets are not allowed inside.
ENTRANCE FEE

DAY SWIM
Monday to Thursday 7 AM to 8 PM
Adult (4'1 ft. and above) – P250.00
Kids (4' ft. and below) – P200.00
Friday 7 AM to 5 PM
Adult (4'1 ft. and above) – P250.00
Kids (4' ft. and below) – P200.00
Saturday 7 AM to 5 PM
Flat Rate – P300.00
Sunday 7 AM to 8 PM
Flat Rate – P300.00
NIGHT SWIM
Friday and Saturday 7 PM to 5 AM
Flat Rate: P300.00
ACCOMMODATION
Stone Table – P500.00
Umbrella Stand – P500.00
Small Cottage – P800.00
Stone Hut – P800.00
Solo Cottage – P1,000.00
Villa – P1,500.00
Terraza – P2,500.00
Patio – P2,500.00
Pavilion Up – P3,500.00
Pavilion Down – P3,000.00
Related Posts: Bosay Resort & Campuestohan Highland Resort