Zoobic Safari is not just about letting you see the animals from afar but is about letting you interact with them as well. From the name itself, it's clearly a combination of a Zoo and a Safari that is located at Subic Bay Freeport Zone. Seeing the animals freely roam in the wild as you safely travel near their habitat is a fun adventure that is truly memorable.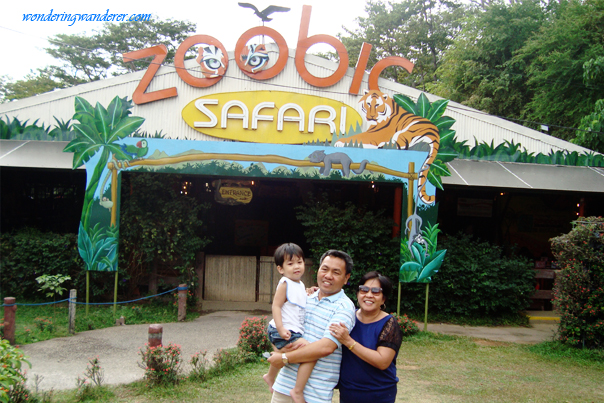 You don't need to go to the Middle East to see a camel or go to India to see a white tiger. Have a pleasant time watching rare birds and other species that are bred and taken good care of in their animal sanctuary. Delight yourself observing the cute and cuddly hedgehogs, fluffy bearcats and the chubby wild boar babies.
Exploring Zoobic Safari
We went here after our tour to the nearby Ocean Adventure. Upon paying the tickets, the first animal encounter you'll enjoy is a photo op with a white tiger. These are tamed and safe to touch. The guide asked everyone to touch the white tiger then I was instructed to hold a bottle of milk for the tiger to drink. Our son can't help but cry non-stop at the sight of the tiger.
Bird Thrill
Our next stop was the "Bird Thrill" which is unquestionably thrilling because of how close you can interact with the birds. I like their setup of putting the birds in a very large cage which has trees and plants inside instead of confining them in small cages.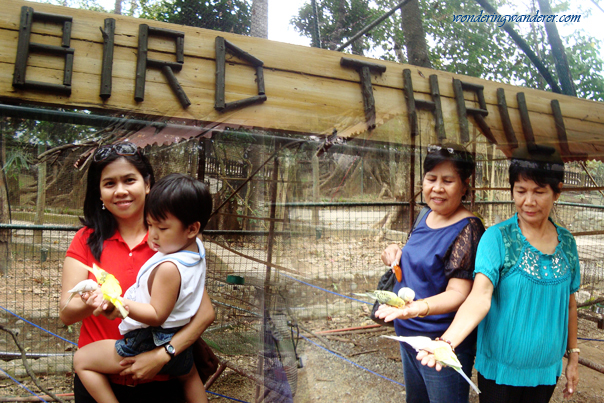 It's nice to see them roam in a much wider space and freely come to our hands to eat. The large-beaked hornbill was just steady and calm when I took its picture. It is really amazing how they're not afraid of the people coming close to them.
Rodent World
This world is not something you've seen in thriller movies where a large group of rats overruns a quiet town or a house. The rodents here are adorable, cuddly and are free from any diseases. The hedgehogs were sleeping like rocks when we saw them but the guinea pigs were constantly moving around. There were hamsters and rabbits as well.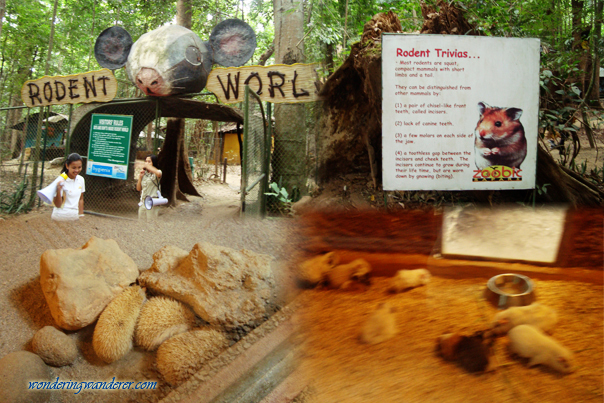 Various Animals
After stepping outside the Rodent World, we saw more adorable animals like the chubby baby boars and the fluffy bearcats. The large ostriches and the wild boars were in the same cage but are getting along fine. The other animals have their own cages, like the deers and monkeys but my favorite of them all is the camel.
So far this is the only place where I've seen one. I've been to different zoos in the Philippines and some abroad but I never saw a camel. They look so calm, gentle and harmless. I hope that they can add a two-hump camel in the future.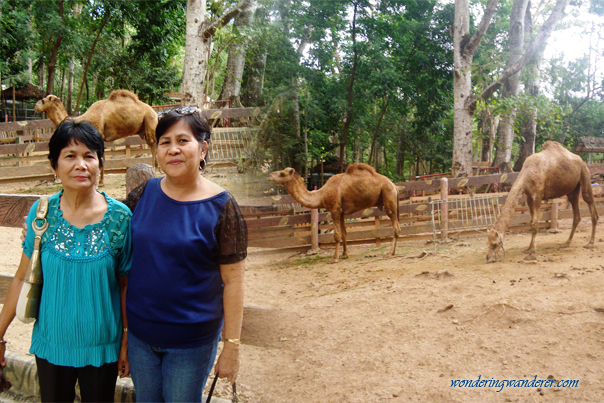 Tiger Safari
Perhaps this is the most thrilling attraction of them all. Riding a vehicle that is flocked by a group of wild tigers seems like a movie scene. The guides have prepared some fresh chicken meats to attract the tigers closer. Some of them even leaped to the jeepney's roof. You really need to watch out your fingers from sticking out on this one.
It has this zombie apocalypse setup where the hungry zombies are struggling to bite you as you're trying to escape. Seeing the tigers all around us was a fun bone-chilling experience.
Aetas Trail
After the Tiger Safari tour, we transferred to a train which took us to the Aetas Trail. Before getting there, we came across different animals running in the wild like in a savannah. Most of them are the same animals that we've seen in their mini-zoo but they can roam more freely.
When we finally reached our destination, we saw a short parade of the Aetas. They later performed a native dance along the beat of the drum. Their curly hair is their most known feature. Zoobic Safari is not just about the animals but is also about learning the culture and way of life of the people before modern times.
This is the last attraction that we visited in Zoobic Safari. A visit to this animal sanctuary is really great for the family!
Zoobic Safari Rates
P695/ adult
P595 / child 3ft-4ft
Free of Charge 3 ft below
LOCATION
Group 1 Ilanin Forest, Forrest Adventure, Subic Bay Freeport Zone
OPERATING HOURS
8:00 am – 4pm ; Open daily from Monday-Sunday
CONTACT NUMBER: (047) 252-2272 ; (02) 847-0413
Zoobic Safari Map