Mount Samat National Shrine in Bataan is known for its colossal Memorial Cross which is currently the second tallest cross in the world. This was constructed to commemorate the bravery of the fallen soldiers who fought against the Japanese during World War II. A breathtaking view of the mountains and the West Philippine Sea can be enjoyed by its visitors. Corregidor Island is also visible here on a clear day.
An elegant Colonnade can be visited just right below the Memorial Cross. The details of what took place during the Battle of Bataan are inscribed on its walls. This monumental structure is painted in white and is mostly made out of marbles. The artistry of its stained glass murals is a splendid masterpiece.
Construction of Mount Samat National Shrine
In preparation for the grand celebration of the 25th Anniversary of World War II, then-President Ferdinand Marcos ordered the construction of Mount Samat National Shrine which started on April 14, 1966. This was constructed to honor the Filipino and American soldiers who sacrificed their lives during the Battle of Bataan.
The project includes the construction of the Memorial Cross, War Museum and the Colonnade. World War II armaments and paintings of Filipino heroes were added as well. Upon its completion, it became the World's Second Tallest Cross. The first one on the list is Spain's Valle de los Caídos which is located at Sierra de Guadarrama. Rehabilitation was done on April 28, 1998, during the term of former president Fidel V. Ramos.
Exploring Mount Samat National Shrine
After visiting Ocean Adventure and Zoobic Safari, Mount Samat was our next target. As we were traveling up its steep mountain road, we were surprised to see traffic. I went down the car to see what caused it and found out that there was a tree lying on the ground. Things like this could actually happen despite the good weather so make sure to avoid stormy seasons when coming here.
The uphill drive close to the Memorial Cross is the steepest that I've encountered so far. Everyone in the car had a wild reaction out of surprise of its very high elevation. It made my stomach twist a bit which I never experienced during our trip to Baguio and Sagada. Our driver who has been there before was laughing hard because he was expecting our reaction.
Memorial Cross
When we finally reached the Memorial Cross, everyone was amazed at its size and marvelous stature. Another surprise hit us when we were told that we can actually get inside the cross. We were told that it's still using the elevator that was installed in 1966. It's amazing how the old elevator is still fully functional and well-maintained. There were plenty of us so we had to get up there in two batches.
The space inside the cross is big and there were plenty of chairs. It was nice that some of the glass windows can be opened because it allowed us to get a better picture of the mountain range. It was a pleasure to see the picturesque view of the lush green trees, the sea and the nearby islands.
After enjoying the view inside the Memorial Cross, we relaxed a bit outside to simply appreciate its beautiful garden and fresh air.
Colonnade
It was great to have a driver who has been in the place before because he made our lives easier by sparing us from a long stair climb. He headed straight up to the Memorial Cross then dropped us there before going down to the car park where the Colonnade is. He then instructed that we can take the long stairs down to the Colonnade and meet him there.
The simple architectural style of the Colonnade is simply refined. It has the perfect theme to honor the heroes of World War II. Wonderfully carved bas-reliefs that depict the events during the war decorate its walls. With its number of pillars and sturdy marble layers–this structure was clearly made to last for generations.
Palace in the Sky vs Mount Samat National Shrine
The Colonnade has been there since 1966 yet it looks good as new. It was very clean and seems to be regularly repainted. The plants in the garden surrounding it are well-trimmed and there were no piles of dry leaves around. I was reminded about how the structures in the Palace in the Sky (People's Palace) in Tagaytay already looks abandoned in the few times we've been there.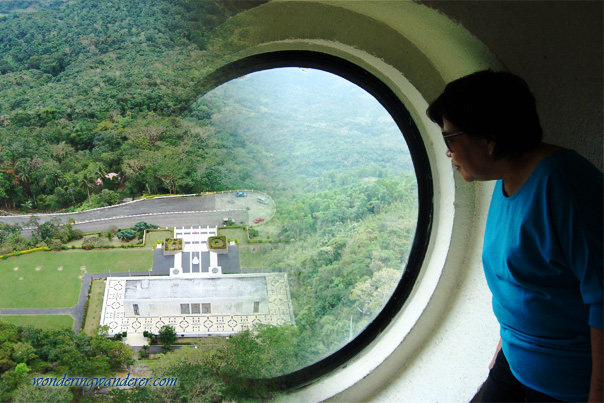 Most of us can't help but talk about how it's better than Tagaytay. Most of us remarked how it's more beautiful compared to Tagaytay the moment we got up there and had a good look at the environment. Mount Samat's advantage is the fewer houses and almost zero traffic if it wasn't for the tree that fell during our visit. Considering it's higher elevation, it actually better fits the title "Palace in the Sky" if they made the Collonade look like a palace.
If you want a more serene and less crowded equivalent of Tagaytay, a visit to Mount Samat will definitely let you enjoy that. But accessibility is the challenging part because it's a 3-hour drive from Metro Manila. However, you might want to consider booking an overnight stay in Bataan to make the most out of your trip.
Entrance Fee = P20.00
Parking Fee
Small Vehicles = P20.00
Large Vehicles = P30.00
Recommended Hotels in Bataan

Las Casas Filipinas de Acuzar Hotel
https://www.lascasasfilipinas.com/
Address: Bagac, 2107 Bataan
Phone: (02) 332 5338
The Duyan House at Sinagtala Resort
https://www.duyanhouse.com
Address: Tala Rd. Bgy. Tala, Orani, Bataan
Email: duyanhouse@gmail.com
Mobile: 0949-998-6533 / 0995-411-3609
Bataan White Corals Beach Resort
http://www.bataanwhitecorals.ph/
Address: Sitio Panibatuhan, Poblacion, Morong, Bataan Philippines
Email: inquiry@bataanwhitecorals.ph
Telephone: (02) 514 8244
Globe/TM: 0917-8402648
Smart/TNT: 0939-9164399
Sun Cellular: 0925-5545957
How To Get To Mount Samat National Shrine
Bataan is 3 hours away from Manila by car. You can either take the North Luzon Expressway (NLEX) or Subic-Clark-Tarlac Expressway (SCTEX). If you are coming from Manila, the toll fee is P157.00. The exit of NLEX is in San Fernando and straight ahead going to the peninsula of Bataan. When taking a bus from Cubao/Avenida you are expected to pay 200 pesos per head.
Unfortunately, the bus companies don't allow advanced reservations. Because of this, make sure to come early to the bus stations to ensure seat availability. If you picked a hotel that is beyond Balanga (Pilar, Orion, Limay, Cabcaben, and Mariveles), take the Mariveles bus and not the Balanga bus to avoid long travel time. Mariveles bus uses the highway and would skip the town proper of Dinalupihan, Hermosa, Orani, Samal, Abucay and the City of Balanga.
Tricycle rate is P10 per head. There are jeepneys available as well that will allow you to travel to different towns of Bataan.