Leslie's Restaurant is one of the most popular restaurants in Tagaytay City because of its famous bulalo and fabulous ambiance. Situated at the edge of one of the best spots in Tagaytay, this restaurant will let you enjoy an incredible view of the Taal lake and volcano as you gorge at their savory hot soups and sizzling meals.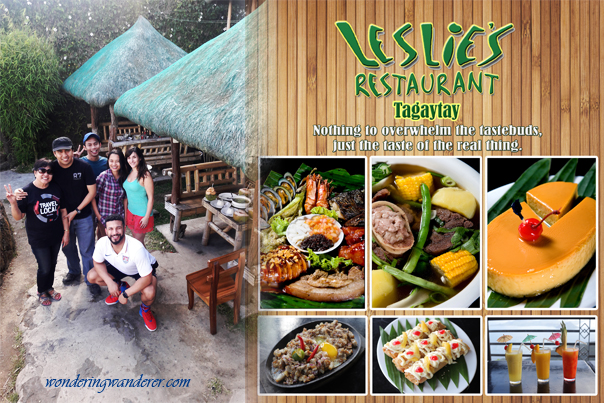 Dazzle your eyes with their wide variety of delectable Filipino dishes and desserts. Whether it's meat, seafood or veggies, they'll have something to delight everyone! Popular Pinoy favorites like sisig, crispy pata, lechon kawali, alimasag, sugpo, kare-kare, chopsuey and more will make you drool and overly succumb—you'll forget that you're on a diet.
Like what its tag line says "Great food. Great ambiance." This gastronomic paradise definitely lives up to that.
Our Experience at Leslie's Restaurant
Our company had a visitor from New York and as his main contact in the Philippines, I took the responsibility of making sure that he's well accompanied and will enjoy our Filipino hospitality. After a fun tour at the People's Park in the Sky, my father recommended that we take our lunch at Leslie's Restaurant before heading to the Picnic Grove.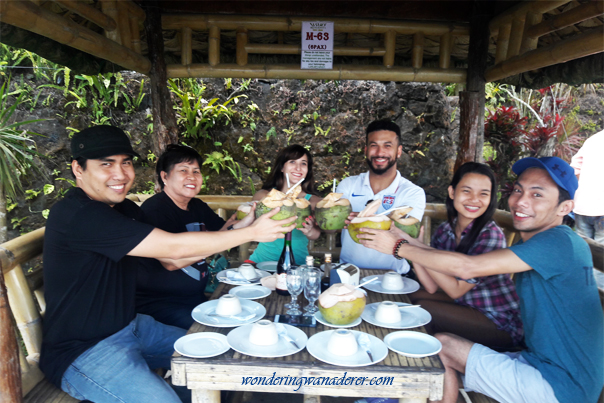 I wasn't really impressed by the modest name of the restaurant because it sounded like your typical eatery. But since my father said that he already tried eating there and liked their food, we went ahead to visit it. Another factor for coming here is that we're looking for a restaurant that accepts credit cards and he knows that they do here.
Customer Experience
We were lucky that one of the cottages was available when we got there so we went straight to it. There were seven of us but the capacity of the cottage is for six people only. The waiter immediately pointed it out in a condescending manner before we can even sit down. As we were requesting for an option, he told us to move to the main dining area in an insisting tone.
Our visitor from New York didn't like the way he sounded so he asked me if we can perhaps go somewhere else but I told him that it's okay and I'll take care of it. Since we really love the spot because it gave us an exclusive area that is far from the other visitors—I guaranteed the waiter that we won't use the cottage beyond its capacity because I'll just eat after one in our group is done.
I also told him that it's our guests first time in the Philippines so he finally agreed. The waiter tried to make up with the tension by bringing an extra chair so that all of us can eat together at the same time. I won't generalize about their level of service just because one of the waiters screwed up. But I hope that they provide better training so that even their new hires can provide great service.
Food Quality
We asked the waiter for their specialty and he recommended their special bulalo. Looking at how it was presented in the menu, it is clearly their most celebrated dish. We also added a saucy barbeque chicken and soup. To give our meal a better Filipino look and taste, we ordered their fresh coconut juice for our drinks.
After a rough start, I wasn't really expecting much about the quality of their food. We've been to other restaurants with a great ambiance but the food is mediocre. To my surprise, everything tasted great. My colleagues and parents were making the same remark about how they liked the food. The thick and flavorful soup of the hot bulalo was really tasty and the tender meat of the barbecue chicken was just perfect. Its red sauce was sweet and succulent.
Ambiance
This place has all the elements that made our nature-tripping wonderful. This spot is actually closer to the Taal lake and volcano compared to the Picnic Grove. Seeing it from the perspective of our guests from New York: Eating a delicious exotic food inside a cozy nipa hut while enjoying the wonderful view of a volcano, lake and the mountains that are brimming with lush green trees—this is paradise!
What made our nature experience greater is when a mild earthquake suddenly shook us. We saw the water inside a nearby jug go wild as the land was shaking. It made us very concerned but it was good that it stopped after a few seconds. I joked to them that their visit here in the Philippines really rocks. That earthquake made our visit here more memorable.
Website: https://lesliesrestaurants.com/
Address: Aguinaldo Highway, Silang Crossing West, Tagaytay City
Tel No: (046) 413 0488 / (046) 483 1065 / (046) 483 4271
Email: admin@lesliesrestaurant.com
Leslie's Restaurant Menu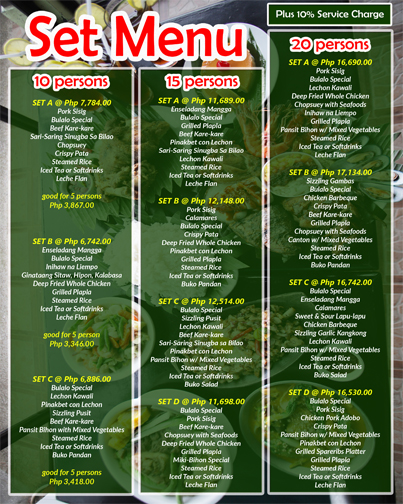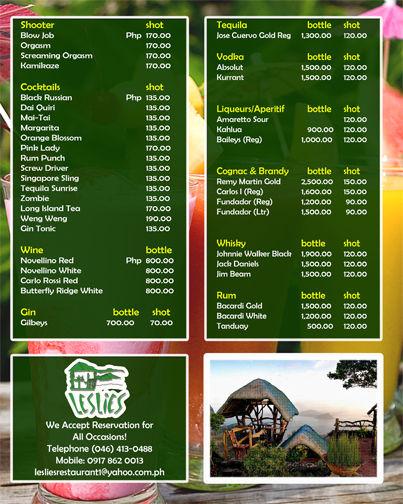 Leslie's Restaurant Map