Ardent Hibok-Hibok Spring Resort is Camiguin's place of tranquility and relaxation. A perfect place to rejuvenate your worn out body. Enjoy the beauty of serenity as you lay your back and immerse your entire body in its warm and soothing water. Free your mind from tension and anxiety as you listen to its symphony of splashing waters, chirping birds and the insects' gentle conversations.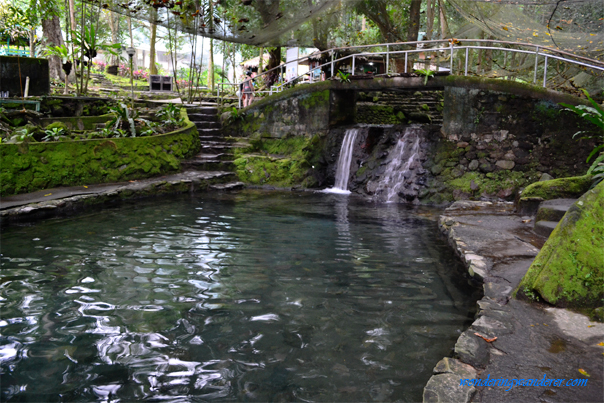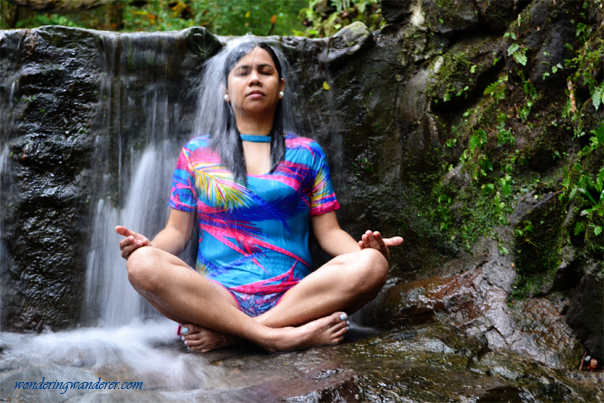 The resort's towering trees with lush green leaves protect you from an unwanted heat from the sun. Nets right above collect the falling leaves to keep the water clean and aid the trees in widening the shade. The abundant fresh air in its mildly cold environment is really comforting. The clean and crystal clear water make it easy for you to see what's below and enjoy a dive free from concern.
Our Experience at Ardent Hibok-Hibok Spring Resort

The springs we've visited so far are either cold, very cold or very hot. This spring for some reason is lukewarm. Juliet isn't a fan of its temperature but perhaps I'm one of the rare individuals who prefer its odd temperature. In fact, it has the same level of heat as to what I use in a temperature-adjustable shower. I bet that most elderly visitors won't appreciate it much as well.
I like how they have used large stones to subdivide the pools instead of using tiles. Those stones gave the hot spring resort a more natural look especially when the moss started covering their surface. The uneven and curved shape of the swimming pools gives the impression that they're just broken parts of a river. The movement of the water per level produced mini-falls that every pool swimmers can enjoy.
I wish we had the extra time to stay here overnight and enjoy a refreshing night swimming. Their accommodations look so cozy and the resort's ambiance makes them more relaxing. There are lights in key areas which are up until late at night. The pathways and stairs are easy to walk on even when its dark. I tried swimming in its different pools and I really enjoyed swimming in its deep part. It's so deep that my feet can't even touch the pool's floor.
Rates:
Entrance Fee: P30.00
Shed Rental: P70.00 – P150.00
AMENITIES AND FACILITIES:
Natural Hot Swimming Pools
Bar and Restaurant
Kiosk (Canteen)
Lodging Accommodations:
– Air-conditioned Duplex Cottages
– Air-conditioned Family Rooms
– Dormitory Type Rooms
Conference Hall
Picnic Sheds and Tables
Camping Ground
Papillion Garden
Island Tour Transport Facilities
Peaceful and Verdant Surroundings
SERVICES OFFERED:
24×7 Operation
Catering Services
Massage Therapy (SPA)
– Swedish
– Shiatsu
– Reflexology
Island Tour and Hibok-Hibok Climbing Guides
24 Hours Security Services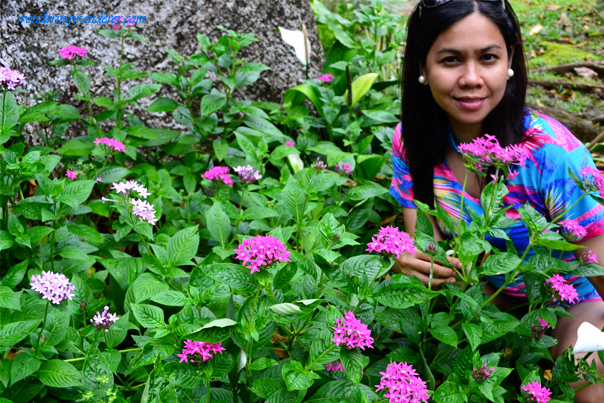 POOL GUIDELINES
1. The pool is open 24×7
2. Pool Cleaning Schedule
Every Wednesday from 6:00 A.M. to 12:00 noon.
3. Swimmers are encouraged to wear proper swimming attire.
Women – Bathing suit or Short pants
Men – Swimming trunk or Short pants
4. Children without guardians are not allowed to use the pool.
5. The use of any soap or shampoo at the pool is strictly prohibited.
6. Indecent Behavior/Act, Indecent Exposure is strictly prohibited. It is punishable by law.
7. Do not leave your valuable things unattended. The resort will not assume responsibility for any losses.
8. Everybody is enjoined to help make the resort a clean and green place to stay.
Avoid eating, drinking and smoking at the pool.
Use garbage can for your waste.
9. Violators will be evicted.