Corong-Corong Beach is a laid-back spot in El Nido where most of the resorts and hotels are more affordable. This beach is known for its beautiful sunset but its sunrise is far from being short of beauty. The thick clouds surrounding the beach gets a fiery look as the sun gradually hits them with its morning rays. Looking at the clouds' blazing color that is painted along the calm and quiet beach is definitely a wonderful morning greeting.
The beach's sand is clearly not white like most of the popular beaches in El Nido. There are plenty of dry seaweeds and crab holes but it's clean. The number of parked boats is very few compared to El Nido's town proper so you'll have a greater space for swimming. The number of resorts is few and their gap is wide. There are even some residential houses that gives a clear indication that it's not that commercialized yet. All of these reasons equate to a quieter and more peaceful environment.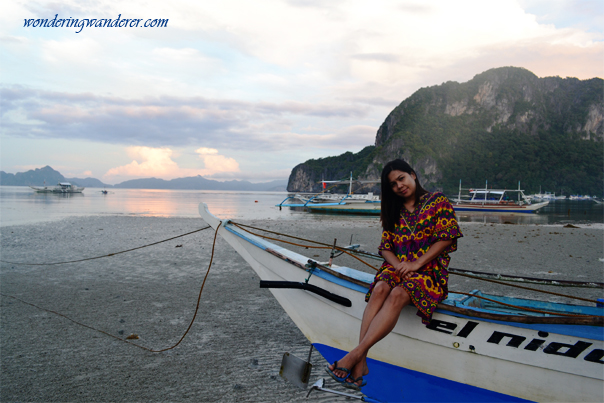 Our Experience at Corong-Corong Beach
During our short morning tour around the beach, we noticed that there was almost no one else around. We hopped on an empty boat to relax and to get a better-elevated view of the beach. It was fun to see the group of blue crablets rushing to hide as we get closer to them. The batch of crabs hiding in our every step looked like a ripple. When we got hungry, we went to one of the cheap restaurants at the beachfront and had a great time having breakfast. The beach's fresh air and serene atmosphere made our morning coffee experience more pleasant.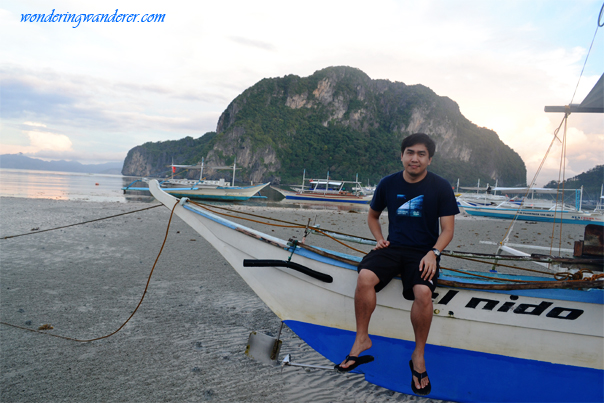 What I see as the main factors for considering a stay here are the low-cost resorts, less crowd and its accessibility to the town proper. Corong-Corong Beach is only about 1.5km to the town proper and we had a leisure walk going back and forth there during our visit. Cheaper food won't be a problem here as well because El Nido Public Market is located at its main entry point. It's definitely a decent low-budget place to stay at which I would consider again if we get another chance to visit El Nido.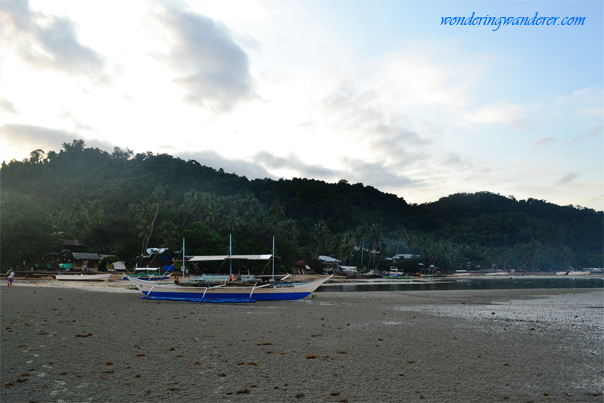 Corong-Corong Beach Resorts & Hotels List:

A – D
Ambiance Place
Address: So. Lugadia, Brgy. Corong-Corong, Palawan, 5313 El Nido, Philippines
Mobile: 0920 225 0569
Columbus Inn
Address: Sitio Lugadia, Barangay Corong-Corong, Palawan, El Nido, 5313
Mobile: 0939 632 1454/0909 063 9717
Desert Rose Hotel
Address: Sitio Lugadia Corong-Corong, El Nido, 5313 Palawan
Mobile: 0919 334 4777
Dormitels.ph El Nido Hostel
Address: Barangay Corong-Corong, Palawan, El Nido, 5313
Mobile: 0917 842 7948
Doublegem Beach Resort
Address: Sitio Lugadia Brgy. Corong-Corong, El Nido, Palawan
Mobile:  0917 109 3552/ 0925 713 5898/0939 908 3657
Dreamland El Nido Palawan
Address: Dreamland Beach Front Cottages, Corong-Corong El Nido Palawan, El Nido, 5313
Mobile: 0905 769 7333
E – I
Eco Hotel
Address: Pops District, Corong-Corong, El Nido, Palawan Island, Philippines., 5313 El Nido, Philippines
Phone: +63 2 881 5318 to 19
Mobile: 0917 842 7948
El Nido Coco Resort
Address: Barangay Corong-Corong, 5313 El Nido, Palawan, Philippines
Mobile: 0919 587 7569
El Nido Mahogany Beach Resort
Address: Barangay Corong-Corong, El Nido, Palawan 5313
Mobile: 0919 951 7930
El Nido Overlooking
Address: Barangay Corong-Corong, 5313 El Nido, Palawan, Philippines
Mobile: 0916 631 7078
El Nido Royal Palm Inn
Address: Barangay Corong-Corong, Palawan, 5313 El Nido, Philippines
Mobile: 0917 576 6664/0917 847 0366
El Nido Overlooking
Address: Barangay Corong-Corong, 5313 El Nido, Palawan, Philippines
Mobile: 0916 631 7078
El Nido Royal Palm Inn
Address: Barangay Corong-Corong, Palawan, 5313, El Nido, Philippines
Mobile: 0917 576 6664/0917 847 0366

Fabregas Beach Cottage
Address: Barangay Corong-Corong El Nido Palawan, 5313
Mobile: 0908 215 6881

Greenviews Resort El Nido
Address: Barangay Corong-Corong, Palawan, 5313, El Nido, Philippines
Mobile: 0921 586 1442
Ingrid's Inn Hotel Resort
Address: Brgy. Corong-Corong, Sitio Lugadia El Nido, Palawan, Philippines
Mobile: 0908 989 7222

Islandfront Cottages & Restaurant
Address: Sitio Lugadya, Brgy. Corong- Corong, El Nido, 5313, Palawan, Philippines
Mobile: 0928-387-2342/0999 994 1309

Island Hop Nido Hostel
Address: Sitio Lugadia, Barangay Corong-Corong, El Nido, 5313, Palawan, Philippines
Mobile: 0917 520 6310
J – O
Jvhaven Pension
Address: Barangay Corong-Corong, Palawan, El Nido, 5313, Philippines
Mobile: 0946 217 9595/0919 360 8766

Last Frontier Beach Resort
Address: Barangay Corong-Corong, El Nido, 5313, Palawan
Mobile: 0909 330 1330/917 204 4612
Lugadia Beach Cottages
Address: Lugadia, Corong-Corong Beach, El Nido, 5313, Palawan
Mobile: 0950 950 7441/0915 464 4528
Mina Grande Cottages
Address: Brgy. Corong-Corong (Get Off at Sizzling Republic Area), El Nido, Palawan, Philippines, 5300
Mobile: 0917 888 5270
Morning Walsh Resort
Address: Green House, Corong-Corong, Taytay – National Hwy, El Nido, Palawan, Philippines
Mobile: 0942 480 5240/ 0999 548 4336
Novie's Tourist Inn
Address: Sitio Lugadia, Bgy Corong-Corong, El Nido, Palawan 5313
Mobile: 0908 303 2662/0929 375 1279
Orange Pearl Beach Resort
Address: Sitio Marimegmeg, Bgy Corong Corong, El Nido, Palawan, Philippines 5313
Mobile: 0917 3280163
Outpost Beach Hostel
Address: Sitio Lugadia, National Highway, BRGY. Corong-Corong, El Nido, Palawan Island 5313, Philippines
Mobile: 0945 128 1729
Overcomer Lodge
Address: Barangay Buena Suerte, El Nido, Palawan
Mobile: 0939 917 9452
S – V
Sannie Pension
Address: National Highway Bgy. Corong-Corong, El Nido, Palawan, 5312
Mobile: 0920 786 5910
Sheryl May Inn
Address: Rizal St, National Highway, Brgy Corong-Corong El Nido, 5313, Philippines
Mobile: 0916 574 5444
Sophia's Beach Guest House
Address: Brgy. Corong-Corong El Nido Palawan, 5313, Philippines
Mobile: 0919 587 6591
St. John's Island View Pensionne
Address: Sitio Lugadia, National Highway, Brgy. Corong-Corong, El Nido, Palawan Island 5313, Philippines
Mobile: 0917 793 5972
Stunning Republic Beach Resort
Address: Sitio Lugadia, National Highway, Brgy. Corong-Corong, El Nido, Palawan Island 5313, Philippines
Mobile: 0999 566 0888/0915 177 6013
Telesfora Beach Cottages
Address: Rizal St, Brgy. Corong-Corong, El Nido, Palawan Island 5313, Philippines
Mobile: 0929 648 8912/0977 757 7324
Tita's Backpacker's Home
Address: Infront of TAO Philippines, Taytay – El Nido National Highway, Brgy. Corong-Corong, 5313 El Nido, Philippines
Mobile: 0939 920 3055
Tres Verdes Resort and Resto-Bar
Address: Batoy and Nangkil Law Offices, Barangay Corong-Corong, El Nido, Palawan, 5313
Mobile: 0947 840 2977/0917 843 9696
Villa Dali Resort
Address: Sitio Lugadia, Barangay Corong-Corong, Palawan, El Nido, 5313
Mobile: 0949 951 1835