Jack's Ridge Resort and Restaurant is a cool place to hang out during your trip to Davao City. It's a charming elevated spot where you can succumb on a fantastic meal while enjoying a nice view of the city's landscape. It has a good variety of fine dining restaurants that were placed in strategic positions so that every visitor can have the liberty of picking a restaurant of choice without missing the fantastic view. Their names are Taklobo Restaurant, Kai's Bar and Grill and Karlo's Gourmet and Coffee.
Exploring Jack's Ridge Resort and Restaurant
Looking at it from afar with its colorful lights and festive atmosphere, you can't help but feel the excitement of getting there already, so you can enjoy a stroll of the whole ridge. A very elegant and nicely crafted sculpture of Davao's name welcomes you here and on its side are the Lumad statues which represent Davao's indigenous people. There's a wall that has a written account of Jack's Ridge history on the right side of the Lumad statues.
History
The area where Jack's Ridge Resort and Restaurant is situated used to be an outpost of the retreating Japanese forces during World War II. They were forced to beat a path to Matina Hills where they had a commanding view of the outpost where the American ships were anchored. We all know that the American soldiers were able to drive them away later but their fierce battle left many war remnants which can still be found in the area.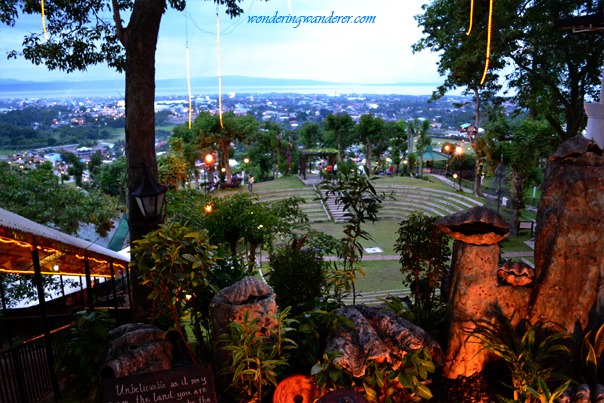 Amphitheater and Cottages
Our short tour in this resort was really a night to remember—its fresh air is still fresh in my memories. Looking at the pictures posted, we can see that they've put up long chairs in the spot where there's a perfect view of the region that can attract dating couples. The classy amphitheater would be a great option to book a wedding reception. All these make it a wonderful place to date your partner and a wonderful place to marry your partner as well.
If a short visit here is not enough for you, you can book a room in one of their cottages which are built right on the cliffs where you can enjoy a much wider view of the city's landscape. During your overnight stay, you can take advantage of their newly built Kool Kat's Pool or have fun singing until late at night at their Tap Room and Piano KTV. Don't forget to visit their souvenir shop before leaving to have some take-home gifts "pasalubong" to your family and friends.
Jack's Ridge Resort and Restaurant Rates
Cottage Rates
P 950.00/day
All rates are 12% VAT EXCLUSIVE.
Prices are subject to change without prior notice.
a Php 300 (three hundred pesos) security deposit is needed upon check-in, this is refundable should there be no any other charges upon check out
For more inquiries, please contact us.
Kool Kats Pool
Store hours:
9:00am – 10:00pm (Monday to Thursday)
8:00am – 11:00pm (Friday t0 Sunday)
Swimming Fee:
Adult – P100.00
Kids – P100.00 (12 years old and below)
Penmar Hall
First four (4) hours P 10,000.00
Whole day P 20,000.00
Succeeding hours P 1,500.00
Amphitheater
First four (4) hours P 8,000.00
Whole day P 16,000.00
Succeeding hours P 1,000.00
Conference Room
Five (5) hours use P 3,800.00
P 3,000.00 of which is consumable on food and drinks
P 800.00 for place rental
Succeeding hours P 500/hour non-consumable
Taproom Piano KTV Bar
Sunday to Thursday P 16,800.00
Friday to Saturday P 20,160.00
Related Post: Davao Crocodile Park