Where to eat in Sagada? Beyond its popular hanging coffins and many wonders—one of the main attractions in Sagada is food! I wasn't really expecting much about the quality of their food considering how small the municipality is—but I had a pleasant surprise after trying out some of their restaurants. I like how they present the food with elegance and how they tasted great as they look. According to our tour guide, a majority of the visitors they're catering are Europeans—mostly French. Perhaps this is the reason why they're offering a good variety of local and European food.
Judging how well they serve their food and how delightful they taste, you can say that they're really serious about their art of cooking. A quick inspection of the food gave me an impression that they're delicate even in small details. Among all the omelets that I've tasted, the second best tasting omelet I had so far is in Agape Log Cabin and Restaurant.  This is the small hotel where we stayed. The best one for me is Apollo's crab omelet in Bacolod City but it only got an edge because of the meaty crab. The omelet in Agape Log Cabin has basic ingredients only but it has that kind of fluffiness and saltiness that I've never tasted in an omelet before. It's great how they're serving high-quality food and it's not even a full-blown restaurant. You can consider it more of a large kitchen of the hotel but the food quality can compete with expensive restaurants.
Here's our ranking of the three restaurants that we tried in Sagada:
Top 3: Yoghurt House
We had the wrong impression that Yoghurt House is just a dessert cafe but we learned later that they're serving a good variety of food as well.  It's great to see how they're promoting healthy diet by serving red rice with vegetables in their main course meals. On top of that, you also get to enjoy a healthy yogurt dessert which is naturally sweetened by fruits. They also have a distinct style of mixing the rice with the dish. The food tasted good but it felt that the meal is too heavy on rice and the veggies and the meat is a bit short.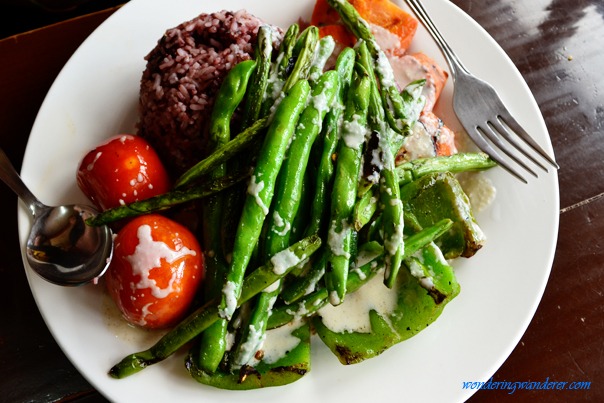 They have a small but sweet two-floor venue with neat tables and chairs. Its hardwood-themed interior looks elegant and blends well with the furniture. Its terrace has a good view of the forest and is the best spot to enjoy a coffee during breakfast. Accessibility to this restaurant won't be a problem for you because this is located just right before the SAGGAS Tourist Information Center.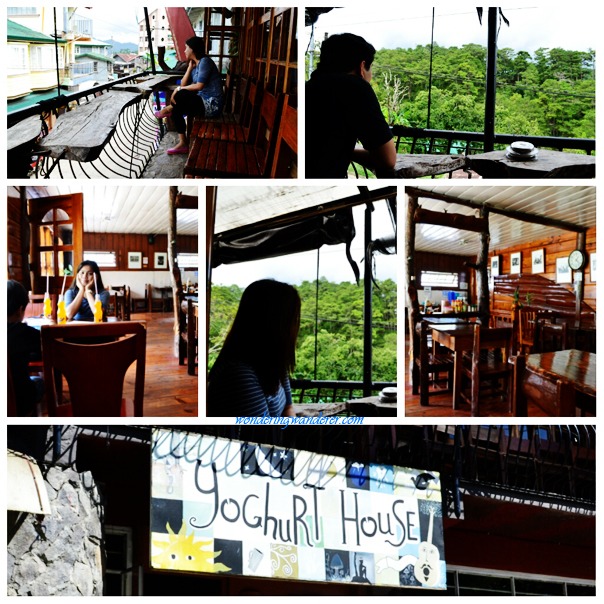 Top 2: Gaia Cafe
Ambiance is a big factor when it comes to enjoying your overall eating experience and Gaia Cafe has the best one in Sagada. Perhaps this is the reason why this cafe was picked for the movie "That Thing Called Tadhana" in 2014. This restaurant is sitting on a cliff which has a nice view of the farm fields and mountains. It's a bit isolated and far from the main road that's why it's free from the noise and smoke coming from passing vehicles. The sweet smell of fresh air fills its surrounding because of the towering pine trees and different kinds of lush green plants all over it. Definitely, the most relaxing place to eat in Sagada.
This cafe is set up to have an optimized viewing experience for their guests because of the glass walls and verandas in most of its parts. A quick stroll around its veranda made me wish that we had extra time to have our breakfast there. Holding a hot coffee while enjoying the fresh air and scenic view in that part of the cafe would have been nice. It's also great to see how they're promoting reading by putting two bookshelves in their restaurant. Everyone is free to borrow their books and read leisurely while eating.
Location
The great ambiance of this cafe has a slight drawback on its accessibility. Our long walk to reach this restaurant took us around 40 minutes. But this includes our short rest times already. It's not really that bad considering that it's a leisure walk where we were able to see more of Sagada and its establishments. It also gave us a chance to see the Sugong Hanging Coffins along the way which was unexpected. We found out later that there are jeepneys occasionally passing by the main road which goes close to its route. We really can't tell if their interval can take up to 20 minutes.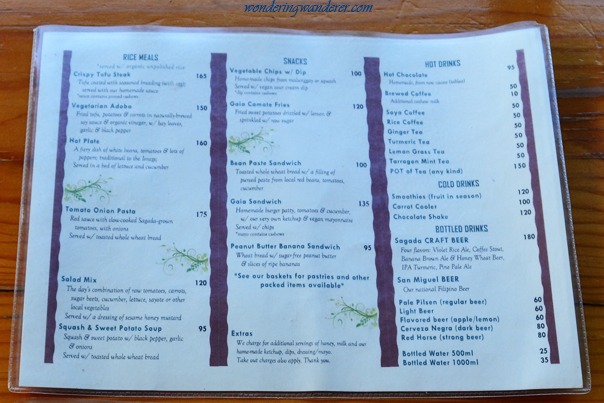 We had a heavy brunch prior to coming here so we just ordered a snack and a vegetarian adobo for our son. He let me taste some of his food and it was delicious! The amount of saltiness that's expected in an adobo is just right and the vegetables were tender and tasty. They posted behind the menu that what they serve are mainly plant-based, organic and home-grown. It also notes that they don't serve any food with MSG, artificial flavors, processed or canned. This cafe is definitely a haven for health conscious and veggie lovers like our son.
Top 1: Masferre Country Inn and Restaurant
At the end of the day, what makes people come back to a restaurant is the quality and taste of their food. Having a good variety of mouth-watering meals that the customers won't get tired of eating and a food formula that stands out from the rest is what makes it a word of mouth. For us, "Masferre Country Inn and Restaurant" has that edge over its competitors. They're not as health conscious as the other two restaurants that we tried but we can see that they always serve their food with veggies. We can definitely say that they have the best blend of veggies and dressing among the three that we tried.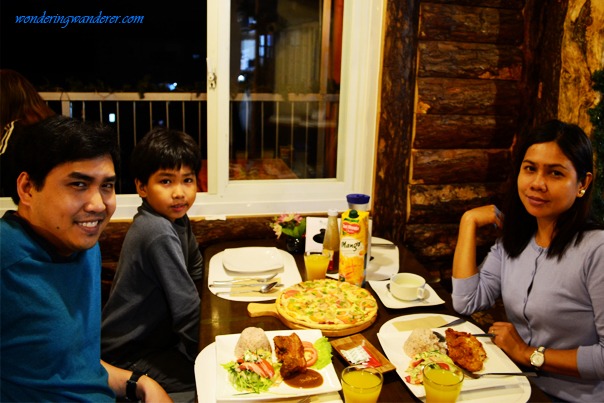 The "Crispy Fried Pork Belly" has the right amount of crunchiness and tenderness. Its flavorful meat is perfect even without a sauce. My wife ordered the "Famous Masferre Fried Chicken" then allowed me to give it a try.  You'll know if the cook really took time to prepare the food based on how well-cooked and tender the chicken is. I'm not sure if it was soaked overnight in a special kind formula before getting deep fried because of its unusual tenderness than your typical fried chicken. We loved Masferre's food so much that we decided to come back there for a snack and buy some extra for our long bus trip. Their BBQ Cheeseburger with fries didn't disappoint as well. The meaty burger was tasty, a bit juicy and was cooked to the core. Most of the thick burgers that I've tried have uncooked portions.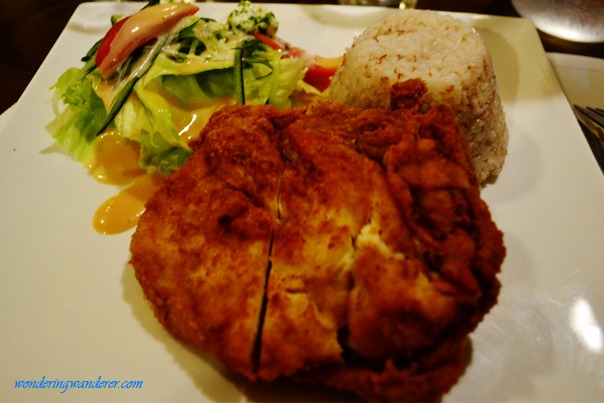 Interior
Another thing that sets this restaurant apart is its size. It has two wide floors with several tables that are good for four people. The bottom floor occasionally serves as their conference hall for parties, seminars and other events. Its classy interior has plenty of photographs taken by Eduardo Masferre. These photos depict the different angles of the Cordillera's way of life. This is the most accessible of the three restaurants that we tried. It's beside the municipal hall and is just a minute walk from the bus station. We'll definitely come back here again if we get another chance to visit Sagada in the future.
List of other Restaurants:
Salt and Pepper Diner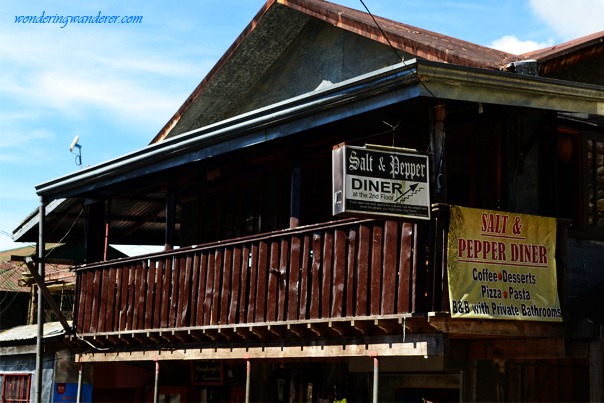 Sagada Lemon Pie House
  Sagada Bistro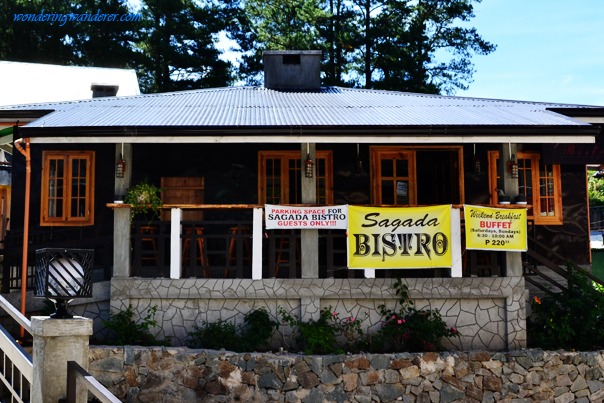 French Crepes
 Sagada Brew
 Cuisina Igorota
Please check out our Sagada and Banaue Combo Adventure Travel Guide to learn more about Sagada and how to plan your trip there. We hope that our post helped you decide where to eat in Sagada.