Ben Thanh Market is one of the most swarmed tourist spots in Ho Chi Minh because of its wide variety of cheap products. It's the perfect place to buy souvenirs, gifts for loved ones, and of course, gifts for yourself before departing Vietnam. You'll also see lots of signature brands at an affordable price (Up to 99% OFF!). If you're a coffee-lover, you definitely can't afford to miss buying Vietnam's famous coffee. You can buy them in beans or ground.
History
Long before the beautiful Ben Thanh Market building, it all started with few little stalls and street vendors. During the French occupation, the market was renovated and given the name Les Halles Centrales (The Central Halls). When a fire broke out later, the market was given the new name Ben Thanh (Wharf Citadel) after the restoration. It was originally located near the Saigon River in the 17th century but was later moved near the Saigon Bus station. They called it New Ben Thanh Market but the locals prefer to simply call it the Ben Thanh Market.
Exploring Ben Thanh Market
At the end of our Ho Chi Minh day tour, we decided to visit the Ben Thanh Market to check what small tokens we can buy as gifts to our family and friends. Unlike some of the public markets in the Indochina region, I like that it has a concrete structure and is neat inside. There's a floor plan near the entrance so you can easily check the product categories per section.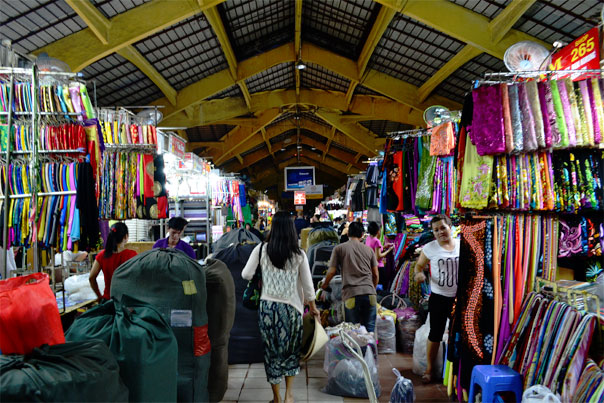 We already shopped at Siem Reap's Night Market and Phnom Penh's Russian Market prior to coming here so we bought just a little. One thing we noticed is that their pricing is slightly cheaper compared to Cambodia. Please check the sample pricing below to get an idea.
Sample Price List
**Depending on how aggressive you haggle, you can get some of the items below at half the price.
Gucci Belt – 250,000 VND ($10)
Under Armour Shorts – 450,000 VND ($20)
Supreme T-shirt 150,000 VND ($7)
Hoodie – 1,750,000 VND ($32)
Nike Cap – 120,000 VND ($5)
Supreme Cap – 220,000 VND ($9.5)
Addidas Cap – 120,000 VND ($5)
Squirrel Coffee – 300,000 VND /100g ($13)
Legendee Coffee – 120,000 VND /100g ($5)
Arabica Blue Mountain Coffee – 90,000 VND /100g ($4)
Cashew Nuts – 200,000 VND /500g ($9)
Shopping Experience
The vendors here are kind and friendly. It's nice to listen to their sweet and modest voices when negotiating with customers. Practically, this is true in most Asian public markets aside from Hong Kong because they're strict with their fixed prices. Make sure to avoid getting too much distracted when haggling and always watch out for potential pickpockets.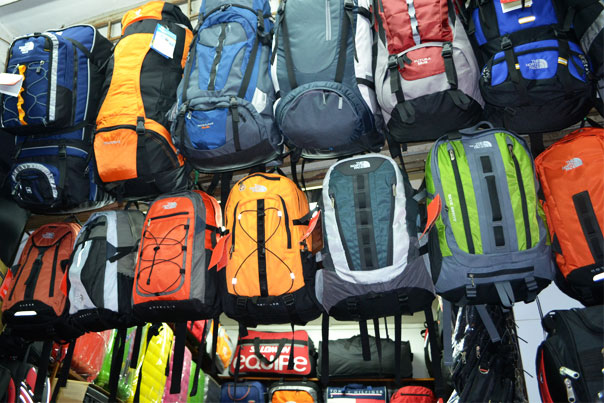 Our hotel receptionist warned us to hold tight to our cameras and gadgets because we might get robbed by some of the local crooks. It reminded me of a scene in the movie Full Metal Jacket where an American soldier's camera was snatched. I hope that instances like these would lessen significantly as Vietnam's economy grows.
Going back to the vendors, I can't tell why they always show their negotiated pricing using a calculator. Perhaps they don't want others to hear the price drop but we always end up verbalizing the amount then tell them it's still high. Overall, the haggling and small talks make your buying experience here more fun and colorful.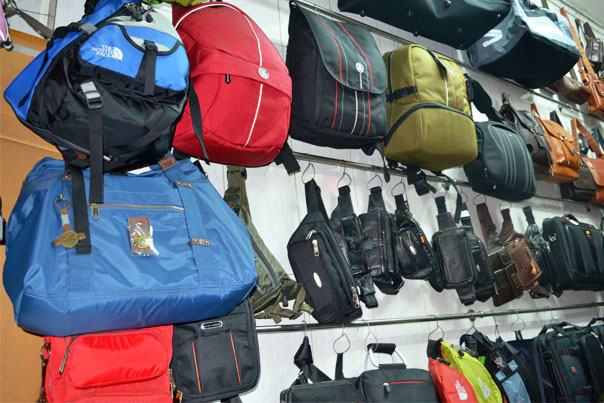 Ben Thanh Market Floor Plan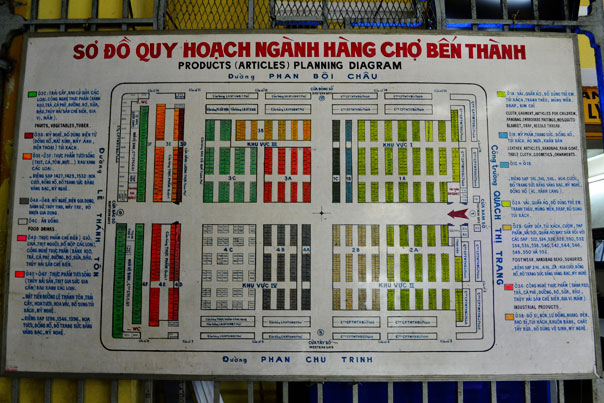 Ben Thanh Market Location and Opening Hours
Finding Ben Thanh Market is easy because it's just along the Le Loi road across the Tran Nguyen Han Statue. It's below the War Remnants Museum and Independence Palace so I suggest that you follow the sequence when you visit these attractions. Most of the stores close during the Night Market but there are plenty of stores outside that opens. The roads in the East and West gates areas are closed to accommodate the night market vendors.
Entrance Fee: 10 VND
Location: Le Loi, Ben Thanh Ward, Phu Nhuan District, Ho Chi Minh City
Opening Hours: 7:00 AM to 7:00 PM
Night Market: 6:00 PM to 12:00 AM

References:
itourvn.com
saigonadventure.com
vietnamdiscovery.com