The Breitling Jet Team made a death-defying performance at the Hot Air Balloon Festival in Clark, Pampanga. This team of daredevils from Dijon, France shocked everyone with their breathtaking maneuvers and thrilling stunts. Every now and then we make excuses that we're just humans who make mistakes, but these people can't afford to be humans when they're up there in the air. They need to transform themselves into superhumans to achieve their impossible exhibitions.
Breitling Jet Team Introduction
The Breitling Jet Team's show started by having a French host temporarily takeover the spot to explain the different acts that the jet team is about to showcase. After a few seconds, we heard loud whizzing sounds from afar which indicate that the jet team is taking off.
Everyone was cheering when the team took off but for some reason, they didn't do any stunts and just kept roaming around and hiding in the clouds. I heard some people say "Where are they? They're too small to be seen!" The team was like that for about 3-4 minutes before they started the performance. It could be a warm-up routine before the exhibition.
Start of the Exhibition
The moment everyone has been waiting for finally came. It started with a simple aerial art using smokes to create curves and shapes. It's nice to see the jets' synchronized movement and steady formation the whole time. Everyone suddenly became quiet in awe of the performance… and because of the sudden busyness taking pictures.
Then here comes the deadly acts. If you take a very close look at how the smoke of each jet crossed in the pictures below, you'll see how a small mistake could turn everything into a disaster. I believe that not everyone who has discipline and focus can achieve what they're doing. If you don't have the nerves of steel, considering what's at risk, you won't even dare to try it even once. According to the news, our Philippine actor Dingdong Dantes had the brave soul to ride on the backseat of one of these jets during the exhibition.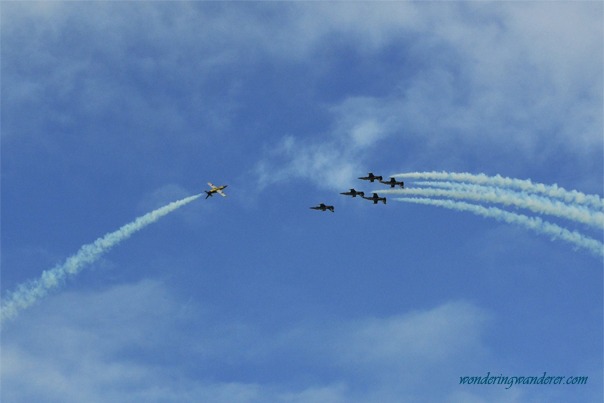 Breitling Jet Team's Final Act
The Breitling Jet Team made a grand exit during their final act. It started with an elegant and precise circular smoke formation to build the momentum. Suddenly, they grouped together then randomly scattered to form what seems to be a hand. The jets released some flare effects as they spread out which made the performance look more explosive.
Breitling Jet Team Clip
After their wonderful performance, the French host announced that their next stop is in Jakarta, Indonesia. I've checked the other
countries
where they went before and after the Philippines and it's clear that they're on an Asian tour. Kudos to these fearless men for making the
Hot Air Balloon Festival
more alive.