The ultralights and skydivers added more bubbly colors to the already colorful Hot Air Balloon Festival in Clark, Pampanga. Their tiny wings and parachutes were able to sprout mini-rainbows that kept everyone entertained after the hot air balloons were gone. The Hot Air Balloon Festival is clearly not about the balloons alone as it has plenty of other entertaining shows. These two were just some of them.
Ultralights
The ultralights are ultra-small planes that can carry two people. They performed some basic synchronized flying formation in this event. At the end of their performance, each of the pilots was introduced while landing their ultralights which revealed that they were with their wives the whole time they were flying.
According to the host, the pilots of the Angeles City Flying Club have this weekend hobby of flying ultralights during their free time. These guys fly more than eight hours daily during weekdays and still fly during the weekends—that's how they love to fly. More than just a hobby, they even offer basic weekend courses on how to fly ultralights. Their trial introduction flight is P1,650 for 10-12 minutes. Click here for the complete list of their rates.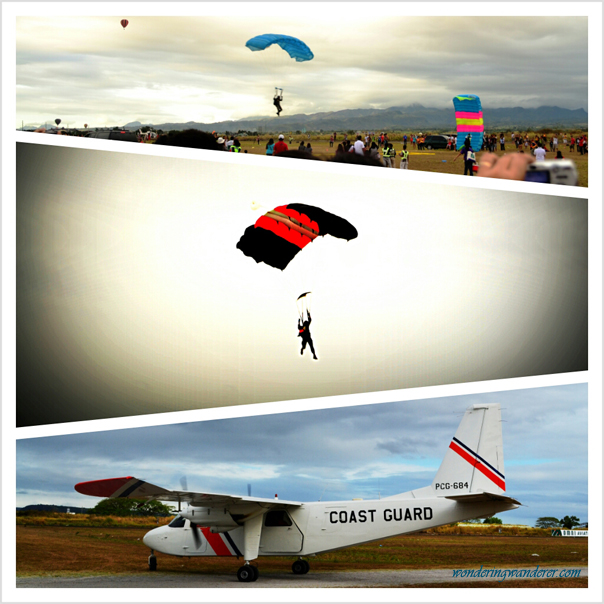 Philippine Skydiving Team
The Philippine Skydiving Team exhibited their skydiving skills and showcased their colorful parachutes in such a great way which made it seem that skydiving is something easy. The team captain was the first one to come down and he did it very quickly and with perfect control. He explained that it was a bit challenging to find a good spot for them to skydive at first because of the thick clouds that morning but good thing they found an open spot. Most of them had flawless landing on both feet but I think there was one who tumbled a bit.
Various Shows
There were plenty of other shows in the Hot Air Balloon Festival like Meynard Halili Aerobatic Show, Rescue Demonstrations, Radio-Controlled Model Aircraft, etc. but most of the visitors left after the Breitling Jet Team's aerobatics because it was almost lunchtime already. This event has an estimated number of 60,000 visitors according to the news. For this reason, we had to wait for a few minutes first until most of the people are gone before we left the event. We took some pictures of Ironman and Bumblebee while waiting.
When we reached the exit, there were still a lot of people lining up to it. We looked for an alternate route and saw an open-wall exit which has a shorter queue so we used that. When we reached the open, we found out that it's still challenging to leave. You will need to slide down to a steeply elevated soil first before you can get to the road. I went down first so I can catch my wife in case she slides the wrong way. However, she was able to do it without my help. I guess we can consider this sliding experience a fun part of our Hot Air Balloon Festival trip.