Calea Pastries & Coffee is one of the best bakeshops in Bacolod City. Forget about buying commercialized cakes that taste like loaf bread with icing. Calea's cake is the real deal! You'll see in every slice how the cakes are thick and packed with ingredients. Every bite is truly heavenly as you savor their sweet, flavorful and masterfully baked cakes. They're undeniably rich in fillings and their blend is simply perfect.
Calea Pastries & Coffee Snack Time
My parents from Metro Manila came here to Negros Occidental for a vacation so we decided to treat them in one of the best and uniquely Negrense bakeshops. After our fun tour at Campuestohan Highland Resort and The Ruins, we decided to have a snack at Calea Pastries & Coffee. It was easy to visit because it's just along the Lacson Highway.
I've been to Calea branches in malls but it was my first time to enter their main outlet. The shop looks elegant and there were plenty of customers inside. The moment I got a peek of their stalls, I got overwhelmed by the variety of cakes displayed there. They all look mouthwatering! You can tell from the sliced portions that the cakes are not your usual dry and spongy. Their ingredients looked compact, full and juicy.
Service
We were lucky that a group was about to leave when we entered Calea so we immediately got a table for the five of us. Since there were plenty of customers that day, it took some time before someone was able to take our order. Their staff was friendly and polite when he listed the cakes that we want. He even repeated our order to make sure that everyone is getting the right piece.
It was great that they were also providing free service water. Considering our tour expenses prior to coming here and the price of their cakes, it definitely helped us cut the cost. We also had soft drinks before heading here so it was really practical to limit the sweets. Upon serving our order, their waiter gladly took our family photo despite their busy environment.
Taste
Everyone was very happy when the cakes finally came. You can already taste the yumminess in their aroma and appearance alone. But of course, looks can be deceiving. We decided to let everyone have a taste of all of the cakes to satisfy everyone's curiosity. I started with my personal pick which is the Chocolate Mud Pie and it was really great!
Chocolate lovers would surely love it. Aside from being richly filled with chocolate inside, it's also covered with gooey chocolate fudge. The taste of the crunchy sliced almonds perfectly blends with it too. It's like eating a cake version of my favorite Cadbury chocolate with almonds—but better. Another thing that I liked about this cake is that it's not too sweet. Too much sweetness can immediately kill your appetite.
After that, I tried the other cakes and they all tasted great as well. They're undeniably high quality and blissful in every bite. There's definitely a good reason for the customers to flock this dessert shop. To rank all five cakes, the best one for me is the Chocolate Mud Pie which happens to be the one I ordered. It's followed by the French Cheesecake, Mango Cheesecake, Blueberry Cheesecake and Salted Caramel Cake respectively.
Best-sellers & Background
According to their staff, their best-selling cakes are the Chocolate Cakes & White Chocolate Cheesecake. The owner of the shop is Ging Consing and the name Calea was derived from the name of her daughters Carissa and Leanne. Calea's tagline is "Because Life is Sweeter in Bacolod" and they definitely lived up to it. We loved their cakes so much that we even brought home a whole Chocolate Cake.
Calea Pastries & Coffee Rates
Cake Slices: P85.00-P120.00
Whole Cake: P700-P1,000.00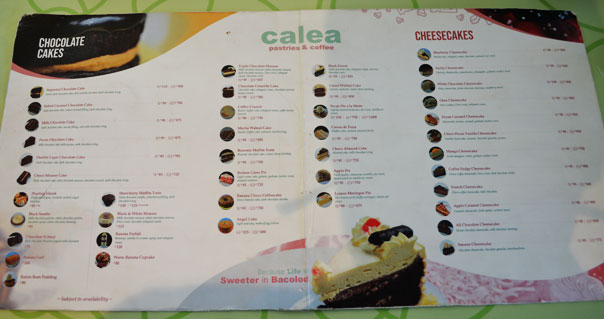 Drinks
Hot Espresso Classics
Regular: P70.00-P100.00
Decaf: P75.00-P105.00
Frozen & Iced Espresso
Regular: P85.00-P105.00
Decaf: P95.00-P110.00
Others
Brewed Coffee: P75.00
Milk Shake: P95.00
Halo-Halo: P95.00
Hot Tea: P55.00
Soda: P35.00
Address: Door No. G1-4 Balay Quince Commercial Building
15th Lacson Street, Bacolod City, Negros Occidental 6100
Phone: (034) 435 8413