The man-made forest is a blissful spot Bilar, Bohol that will definitely delight nature lovers. Its pleasant sight is simply soothing to the eyes because of the forest's lush green trees and majestic formation. Passing by its long tree tunnel is simply gratifying especially if you're used to the loud and heavy traffic of the city.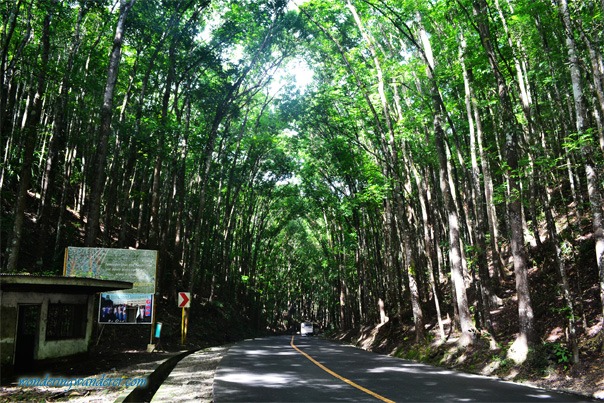 Visiting Bohol's Man-made Forest
We started our Bohol countryside tour by stopping by at the man-made forest in Bilar, Bohol. It's a bonus trip since we really need to pass its road before we can get to the Chocolate Hills. This forest looks similar to enchanted forests we commonly see in movies. The uniformity of the trees and the way they seem to bend to close the top looks like a portal pulling you somewhere mysterious.
We felt how nice and cool here the moment we stepped out of the van. It's not directly hit by sunlight, the air is fresh and the towering mahogany trees look great. Varying sounds from the birds can be heard as well which makes this forest more alive. But with the lack of lamp posts and trees blocking the moonlight–it would feel spooky here at night.
Man-made forest comparison
This man-made forest is bigger than the one we saw in Siquijor. The biggest one of them all is the man-man forest in Johannesburg, South Africa with over ten million trees. Good luck to those who want a recount. It's great to know that we can still make it up with Mother Nature by planting forests like these. The signboard in the picture says that this man-made forest is "a living reminder that the hands that cut down trees could also plant a forest."
We hope this trend continues and will be enough to compensate for the number of lost trees daily. It's nice to see our country growing economically with several tall buildings in the works but it shouldn't impact nature negatively. I hope that flash floods and landslides caused by illegal logging would be completely eliminated.
This forest reminds me of a poem by Joyce Kilmer:
Trees
I think that I shall never see
A poem lovely as a tree.
A tree whose hungry mouth is prest
Against the sweet earth's flowing breast;
A tree that looks at God all day,
And lifts her leafy arms to pray;
A tree that may in summer wear
A nest of robins in her hair;
Upon whose bosom snow has lain;
Who intimately lives with rain.
Poems are made by fools like me,
But only God can make a tree.
A short side trip to the man-made forest in Bohol is a great way to reflect on the value of the trees and the entire environment as a whole.