This is the second part of our Nayong Pilipino in Clark Pampanga series which features the Pre-Colonial Plaza. The first part of the series is the Colonial Plaza which features a Spanish themed culture.
Pre-colonial Plaza
This plaza showcases the kind of life that the Filipinos had before the Spanish occupation. We'll find replica houses, tools, attires, etc. by different ethnic groups in the Philippines featured in this plaza. In the middle, there's a rotund outdoor amphitheater with a format which seems inspired by the Banaue Rice Terraces. There are dance presentations by performers in native costume and souvenir shops as well.
Malakas at Maganda
Malakas (means strong) and Maganda (means beautiful) are the characters of the Philippine's version of Adam and Eve. There are different versions of this story per province. The consistent element in the story is that there's a bird who pecked on a large bamboo tree after hearing noise coming from it. When the tree got divided in half, Malakas and Maganda came out of it. They got married and populated the Philippines with their children.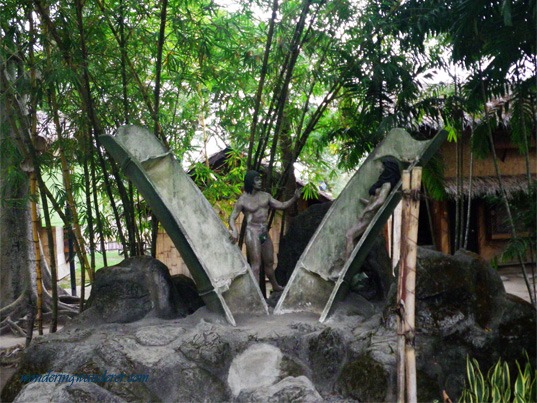 Aeta Village
Aetas are indigenous people who are living in the isolated mountains of Luzon. They have a small stature, curly afro-like hairs and dark brown skin. Based on archaeological studies, they are believed to be the first people who arrived in the Philippines by crossing land paths connected to Borneo. They are genetically related to other Negrito ethnic groups in the Philippines such as the Ati of Visayas, the Batak of Palawan, and the Mamanwa of Mindanao.
Torogan House
Torogan is an ancestral house by a Datu who is considered a chief of the Maranao tribe in Lanao, Mindanao. Its unique design gives it a distinction of royalty—perhaps their version of a palace. No other house can be bigger than this house within the tribe.
Kalinga Village
This Kalinga Village replica represents the Kalinga province which is just beside the Mountain Province and near the Ifugao province. The Kalinga people were blessed with land suitable for both wet and dry farming. They were able to maintain their culture despite of attempts by foreign colonizers to occupy their territory because of their warrior-culture and mountainous lands.
Ifugao Village
The Ifugao tribe is a group of people living in the mountainous area of the Cordillera Administrative Region. They are known for their Banaue Rice Terraces which is a majestic man-made wonder. It is thought to be made by bare hands only by their ancestors around 2000 years ago.