Ta Prohm is one of the most popular tourist attractions in Siem Reap, Cambodia because of its fascinating gigantic trees that have grown out of its temples. The site gained greater prominence after it was used as a location in the box office hit movie Tomb Raider. Its scenery of abandoned ancient temples that are entangled by colossal tree roots is quite enchanting.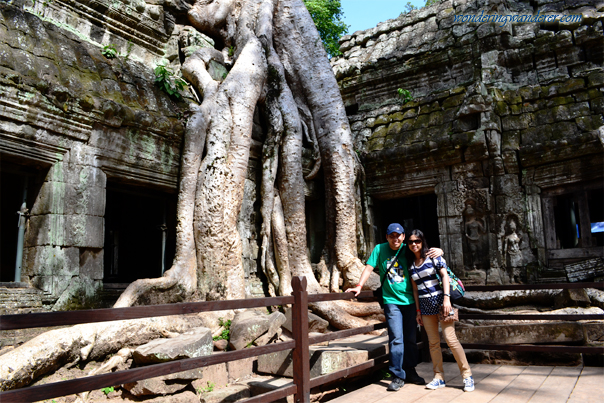 This magnificent Buddhist monastery has different buildings because it was also used as a university. The wonderful design of its ancient buildings is an architectural marvel of its era. Their antiquity was greatly magnified by the trees that are intertwined to their bodies. A tour around this magnificent site is simply surreal.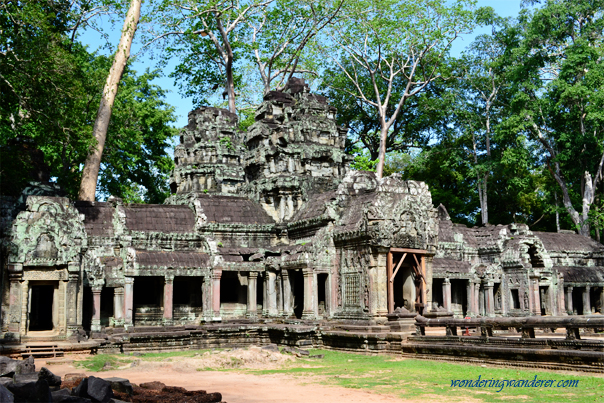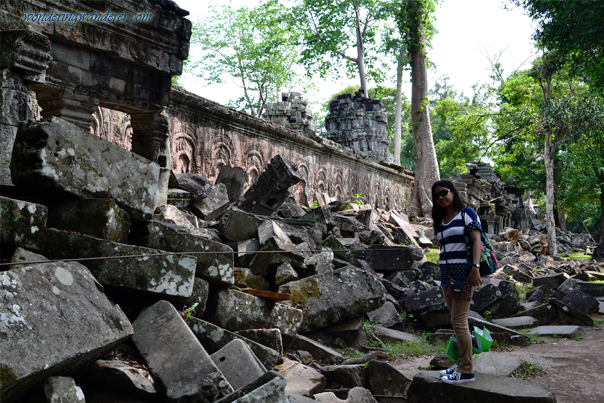 History of Ta Prohm
This Buddhist monastery was constructed in the late 12th to the early 13th century under the reign of King Jayavarman VII. It was originally known as Rajavihara which means The Royal Monastery before its name was changed to Ta Prohm which means Ancestor Brahma. This site was abandoned for centuries after the fall of the Khmer Empire in the 15th century.
This monastery was dedicated by the king to the Mahayana Buddhism concept "Prajnaparamita" which means perfection of wisdom. Since Prajnaparamita was also known as the "Great Mother," the king created a female statue that personifies this concept. The said statue was known to have been based on the image of King Jayavarman VII's mother.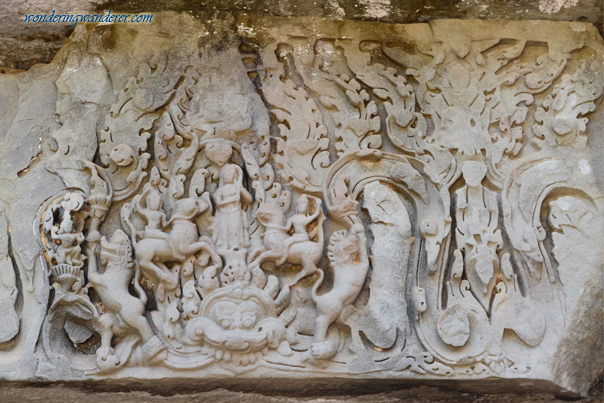 Exploring Ta Prohm
There was a big crowd of tourists when we entered the Ta Prohm complex which was a complete opposite in Banteay Kdei. It was pleasant to see that the visitors here can enjoy a cultural show by Cambodian musicians. There were several vendors as well that are taking advantage of the crowded situation.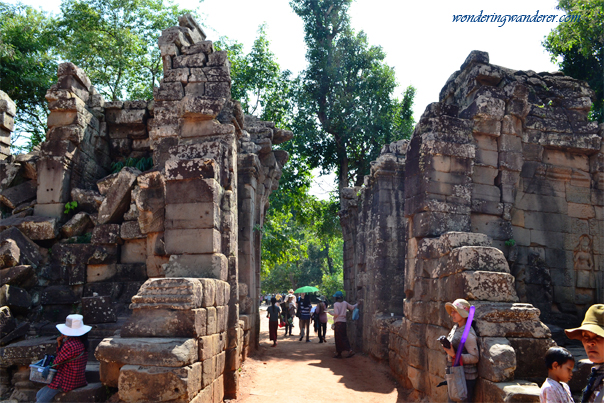 Humunguous trees can be seen from afar of this abandoned site. Centuries of desolation allowed the trees to flourish and grow to their current size. This unexpectedly resulted in a magnificent sight of nature that's interweaving with man-made structures. From being neglected, people are now lining up to visit this complex just to witness the product of its bizarre phenomenon.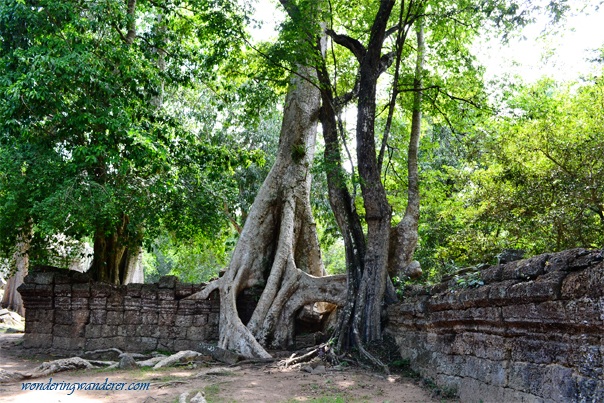 Most Popular Spot
It took some time before we got our chance to get a picture of the most popular section of the temple because of the number of tourists lined up. The large roots of the tree that crawled at the center of the temple seems like something you'll see in fantasy movies. It's amazing how the roof was able to hold its weight. I remember seeing this in the movie Tomb Raider and it was really great to finally see it in person.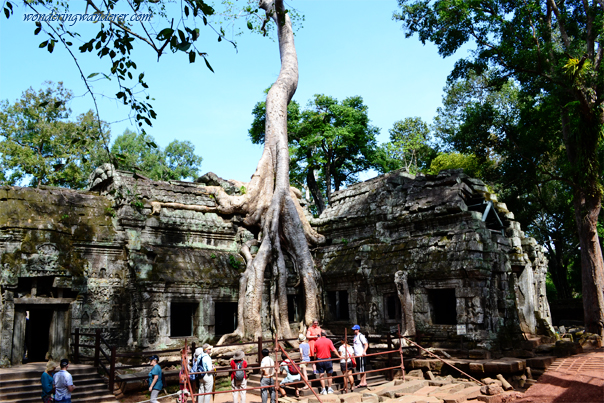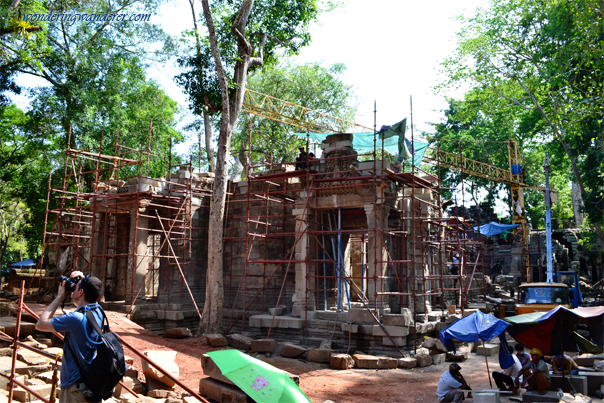 It looked like a Kraken that entangled its tentacles on a ship. My initial impression is that it was a tree that grew beside the temple. Observing it further gave me the idea that perhaps a small bird left a seed on top of its soiled roof. The seed eventually grew that's why its roots scattered on the roof until they reached the ground. This tree also look like a poured gooey liquid that splattered then got frozen instantly.
More Trees on Structures
At first, we thought that it was just one lucky structure that got crawled on by a tree. But after doing a short exploration, we were surprised to see more—especially on its walls! There's quite a number of them that they looked like tree monsters wresting with stone golems. Some of the structures were already bent or cracked by these outrageously large trees but it's great to see that they didn't collapse—not yet.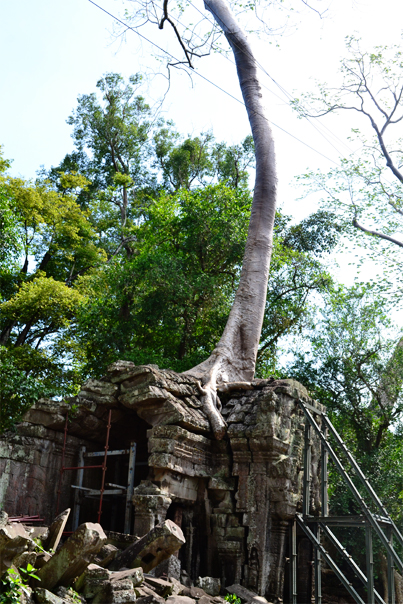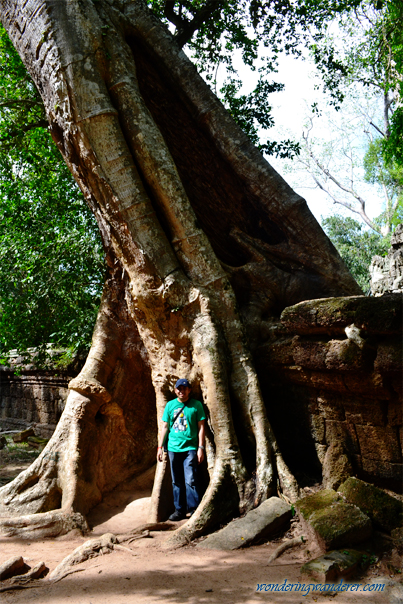 Ruins of Ta Prohm
The abandoned structures here look very much similar to the nearby Banteay Kdei. The signature Bayon architecture can easily get spotted because of the tower and concrete roof style. What I found unique is the bas-reliefs' style and depiction of the figures of devata and deities. This is the only temple where we've seen a bas-relief depiction of lions and horses. The beauty of these Cambodian artworks is amusing as always.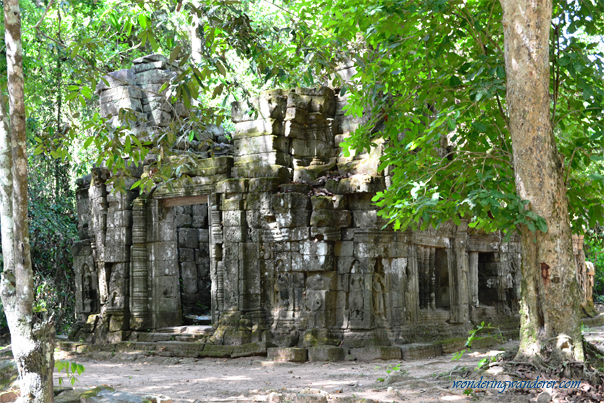 This site has all the right elements that really make a place enchanted and ancient. Your journey to the past in this complex will take you somewhere extraordinary that's way beyond vintage.