Wat Phnom is a tourist attraction in Phnom Penh that is known for its giant clock. A statue of a humungous cobra seems to serve as the area's guardian. On top of the Wat Phnom hill is a Buddhist pagoda with a high and pointed roof. Visitors can climb up the temple area and freely explore the entire place. There are some park benches around the hill where visitors can relax while enjoying its greeneries.
Visiting Wat Phnom
After our tour at the Royal Palace Park, our Tuk Tuk driver brought us to the Wat Phnom area. You'll immediately see the giant clock from the Tuk Tuk the moment you get close to the site. The clock shows that it was almost 3 PM when we got there. It was a hot afternoon so it was nice to cool down a bit in its lush green garden.
There was an elephant ride offered in the site before but it was stopped when their one and only elephant got old. Perhaps the locals were trying to showcase how they utilized the elephants for construction and war. Elephants used to be a symbol of military superiority in the Indochina region.
Surrounding Areas
Before heading to Wat Phnom, we've seen some buildings along the way which shows the beauty of Cambodian architecture. I can't help but take photos of them from the Tuk Tuk. Their devotion to Buddhism is very evident here because we've seen plenty of pagodas and temples around during our short tour.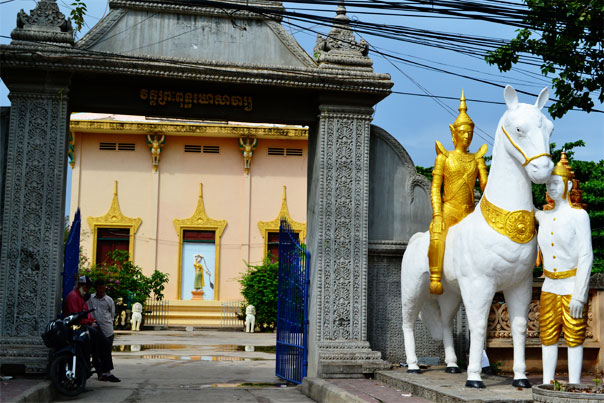 Just one block away from it is the Tonle Sap River. It was a pleasure to see how it's clean and serene despite being located beside the busy city of Phnom Penh. It reminded me about how our Pasig River here in the Philippines got very polluted in the 1990s. Thanks to the government's rehabilitation effort in the past, the Pasig River is clean once again.
Related Post: Independence Monument & Chuon Nath Statue