The Independence Monument and Chuon Nath Statue are symbols that hold some of the important events in Cambodia. Both can be found standing at the center of the two roundabout roads of Phnom Penh which are parallel to each other. Visitors can enjoy viewing these two majestic structures during a tour at Phnom Penh.
Independence Monument
The Independence Monument was constructed in 1958. This is five years after Cambodia's independence from France in 1953. It has a lotus design that looked fiery because of the naga snakes on its edges. It's like the famous gate of London but with a roof of the Angkor Wat. The beauty of ancient Khmer architecture with a touch of modernity is at display here.
We had a quick stop at this monument after shopping at the Russian Market. Our timing was great during our visit because there were very few vehicles. November 9 is their Independence Day holiday and I can picture out their performers dressed in traditional Khmer attires during the celebration. There's a grassy park beside it which has a statue of King Norodom Sihanouk.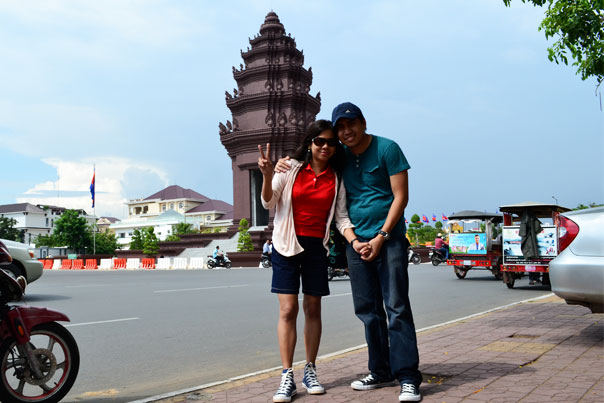 Chuon Nath Statue
The Chuon Nath Statue statue was erected in honor of the late Samdech Sangha Raja Jhotañano Chuon Nath. He was the Supreme Patriarch of Cambodia. Leaders of Buddhism in Cambodia are given this title. He was recognized for his works in preserving the Khmer language and culture. Chuon Nath has written a Khmer dictionary and composed the country's national anthem "Nokor Reach."
After our quick stop at the Independence Monument, we can't help but check out the Chuon Nath statue as well because of its eye-catching looks. It was also a pleasure to see the statue of the nagas and lions that are guarding the path. They are a good reflection of Cambodia's faith and culture. The golden statue of Chuon Nath with a multi-layer umbrella looks noble and magnificent. Ideally located close to the Independence Monuments, the locals can celebrate their independence yearly with him.
A visit to these two monuments in Phnom Penh will give you a better look at Cambodia's history and culture.