Where to eat in Siem Reap? Beyond the rich history and culture of this Cambodian province is its abundance in exotic, flavorful and delectable native food! Delight yourself in trying their variety of local dishes while taking pleasure on meals that are already familiar with your taste.
You can truly enjoy more of the Cambodian culture by gorging on their authentic food that is rich in distinct flavors. Their native assorted desserts which are mostly made out of grounded rice are mini-cakes with an oriental twist. Add the colorful variety of tropical fruits and you're on your way to an exquisite gastronomic paradise.
Restaurants that we visited in Siem Reap
Tonle Chaktomuk Restaurant
We were thrilled to try out this restaurant during our trip but got concerned about the cost considering how luxurious it looks. It was a surprise that their buffet price is only $6.00 yet the amount and variety of the food that they were serving was more than double of what we're getting here in the Philippines.
The bigger surprise for us is how they were serving Filipino snacks like kutsinta, palitaw,
maruya and maja blanca but with Khmer names. Cambodia is in-between Thailand and Vietnam yet we don't recall the other two countries serving those types of food when we visited both of them.
It's hard to tell if they hired a Filipino cook in their restaurant or if they happened to have the same type of snacks here in the Philippines. Popular Chinese food like lumpia, chicharon and pancit were present as well. It was really nice that we were able to enjoy Cambodia's authentic food while getting a taste of our favorite ones.
Service and Food Quality
I had three rounds of main dish attacks but as a meat-lover, I gorged more on their barbecues. My wife and I agreed that the meats they're serving are less salty unlike what we're used to. I guess their specialty is the chicken curry which is savory and juicy as always. Overall, the quality of the food is above average for me.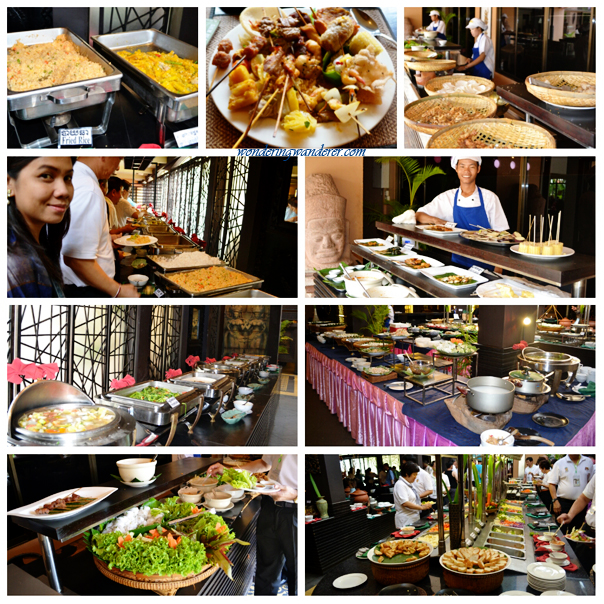 Their staffs are warm and friendly like most of the Cambodian people. On top of enjoying an authentic Cambodian meal, we also received some authentic smiles from their team. They're very easy to approach and spoke good English all the time. Fantastic service as always.
I just want to clarify that the $6.00 price was in 2013. I found out that their latest pricing is now $10.00. The difference is that they're now offering an Apsara dance performance for their guests. On top of the inflation cost, perhaps the variety of food increased as well this 2019.
The Palmboo Restaurant
My guess is that most of the visitors of Siem Reap are familiar with this restaurant because it's a common stop during lunchtime when you tour the Angkor Archaeological Park. Plenty of tourists come to this restaurant in the middle of their tour because it has an air-conditioned section to help you beat the heat.
In fact, they even placed a large sign that they have an aircon to attract most of the visitors. No other restaurants nearby have an AC during our trip here but it's possible that a competitor with an aircon already sprung up in the area now. We got there early when the restaurant was still empty but the entire place suddenly became full before we even received our order.
When the food finally arrived, we were surprised at how large the serving is for the mixed vegetables with seafood. Its soup was thick and tasty and the vegetables were perfectly crunchy and flavorful. Like in most of Cambodia, they also served a chicken curry which was my favorite. Its mouthwatering aroma and tender chicken meat is always a delight for me.
The quality of the food here for me is slightly above average. I wish that I've taken a photo of its menu but I can recall that it was definitely more expensive than their usual restaurants because it's at the heart of the tourist attractions. The restaurant is very clean and our food was well presented by their friendly staff.
Angkor Café
After our Angkor Wat tour, our tuk-tuk driver recommended this restaurant when we were looking for a place to have a snack. We were happy to see the ice cream sign because it was a hot day. The place is really elegant and can accommodate a lot of guests. It has some tables on the patio as well for outdoor dining.
This restaurant has a brilliant concept of having a souvenir shop inside where the items for sale are arranged like they're part of the decorations. They were able to enhance the café's ambiance while earning extra on the product sales. We were their only guests that moment and so it felt like we've rented the entire place exclusively.
The place looked expensive but the menu has a reasonable price. To make sure that we don't overspend, we shared a two-scoop ice cream with a cherry on top. It's practically your grocery store type of ice cream that was enhanced by the chocolate syrup and mallows. This restaurant has an AC as well so it's definitely a perfect place to cool down.
I wish that we were able to get a taste of their authentic Cambodian food because there were plenty in their menu but what we can definitely confirm is that it's a restaurant that has a great location, friendly service and wonderful ambiance.
Motherhome Inn & GuestHouse
This small hotel is where we actually stayed during our Siem Reap tour. It's really nice that several hotels in the area have restaurants that are accessible to everyone. You'll notice that the tables and chairs look different in the pictures because these are on two different hotels which are just one block apart but under the same company.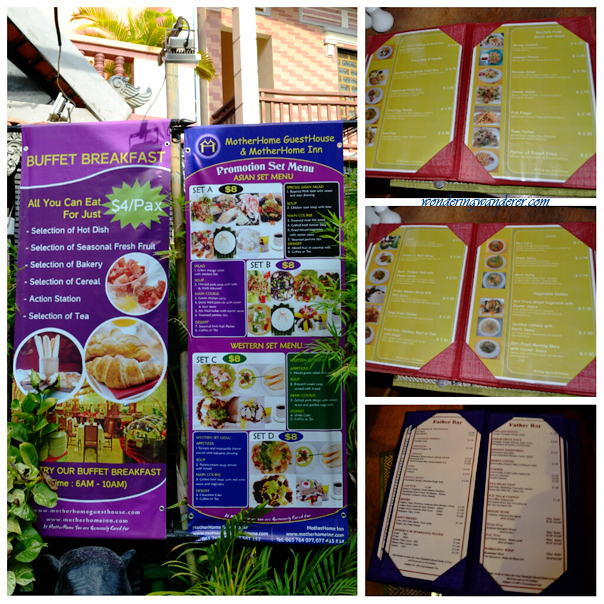 We had our dinner at the restaurant of Motherhome GuestHouse (now Boutique) on our first day at Siem Reap then had our breakfast on our last day at Motherhome Inn. Although most of the restaurants that we've visited have friendly staffs, we find the people here to be more warm and proactive.
A small plate full of nuts were given to us as a complimentary food the moment we sat down. It was a good appetizer while waiting for the main dish. When our order finally came, I was very excited to try out their authentic food. They were nicely presented and wrapped using a banana leaf like in most of the native restaurants here in the Philippines.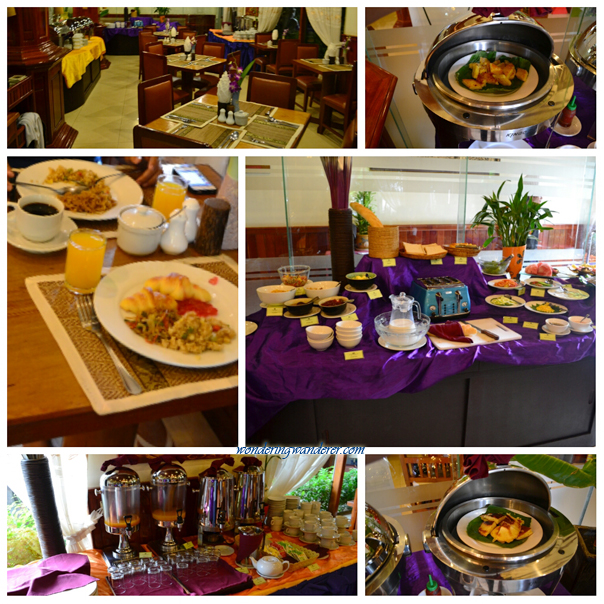 The curry's sauce is thick and flavorful and the chicken meat is well cooked. We've been to other restaurants where you'll see blood remains on the meat but theirs are cooked to the core. The same can be said with my wife's barbecue which I've given a try as well. The most unique setup I've seen is the flower on the juice drink. I haven't seen any setup like it until now.
Cambodian Street Food
If you're up to the challenge, you can try out their insect street foods. It was our first time to see fried cockroaches and crickets sold in the streets. They added some onion leaves and red chili peppers to perhaps improve their taste and odor. I'm sure they're edible but we were not up for the challenge at that moment.
I accidentally bit an insect when I was a kid and I know how bitter their green juices taste like. Foods like these are certified exotic. You should get a badge for simply trying just one of these. Tropical fruits like rambutan, elderberries and sugared tamarind are perhaps the more attractive options.
Filipino Street Food?
It was surprising to see some puto, suman and what seems to be a variety of biko or a cassava cake in Cambodia. Like what I mentioned previously, Tonle Chaktomuk served Filipino snacks like palitaw, kutsinta, maruya and maja blanca so this made me look up if they're purely a Filipino food like adobo or if they're like the halo-halo which was derived from the Japanese mitsumame.
What I know is that Cambodia's civilization is way much older than the Philippines so it made me think that it's really possible that they started the food and then Filipinos made an adaptation later. But the other issue here is that there were no Historical traces that the Cambodians had trade with Filipinos long time ago so it's unlikely.
After checking online each one of the food, all of them were noted to have originated in the Philippines.  There was no mention of Cambodia at all. My best bet is that these were actually brought to them by Filipinos recently and quickly became a hit there because their staple is rice as well. I guess these desserts indicates how much we influenced Cambodia because their locals loved to talk about Filipino soap operas during our tour there.
We hope that this post helped you decide where to eat in Siem Reap.
Please check out our Siem Reap Travel Guide to learn more about this wonderful Cambodian province.