Angkor Night Market and Pub Street will brighten your evenings in Siem Reap. Enjoy the dazzling sight of the abounding cheap goods, exotic food and live bands as you explore every corner of this sparkly district. Pamper yourself with their relaxing therapeutic massage and spa services at a very affordable cost. It's the perfect place to cool down after an entire day of temple tour under the heat of the sun.
Walking around its bustling and crowded streets is safe and convenient. It gives you a wonderful opportunity to have greater interaction with the friendly and hospitable Cambodians. Have a fun conversation with them as they help you get your body rejuvenated with their caring touch. Delight yourself with their wide variety of delectable and authentic food that is truly flavorful.
Our Experience at the Angkor Night Market and Pub Street
After our tiring exploration of the temples at the Angkor Archaeological Park, we just took a quick afternoon nap then headed to Siem Reap's famous night market. It's easy to get back and forth here using a tuk tuk. With all the lights and the big crowd, we felt re-energized to do long walks again. But before jumping into another tiring activity, Juliet decided to get a quick pedicure and manicure service.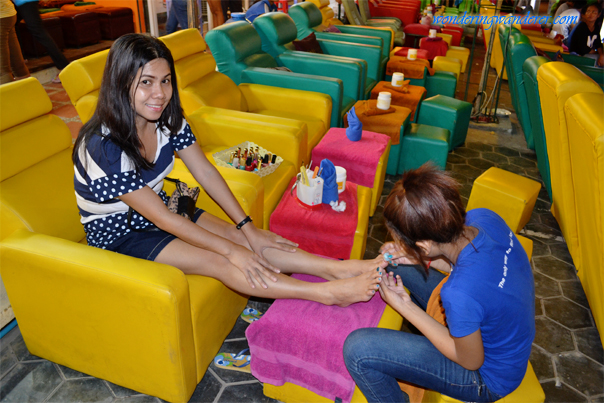 It was nice to see that they're also offering a fish foot spa service. We can see in the smiles of the two ladies who were having the foot spa how they're getting tickled by the fishes. While my beloved Juliet is relaxing as her nails are getting retouched, I had a short walk nearby to take photos. I was just alone for almost 2 minutes and I was already offered by someone about an indecent service which I quickly declined.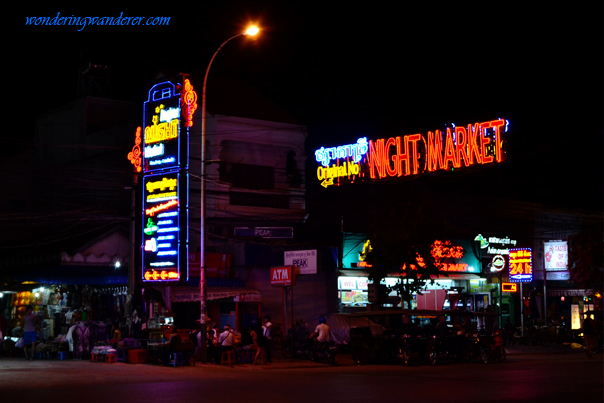 It's sad that it's a bit of red light district but it's family-friendly overall. We felt very safe and never experienced any scams unlike during our trip to Vietnam and Thailand.
Buying Recommendation
We were really happy that we bought a lot of t-shirts during our visit here. They are cotton soft, breathable and takes a long time to fade. My parents and brother even mentioned how they loved the Cambodian t-shirts that we gave them. We brought new clothes for our child but he still prefers to wear the ones from Cambodia. He said that he's really comfortable wearing them. They're especially great to wear during a hot weather.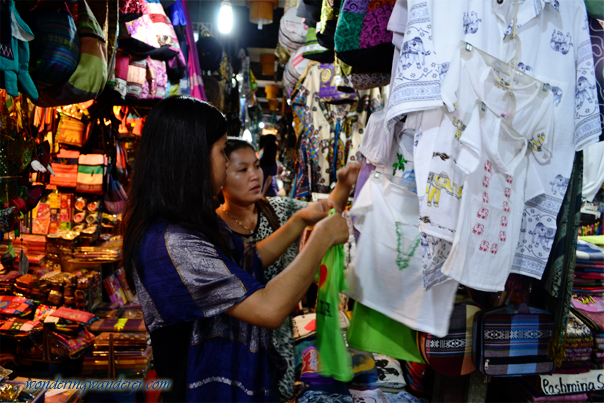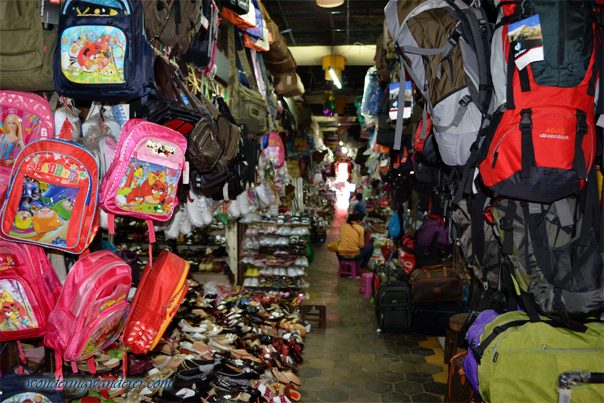 What we didn't try is to buy are imitation t-shirts. The t-shirts that we bought are souvenir t-shirts with images of the temples. What we don't recommend to buy are the imitations bags. The Northface bags that we brought looked pretty close to the original but very far from the quality. Mine is already damaged and looked very old and worn out after using it for just four times. My Deuter bag which I've been using since 2011 looks much newer than that Northfake bag. I know that we can't expect good quality from fakes but I had some before which lasted much longer.
Miscellaneous Items
The other items that we bought that are worth the buck are the paintings, scarfs and the refrigerator magnets. Our aunties loved the scarves that we gave them. Those fashionable scarves are soft, strong and made out of silk. The paintings look timeless and have a wonderful depiction of the temples. They looked wonderful at home and their vivid color doesn't seem to fade. If you want to take home some of the bas-reliefs of Cambodia, you can do so in a sense by buying the refrigerator magnets.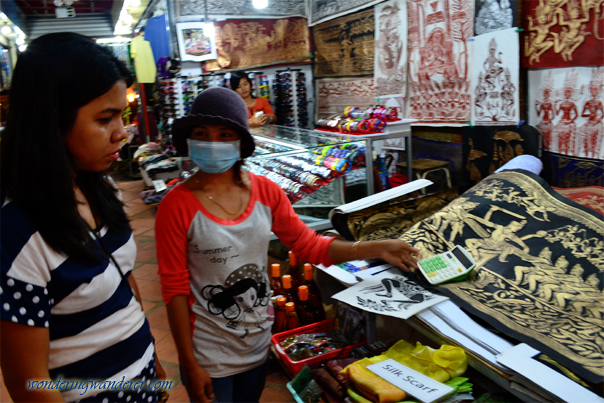 A visit to Siem Reap's night market is not just about shopping galore and relaxation but is also about the memorable cultural experience.