Chau Say Tevoda Temple is officially the smallest temple that we visited in Siem Reap. Modest but with a beauty that is not diminished. Its exquisite design clearly reflects the charming and elegant Angkorian architecture. The temple's tall tower strongly resembles the ones that can be found in the iconic Angkor Wat.
This temple was dedicated to the Hindu deities Shiva and Vishnu. Bas-reliefs of devatas are wonderfully sculpted on its walls. Their signature fancy attires and refined poses never fail to enhance the temple's aesthetics. Its decorative wall patterns with an elegant leafy style are simply classy.
History of Chau Say Tevoda Temple 
This temple was constructed in the middle of the 12th century under King Suryavarman II's reign. There were some additions made during the rulership of King Jayavarman VII. Dharanindravarman who ruled from Preah Khan Kompong Svay added some Buddhas as well. The temple's bulletin board shows that a restoration project was sponsored by the People's Republic of China. The Chinese team worked on the restoration between the years 2000 to 2009.
Visiting Chau Say Tevoda Temple
While most tourists were skipping this small temple, we decided to pay it a quick visit. The only people that we saw there is the sweeper with some locals hanging out with her. After visiting several grand and large temples around the area, seeing this temple just seemed like a small section of one of them. We thought that the Ta Keo Temple is already the smallest but this one is even smaller. This could be one of the main reasons why it wasn't getting that must attention during our visit.
Despite that, we continued to check it out to better see its modest but noble beauty. A visit here is not just a journey to the past but is also about getting a good realization of how beauty is relevant. If this ancient temple was found in one of the jungles of the United States of America and with no other temples around—I bet that it would be labeled as one of the most popular attractions in its state/region.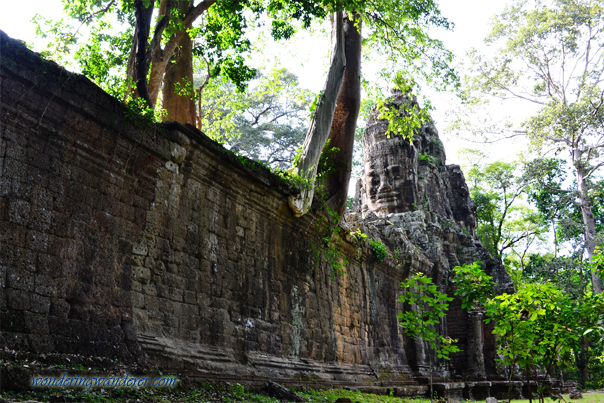 I guess on a Christian church perspective, this would look like a newly put up branch due to its size. This temple is so small that the walls and gates that surround it are much bigger and higher compared to it. As history lovers, our short and sweet visit to this temple is really meaningful for us because we always see old structures like these as an ancient masterpiece.