Aniao Islets are the ornaments of Diguisit Beach. Their wrinkled light-brown faces looked soft and muddy from afar but a closer look made us realize how solid and sturdy they are. They reminded me of the large rocks that we saw in Ampere Beach, Dipaculao and how they seem to age differently. The rocks in Ampere Beach are supposedly old because they're gray and bald yet they're smooth and less wrinkled. The rocks here are brown and hairy but are full of wrinkles and scars. I guess that Aniao Islets have endured a lot considering how strong the waves are in Baler during peak season. These are definitely no ordinary rocks and they have aged gracefully. It's amazing how strong islets like these have randomly sprung up in the area.
The tide was low and the land surrounding these islets was exposed. There are stairs at the edge of the walls so we used one to get down there and have a closer look at the land and the islets. The land's brownish look can be tricky because I was expecting to have slippery muds at the sole of my shoes but everything down there was pretty solid. The bottom of its many craters is visibly clear because of its clean seawater and surroundings. The residents deserve a big kudos for doing a great job of keeping the beach area clean.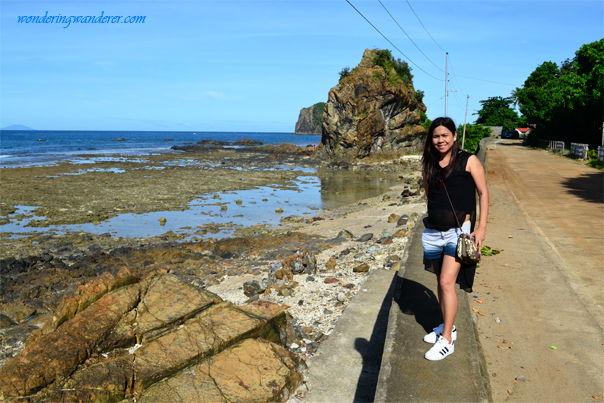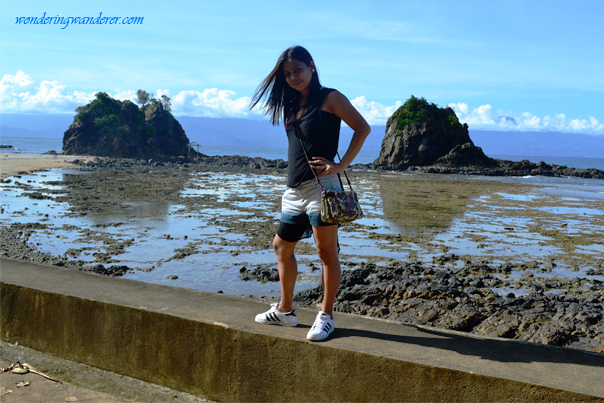 Horizon View in the Aniao Islets' Area
There's a pleasant sight of the horizon down there because of the beach's unique blend colors. The dark rugged rocks, light-brown soil with puddles of clear water, the islets with their grassy top, the navy blue sea and lightly azure colored mountains made an amazing combination. The clouds were like thick cotton from afar but are just light strokes nearby. The cool sea breeze is relaxing and helped a lot in toning down the heat of that sunny day.
We saw an open hut nearby so we went there to relax a bit while enjoying the nice view of the Aniao Islets. The cozy shelter will make feel sleepy and it was very tempting to lie down on its long wooden seat. I had to stretch out a bit because a mirage of golems doing yoga was starting to flash in my sleepy eyes as I look at the islets.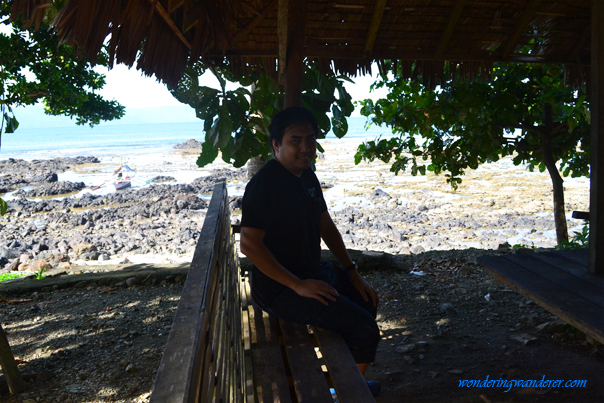 After our short break, we headed to our next destination. Along the way, we saw some locals washing their clothes under the bridge. The rivers and lakes in Baler are so clean that people can still swim and do their laundry here in old school style. I hope that the locals can keep Baler clean and that other provinces will follow their good example in keeping the environment fresh.