Balicasag Island is the most exciting island in Panglao, Bohol for one simple reason—colorful fishes and lots of them. In fact, they are so many, you'll see them swarming even in the shallow parts of the beach!
The land formation of the beach made this possible because the edge of its shallow part has the wall they call the "Diver's Heaven". The "Diver's Heaven" is in the 8th place of the "Top 10 Dive Sites in the Philippines" based on the Scuba Dive Philippines' website.
Snorkeling in Balicasag Island
Looking at a bulk of them with their colorful scales illuminated by the sun was really awesome. Their kaleidoscopic color gives you an impression of an underwater rainbow.
It was really nice to get surrounded by those fishes while feeding them. They made me feel like a kid in Candyland! Thanks to the "Diver's Heaven" below, it can also be considered as a "Snorkeler's Heaven".
Getting to Balicasag Island
The moment our batch arrived there, several small boats started coming toward us. We were told that we need to ride those boats to get to the snorkeling area because our boat for island hopping is too large for shallow waters. Each boatman will serve as guides and lifeguards to their corresponding passengers. They charge P150.00 per person and each boat can carry two passengers only.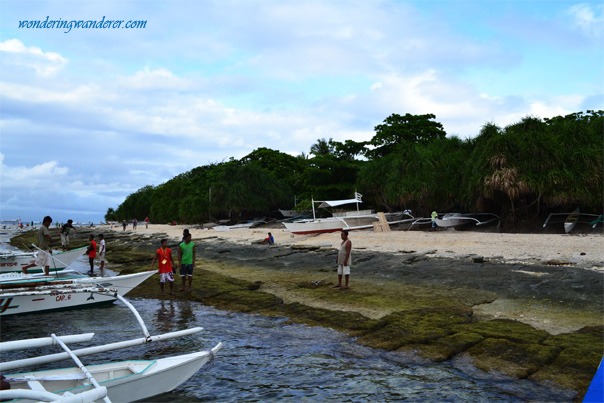 Aside from being a lifeguard and a boatman, our guide was a photographer as well. He took most of our underwater pictures and did a great job. He was also the one who recommended that we use some crackers to feed the fishes to make them surround us and have better pictures taken with them. My wife really appreciated our boatman's so she decided to buy some ornaments from his wife who was just waiting on the shore.
Lunch Time
To prepare for our next stop, we requested to have some fish cooked for us in the local eatery and we bought some coconuts for our drinks. It took them 45 minutes to prepare our meal but it was all worth it because the food tasted great. If you're concerned where the fishes came from, I guarantee you—they're not from the snorkeling area since it's a protected area.
Your island hopping trip in Panglao, Bohol won't be complete without visiting this amazing snorkeling and diving site. You don't really have to dive deep to encounter loads of colorful fishes. Getting swarmed by these bright little creatures is a bliss. Make sure not to miss a thrilling and one of a kind experience on this island.
Balicasag Island Rates
Snorkel Rent: P150.00
Water Shoes Rent: P100.00
Lifeguard / Entrance fee to Marine Sanctuary: P150.00
Waterproof Camera Housing: P300.00
Lunch: P300.00