Snorkeling in Puerto Galera is an ecstatic activity that you can't miss when visiting Oriental Mindoro. The captivating world of its undersea is simply surreal. Its rich variety of colorful fishes is a kaleidoscopic sight that will get you mesmerized. The graceful sways of its live corals and the enchanting look of the giant clams is a pleasant view the will fill your heart with delight.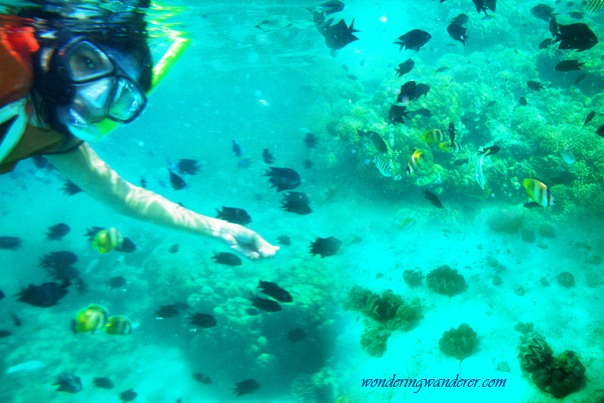 According to a UK-based scuba diving website, Puerto Galera is the 3rd best diving site in the Philippines. The first one in their list is the Tubbataha in Palawan and the second one is the Apo Reef of Occidental Mindoro. Considering the number of beautiful diving sites in the country, making it to the third spot makes it very exceptional.
Our Experience Snorkeling in Puerto Galera
During our island hopping tour, we were taken to the Giant Clams snorkeling site by our tour guide. The first thing we saw was a group of small boats waiting for tourists to get their service for a snorkeling tour. You can either go snorkeling on your own or get assistance from them by paying P300.00. Two people can be accommodated in one boat so you can cut the price in half if you have a partner.
This made me wonder what's the need for the small boats when we were able to snorkel in different provinces without paying extra for those. It seems unnecessary and a waste of money. Since my wife doesn't know how to swim and our boatmen recommended it—we gave it a shot.
3D Underwater Tour
The boat actually has two ropes covered with hoses that the snorkelers can hold on to while he paddles to the best spots. This definitely makes it convenient for non-swimmers and swimmers alike. I like the fact that my wife can have a better snorkeling experience with me instead of just being stationary in one shallow spot like in our other snorkeling trips.
Seeing the colorful fishes swimming and dashing while looking at the live corals swaying on the little mountains under the sea as the boat moves is like watching a 3D movie—only way better! We were like hovering on top of an enchanting world without making an effort to swim. It was definitely the best snorkeling experience I had.
The setup has several benefits because aside from helping you save your energy to swim—you can explore a wider area. This also helps the livelihood of the locals more and prevents you from accidentally stepping on the corals.
Snorkeling in Puerto Galera Tips
During our snorkeling trip to Balicasag Island in Panglao, Bohol, we learned from our guide that you can bring crackers (like Skyflakes) to attract the fishes so we brought some here. Simply crush the crackers near the fishes and see them flock on your hand to eat them.
Make sure to avoid getting close contact with lionfishes and jellyfishes. They may look cute but they're venomous.
Put a good gap between you and the corals to avoid stepping on them accidentally.
Rates:
Island Hopping – P1,500.00 per boat (8 people capacity)
Small Boat for Snorkeling (including gears):
1 Spot – P300.00
3 Spots – P600.00