White Beach is one of the most popular tourist destinations in Puerto Galera because of its fine white sand and scenic ocean view. Brimming with resorts and visited by a great number of tourists, the prominence of this vibrant beach is undeniable. It has plenty of restaurants to choose from for a delightful meal or snack.
As the sun sets in this beach, the more it becomes alive because of its fire dances, live bands and tasty grilled food. Talented locals wonderfully showcase their creativity in handling fire with their blazing exhibitions and artistic choreography. Request your favorite song to their live bands while enjoying a sumptuous feast for a fantastic evening.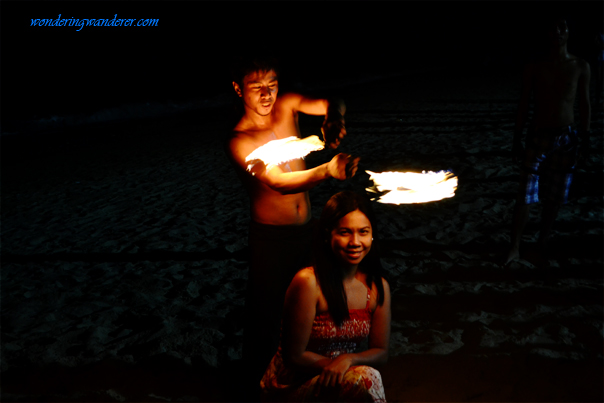 Our Experience at White Beach
It wasn't a peak season when we went there but there were plenty of tourists. Perhaps because of its accessibility to Metro Manila. The visitors can simply take a bus to Batangas then take a boat ride to get here. There are plenty of minicabs waiting for you once you arrive at the dock and they can take you to your preferred beach in Puerto Galera.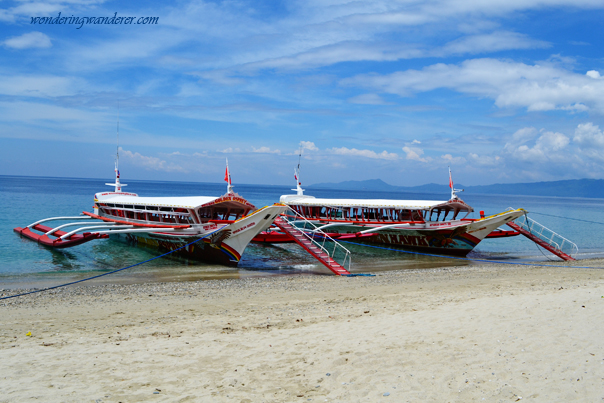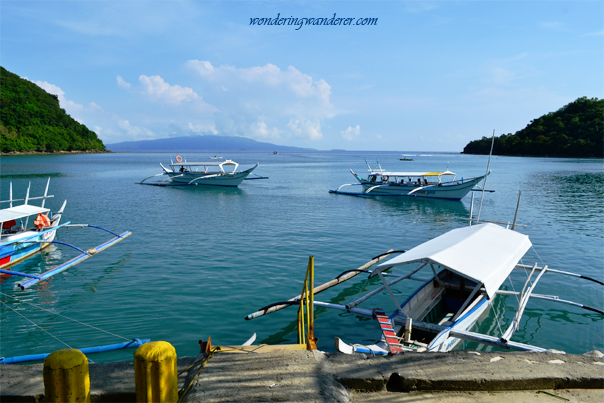 It was our first time to try going to a beach where we didn't book a room in advance. We were confident that there will be an available room because it wasn't a high season but we realized that it's a crazy risk that we stopped doing in our succeeding travels. We were lucky that there was an available room at Medelluke's Suites at a reasonable price when we got there.
Beach Environment
Despite the name of the beach, I find the sand's color to be grayish-white unlike the other popular beaches in the Philippines where you can certainly say their sands are white. Some parts of the beach are filled with pebbles but those are close to the edge. There are large rocks where you can climb on to capture a picturesque view of the beach.
Unlike in Aninuan Beach which is just beside it, you'll find plenty of resorts and restaurants sitting side-by-side on this beach. I can't imagine how the entire beach would look like on summer. If you like to party hard in the evening, this beach is a great option for you. But if you want a more serene and quiet environment, you can consider booking a room at Aninuan Beach which is just a short walk from White Beach.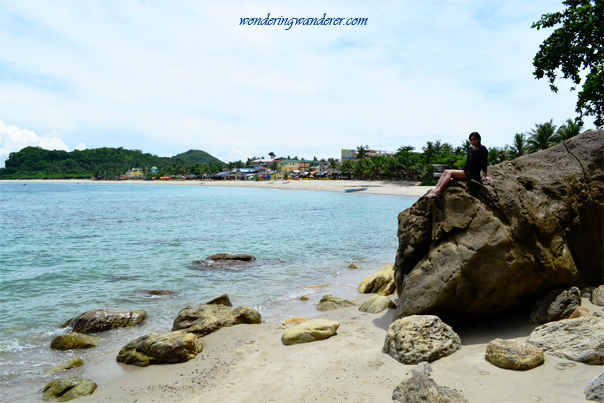 White Beach Resorts and Hotels List
Playa Blanca Beach Resort
Mobile: 0906 442 2444

Marion Roos Hotel
Mobile: 0921 737 2935

Queen of Isle Cottages and Restaurant
Mobile: 0917 944 9413
Facebook Page: https://www.facebook.com/queenofisle/
White Beach Lodge and Restaurant
Mobile: Smart – 0939-9387818 or 0939-9281418 | Globe – 0917-7771418 or 0917-8181418
Phone: 043-2873101 or 043-7063385
Website: http://www.whitebeachpuertogalera.org/
ZEN Rooms White Beach
Phone: (02) 231 3338
Summer Connection Beach Resort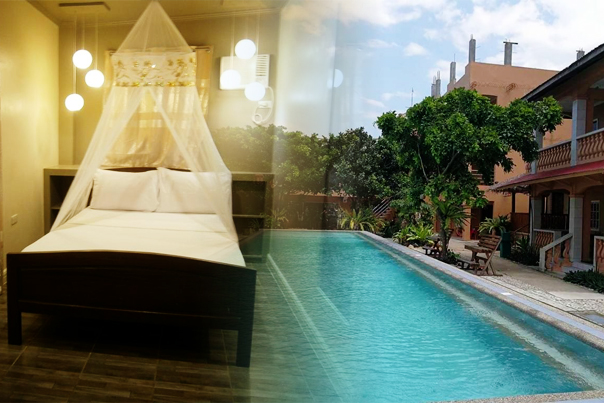 Contacts: Ben and Norma Manongsong
Email: inquire@summerconnection.net
Mobile: Smart – 0920 973 66 42
Mobile: Globe – 0915 900 00 80
Phone: 043 287 36 88
Website: http://www.summerconnection.net/
Mendelluke Suites
Mobile: 0917 306 5481 / 0906 465 2069
Villa Bienvenida Beach Resort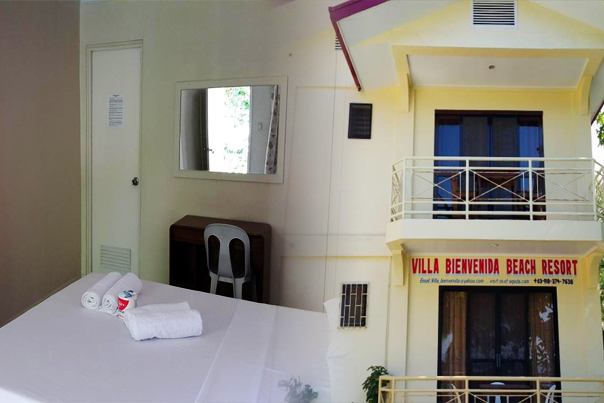 Mobile: Smart – 0918 374 7638
Mobile: Globe – 0995 029 3116
Phone: +63 2 736 2402
Website: http://www.villabienvenida.com/
Felina Guest House
Address: White Beach, Puerto Galera, 5203
Mobile: 0916 239 5869 / 0927 843 2247
Facebook Page: https://www.facebook.com/FelinaGuestHouse/
DreamWave Hotel
Mobile: 0995 915 2860 / 0936 453 6252
Website: https://www.dreamwavehotel.com/locations/puerto-galera/
Sea Jewel Beach Resort
Mobile Numbers:
0917-8392280 (JOAN – GLOBE or TM Text only/Text)
0917-8523479 (JAYSON – GLOBE or TM Text only)
(+63) 932-8392280 (JOAN – SUN Text only)
(+63) 998-9820841 (JAYSON – SMART or TNT Text only)
Emails: inquiry@seajewelonline.com, sjbrpuertogalera@gmail.com
Website: http://www.seajewelonline.com/
Blue Water Lodge Puerto Galera
Mobile: (0926) 7445131, (0922) 8919122, (0922) 8919135
Phone: (02) 7272885, (02) 9865535
E-mail Address: bluewaterlodge@ymail.com
Website: http://www.bluewaterlodge.com.ph/
Casa Marco Suites
Mobile: 0977 829 2525
Facebook: https://www.facebook.com/pages/category/Hotel-Resort/Casa-Marco-Suites-1124921254292610/
Agbing Beach Resort
Mobile: 0920 239 4571
Bangera Inn
Mobile: 0926 706 4051
Facebook Page: https://www.facebook.com/BangeraInn/
Villa Del Car
Mobile: 0917 344 6681 / 0926 590 0885
Facebook Page: https://www.facebook.com/pages/category/Local-Business/Villa-Del-Car-Lodging-House-626397527375627/
Villa Anastascia
Mobile: 0916 385 2095
Facebook Page: https://www.facebook.com/pages/category/Local-Business/Villa-Del-Car-Lodging-House-626397527375627/
Jna Nicole Lodge
Mobile: 0916 621 2372
Facebook Page: https://www.facebook.com/pages/category/Hotel/Jna-Nicole-Lodge-111698799371171/
White Beach Guesthouse
Mobile: 0919-8104150 / 0918-6561047 – Contact: Belinda Gustafsson
Email: belinda@whitebeachguesthouse.com
Website: http://www.whitebeachguesthouse.com
Bakawan Forest Resort
Mobile: 0920 959 4484
Facebook Page: https://www.facebook.com/bakawanforestresort/
MJD Lodging Inn
Mobile: 0945 297 7089
Facebook Page: https://www.facebook.com/mjdlodgingin/
Villa Natividad Resort
Mobile: 0919 234 5024
Residencia La Estela
Mobile: 0927 507 6640
Nautilus Inn
Mobile: 0921 541 8525
Cherry's Inn
Mobile: 0920 606 2259
White Beach Map