Aninuan Beach is a charming white-sand beach in Puerto Galera that is less crowded than your typical beach. It has a picturesque view of the sea that wonderfully blends with the clear blue sky and the nearby islands. The lush green trees and plants around it are soothing to the eyes while the fresh clean air coming from them is simply refreshing.
The entire of the stretch of this beach is almost the same as the White Beach beside it. Despite their closeness, there are fewer visitors here perhaps because of its rocky shore. It's rich with white sands but certain parts are filled with small stones that makes it a bit challenging to swim. Nonetheless, it's a pleasant beach to visit in Puerto Galera.
Exploring Aninuan Beach
When we reached the end of the White Beach, we decided to check out what's behind its big rocks. The tide was low enough for us to easily get around the rocks so we continued to walk without much expectation. It's our habit to check out what's at the end of a beach and most of the time it's just dead ends but this was different.
It was great to see that there's actually another beach beside the White Beach. The time of our visit was ten o'clock in the morning but there was almost no one there. It felt that we have exclusive access to this beach. It was a September when we went here which could be another reason why there was almost no one else in sight.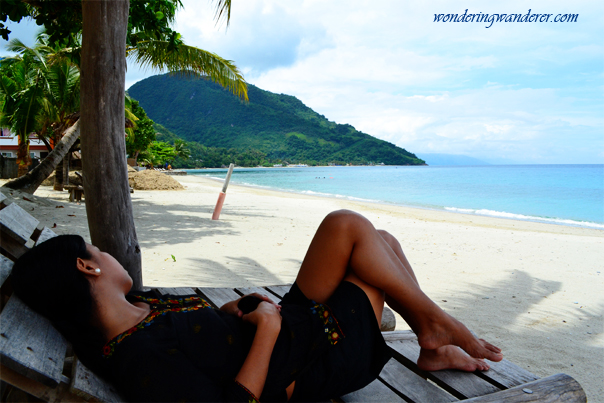 Local Livelihood
We saw some locals hanging out on the part of the beach with large rocks. When we got near them, we found out that they're sharpening the arrows of their improvised harpoons. Seeing some of their catch, I can say that those are really effective. Some of them are using their fishing boats for island-hopping tours during peak seasons but go back to fishing during low seasons.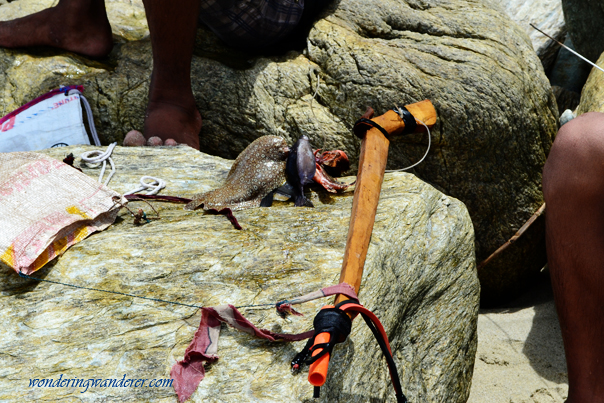 What I found unique is the water taxi. It's an improvised boat that has a foldable roof and monobloc seats. Its platform is flat and wide so the tourists can conveniently move around it. This is the only place where I've seen one. We later confirmed that this taxi doesn't have a meter which charges a minimum and a per kilometer rate.
I guess they're parking this water taxi somewhere with a great coral reef. I wish we had a chance to give it a try because it would have been awesome. The visitors can freely swim around and snorkel then just get back there to rest.
Accommodation
The number of resorts here is quite a few compared to White Beach but they're large and have plenty of rooms. The first one we came across is the Tamaraw Beach Resort which has four floors and then we passed by the Sunset at Aninuan Beach Resort which has three floors. There are many other resorts which are not on the beach front but are just a short walk to the beach. You can consider their cheaper rooms if you're on a budget. Please check out our list below.
List of Aninuan Beach Resorts and Hotels
Sunset at Aninuan Beach Resort
Address: Aninuan, Puerto Galera, 5203 Oriental Mindoro
Mobile: 0920 931 8924
Website: http://www.aninuanbeach.com/

Tamaraw Beach Resort

Address: Aninuan, Western Nautical Hwy, Puerto Galera, Oriental Mindoro
Mobile: 0917 504 8679
Facebook Page: https://www.facebook.com/tamarawbeachresort/
Riverside at Aninuan Accommodation and Food
Address: Barangay Aninuan, Aninuan Road Puerto Galera 5203
Mobile: 0949 828 0975
Facebook Page: https://www.facebook.com/riversideataninuan/
Casa Mia Resort
Address: Nautical Highway, Barangay Aninuan, Puerto Galera, Oriental Mindoro
Mobile: 0916 406 2211
Amihan Del Sol
Address: Brgy Aninuan, Puerto Galera, 5203
Mobile: 0917 562 0345
Facebook Page: https://www.facebook.com/AmihanDelSol/
Aninuan Beach Map