The Virgin Island is a pleasant spot to visit in Panglao, Bohol because of its tranquility and pristine white sand. Walking barefoot on its long sand bar is simply revitalizing. The sight of its clear blue water and lush green trees are simply soothing to the eyes.
I'm bet a lot of guys would be happy if most of our young women today are like this island which is independent and strong-willed. It can face the storms and giant waves on its own and not waver. It thrives in extreme weather conditions. To make it simple, they called it Virgin Island because it's uninhabited.
Exploring the Virgin Island
Why uninhabited? Based on what I observed, it has several plants but most are not the fruit-bearing type. You might survive there by catching fishes and eating sea urchins but the main problem is the absence of freshwater. You can't dig a well in it and it's too small for someone to live in it. Also, consider the transportation cost of just getting water from one island to another as it has a great distance.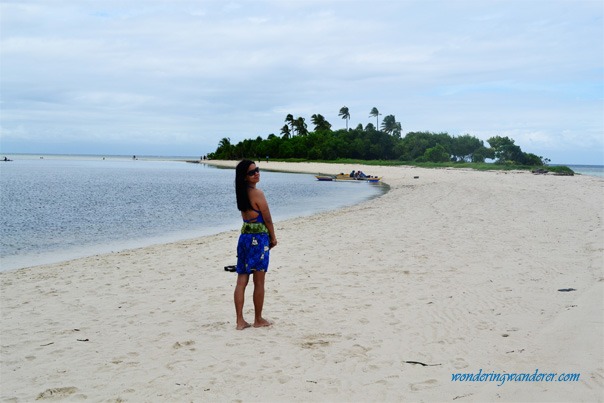 So despite the fact that several people visit it daily, no one would dare to live in it. This island is forever in an open relationship. It is loved, but no one can promise marriage. That makes her Bohol's most preserved daughter. I hope people would help preserve her more by not leaving their trash there. Unfortunately, there were some that we've seen.
Sea Urchin Snack
We were welcomed with a sea urchin delicacy when we arrived there. It's our first time to find out that these spiky echinoderms are actually edible. There were some locals competing to sell us these sea urchins for P20.00. They asked us to open our palms wide so they can put a sampler. They cracked some open, scraped its flesh inside, put it in our hands then added some vinegar. It tasted like a grounded clam, not bad.
The sand bar looks short in the pictures but our tongues went out after trying to explore it from end-to-end. Like most of the beaches in the Panglao area, its sand is white which is still evident even if it was cloudy. The water surrounding it was clear and serene. I wish we had more time to swim in it.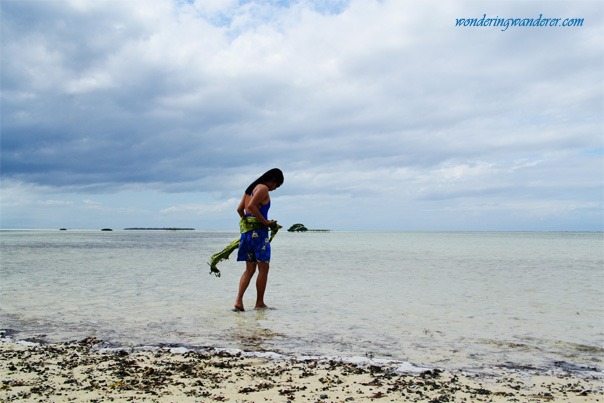 Lunch at the Virgin Island
After draining our energy in all of our activities on this island, lunchtime finally came. The lady from Balicasag Island who cooked our lunch was kind enough to lend us her plates which the boatmen will return to her for us. The roasted squid and fish tasted really good. It was really nice to eat with just our bare hands while staring at the island's beauty.