Balsa River Cruise: Native Floating Restaurant brings a delightful way to enjoy lunchtime by combining it with a pleasant eco-trip. Leisurely traversing a river that's surrounded by lush green trees and thriving avian life is quite a bliss. Gorging on popular Filipino dishes while getting entertained by their live band's sweet music that flows harmoniously with the cool and gentle breeze from the river is simply surreal.
Visiting Balsa River Cruise: Native Floating Restaurant
We decided to have our lunch here after a fun trip from Sipalay City. When we reached the rough road that goes to the Balsa River Cruise area, we got a bit concerned about how it's too narrow and can only be used for one way. We were lucky that there were no other vehicles coming to our direction at that time. Since we got there early, there were almost no other visitors when we arrived.
We made a reservation before our trip here because they only have one floating restaurant unlike the one in Loboc River Cruise, Bohol. Their waiting area has a simple setup but looks decent. They have a snack bar in case you need a small bite or a drink if you came in too early. The site has a large parking space but only less than half was used after all of the customers arrived.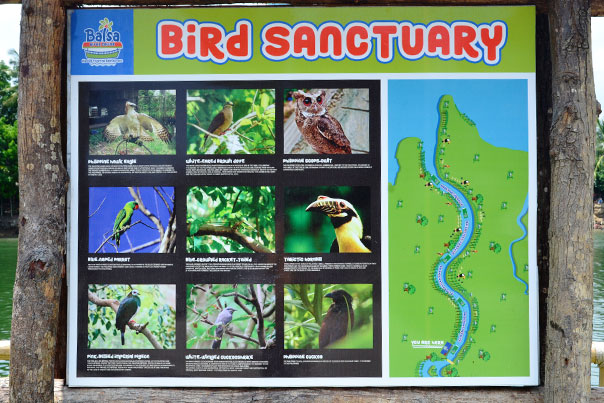 While waiting for the boat, we checked out their posted information about how the river is a bird sanctuary plus some photos of the kind of birds you might see during the cruise. There's also a post that details the history of Ilog. The Balsa logo looks bright and vivid like it was just recently repainted. I like how its workmanship is polished and flawless.
Inside Balsa River Cruise
The boat arrived at 11:00 AM to conclude its first trip which started at 10:00 AM. After the first batch has left the boat, we were only able to get inside at 11:52 AM because their crew needs some time to clean up everything, cook again then re-stock some supplies. It was worth the wait because everything was neat and presentable when we got in.
I looked around and noticed that there were no vacant tables. This indicates that there's a high demand for their floating restaurant and that you should really make a reservation. Unlike in Loboc River Cruise, the interior of Balsa River Cruise is much simpler. The ceiling has no fancy laces but it's painted to appear like the sky. The table doesn't have any colorful cover but there were some banderitas under the ceiling edges to give it a fiesta look.
The varying dishes were neatly arranged at the center of the boat like your typical Filipino home festivity setup. It was easy for us to go back-and-forth to get our food. In terms of food quality, it's definitely authentic and local. It has the taste of your average homemade Negrense dishes which fits perfectly with the restaurant's theme and surroundings.
The live band singers were very impressive. Although the genre they were singing was light, the quality of their voices was sweet and relaxing.
Surroundings
I wish that I had a high-zoom camera lens for bird watching because there's definitely a lot of them in the area. Only a large group of herons can be caught by our camera. Some local houses can be seen during the cruise and we never expected to see some kids on a boat too. They used a coconut's leaf as a sail perhaps for aesthetics reason.
The greenery around is a pleasant sight. Some sections are full of coconut trees but there are some which are empty. This river is very wide that's why it's a bit challenging to get a closer look at the birds hanging on the trees. The weather was great that day that's why the sky is bright blue and the thick clouds looked fluffy in their majestic form.
Getting There
If you're coming from Bacolod City, simply take the main road to Kabankalan City then turn right once you reach the Crossing Kabankalan Monument. Keep on going straight to the Justice Perez Highway until you reach the Malabong Bridge. After passing the Malabong Bridge, slow down a bit until you see the signage that points to the location of the Balsa River Cruise: Native Floating Restaurant. It's only about 300 meters from the main road.
Balsa River Cruise: Native Floating Restaurant Details
Address: Malabong Bridge, Ilog, Negros Occidental, Philippines
Contact numbers :
0910 188 6420 – Smart
0945 314 4493 – Globe
(034) 473 0826 – Telephone
Rates:
1. If you deposit your payment 3 days before the trip, the rate is P400.00 per person while on-site payment costs P450.00.
2. Only children 3 feet below are free.
3. Discount applies to senior citizens.
Trip Schedule:
1. Every 12:00 noon on weekdays
2. Weekends have two trips, 10:00 AM and 12:00 noon.
3. They accept private functions for a minimum of 40pax.