Camiña Balay nga Bato is a heritage house and a restaurant in Iloilo City that was constructed in 1865. Filled with Spanish-era remnants, it's a great place to look back and experience the glory days of the post-romantic period. The Spanish word camiña means walk while the Hiligaynon word balay nga bato means stone house. If you put them together, perhaps what they're saying is "walk into the stone house."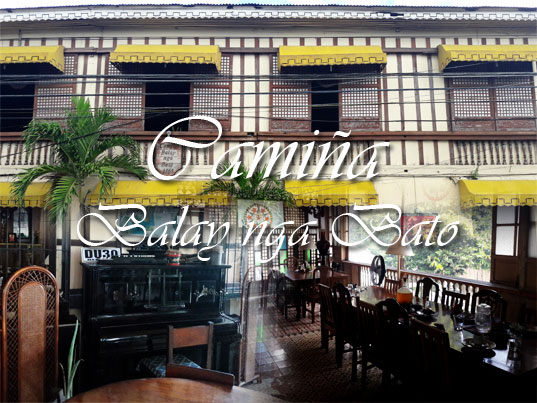 Camiña Balay nga Bato Tour
Upon visiting the Camiña Balay nga Bato, we were welcomed by their friendly guide who immediately started our tour upon our payment. She directed us to the stairs and explained the old practice of climbing up there sideways. According to her, it's for safety reasons because the stairs are wide and you need to always hold on the side rails. For women, since they used to have very long dresses, they had to use one of their hands to slightly lift their long skirts to avoid stepping on them when they climb up.
Upon reaching the top, we had to sign up on their guestbook which gave us a smile because we had to do it using a classic quill (feather pen). I've only seen it used in movies so it was nice to see some of them still being used today. That alone would give you a good hint of what more you'll see inside.
Living Museum
We were told that it's a living museum because the fourth-generation owner of the house still resides there. I guess they're staying inside the off-limits rooms on the first floor and only the second floor is open for tour. Some of their recent family photos can be seen in the living room.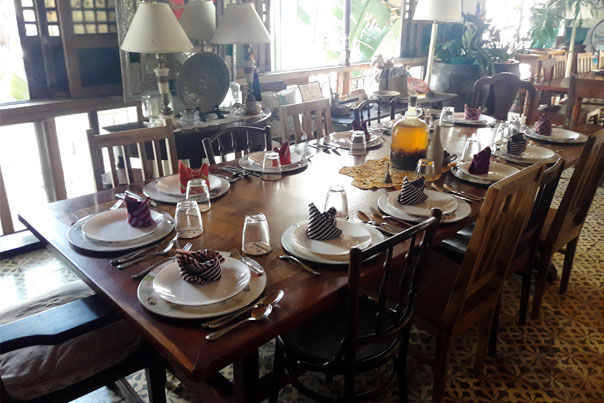 Their family business is hablon weaving. A hablon is a handmade cloth with intricate designs. Their hablon business started way back to the first generation owners and is still active today. It's great that the owners decided to open their house to the public because of its cultural and historical significance.
Ambiance
With just a quick glance at its surroundings, you'll immediately absorb that strong Spanish-era ambiance. Everything is mostly made out of wood and antique items. If you happen to have just unlocked your sixth sense during your visit here, you might feel something beyond what we had. The appearance of its interior is practically pretty common in movies with paranormal themes which would make your tour here feel more exciting.
I wish that I took a video of my wife combing her hair in front of the old dresser with a large mirror to see who would have shown up behind her. Beyond its classic cultural looks, there's no denying about the creepy aura you would feel here after seeing several horror movies which are mostly set in ancestral houses.
Antique Items
Camiña Balay nga Bato has a good collection of antique items that are not just from the 1800s but some which are fairly recent. They have the oldest looking rotary phone that I've seen. On top of that, they kept old mobile phones, cordless phones and music players for display as well.
One of the radios is so old that it's made out of wood. Some of them are clearly from the 70s and 80s because of the distinct bright aluminum casing. All of the radios are analog and manually tuned with the knob. There's one which looks like a small oven toaster. Their one and only television set could be from the late 80s or early 90s. I was reminded of our old black and white television set which was housed by a wooden cabinet.
Food
The tour options can either be the one that includes their native chocolate with hardened bread (ugoy-ugoy) or the one with pancit molo. Since we got there around 9 AM, we picked the first option since we just had our breakfast. You can smell the pleasant chocolate aroma when the snack was being served.
The hot chocolate is thick and tasty. Every light sip to it is simply heavenly. The ugoy-ugoy bread became flavorful and soft after getting it dipped to the hot chocolate. The small cylindrical ingredient that they use to make these is called tablea. It's made up of grounded cacao seeds that are mixed with muscovado sugar. We were told that the process to make it takes an hour.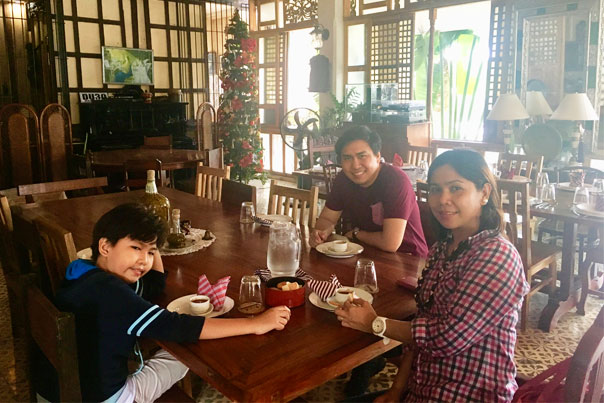 Camiña Balay nga Bato Rates & Info
Address: 20 Osmeña Street Brgy Sta. Felomina Arevalo, Iloilo City, Philippines
Phone: (033) 336 3858
Mobile: +63 917 3055355, +63 947 891 1467 or +63 33 336 3858
Tour
P150 per person – includes native chocolate
P250 per person – includes pancit molo
Ilonggo Heritage Buffet with Heritage Tour + Jazz Band
Soup: Pancit Molo or Batchoy –
Appetizers: Baby Spinach Stir-fry, Malabar Nightshade Stir-fry, Hinanggop, Ratotoy, Fresh Spring Roll Lumpia, Panara or Empanada Giring-giring
Main Course: Pancit Miki Bisaya, Embutido de Arevalo, Garlic Shrimp, Grilled or Fried Garlic Bangus, Pork Binuog with Hot & Spicy Dip, Kalo-kalo Kalkag Rice (KKK) or Blue Ternate Rice (if flowers are available), Pork Adobo Rice or Marinera Rice -Dessert: Chocolate de Batirol
Fruits: Local Fruits-in-Season
Beverage: Calamansi with Cucumber Cooler
Lunch or Dinner: P500.00 per person
-Minimum of 10 persons
By reservation only
-at least 1 day prior to your schedule, 50% down-payment
-clean plate, no take-out, can extend up to 9 PM