Ever wonder why there's an insane number of Filipinos lining up at Jollibee stores outside the Philippines? Just last October 2018, when the first Jollibee branch opened in the United Kingdom, some customers had to wait for 18 hours to get their orders. All that time and stress for just a chicken meal? Let's explore how Jollibee transcended from being an ordinary fast-food restaurant to a cultural icon.
Jollibee Across the Years
In 1975, the UST chemical engineering graduate Tony Tan Caktiong started an ice cream store in Cubao. Since his customers are looking for hot meals as well, he eventually added those in the menu then turned his store to become the first Jollibee outlet. It became a massive hit that by 1978, Jollibee had seven branches already. The number of Jollibee stores just kept growing since then.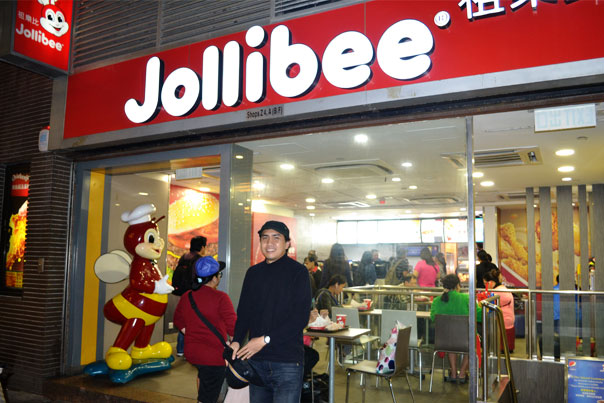 In 1987, the first Jollibee store outside the Philippines opened in Brunei. It was later followed by several successful store openings in different parts of Asia. In 1998, the first Jollibee store in the U.S. opened in California. Europe had its first Jollibee store in Milan, Italy in March 2018.
The Jollibee mascot gave me a smile as a kid and it continues to do so with our child. I'm glad that we captured the fun moments that our son had whenever a Jollibee mascot was around to greet everyone. You can see the delight in the eyes of the children and how excited they are to approach him. This is just one of the little things that added joy to the childhood of many Filipinos.
Parties
We decided to celebrate our son's first birthday at Jollibee because we're confident that it will be fun and memorable. My wife used to work part-time as a Jollibee party host as well. The event made me nostalgic about my childhood experience eating at Jollibee. My mom used to kiss me while gorging on their famous Chickenjoy. She told me that she was just happy to see me enjoying my meal.
Their parties are faithful to the spirit of the Filipino fiesta. The Jollibee venue was decorated with colorful balloons and there were dances and games. I didn't expect that Jollibee will open the gifts one by one while the host announces the names of the giver. The suspense of finding out what's inside every gift made the party more fun.
This year, our son's 11th birthday wasn't held in a Jollibee venue but we had a bulk purchase of Jollibee meals taken home instead. It was a simpler party but the kids loved the food. My wife acted as the party host and we had plenty of games as well. Most of our fun celebrations as a family had a Jollibee around.
Restaurant Quality & Service
Most Filipinos are very critical when it comes to local products. A product's quality tends to be in question if it's Filipino-made because of the colonial mentality. But if a local product gets a rave from Filipinos, then it has to be exceptionally good. This is clearly the case for Jollibee since it managed to beat the most popular brands abroad like KFC, Burger King and McDonald's.
Although a food's taste is subjective, we can't deny the number of stores that Jollibee successfully opened locally and internationally. I know some Filipino friends who are more inclined to eat at McDonald's and have a good collection of McDonald's toys but the number of family and friends who prefers Jollibee outnumbered them. Is it out of patronizing local products or food quality?
Jollibee's service crews are responsive and friendly. I remember one incident where I spilled my hot chocolate because of my clumsiness and I thought that I just wasted my drink. A crew suddenly came to me and said: "Sorry sir, we'll get it replaced." She cleaned my desk then brought a replacement for my hot chocolate. It made me very impressed with their service. That was a big deal for me because I was just in college back then with a limited budget.
In terms of presentation, their stores are always clean and well-maintained. Tony Tan came up with a brilliant character to represent his stores. A gigantic bee who is always jolly is a charming figure that's very appealing to the kids. When I was still a kid, I found it more appealing than a clown.
Food Taste
My taste buds can't lie about its love for the Chickenjoy. Whenever I eat at different restaurants for a certain period, my craving for the Chickenjoy perpetually haunts me and forcibly pulls me inside a Jollibee store. Its crunchy skin and tender meat dipped in gravy is such a blast. There are days when the Champ burger or the Amazing Aloha burger are the ones spooking me out but I'm powerless to stop them as usual.
I personally find Jollibee's chicken and burger more delicious because they're both juicy and have the perfect saltiness. Fast-food burgers from certain brands feel dry and a bit bland. Jollibee's crunchy fries can compete with Mcdonald's famous fries. The jolly spaghetti is my least favorite but my wife loves it. There are certain times where she'll suddenly ask me to pass on a Jollibee drive-through just for that.
When I had enough Chickenjoy, my next favorite rice meal is the burger steak with spring rolls. The burger steak's sauce is great to mix with rice and the spring rolls become more succulent when dipped in a sweet and sour sauce. For the dessert, I pick the Chocolate Sundae Twirl most of the time.
I remember seeing a video of Americans trying Jollibee's Halo-Halo but they're eating it the wrong way. Halo-Halo literally means mix-mix. You need to mix it thoroughly before eating it. The wonderful taste of the mixed ingredients in one spoonful will just burst in your mouth. The Halo-halo is a very popular summer dessert here in the Philippines.
Jollibee Funny Stories
Owner of Jollibee. Before the internet era, I heard a few people giving a fun fact that the reason why the store is called Jollibee is because of the owner's name. That name is Jolly Benitez which sounds pretty close to Jollibee. It's rare to hear Tony Tan Caktiong's name in the news during those days that's why this story a sold out. It turns out to be a fun fake.
Learn more about JoyRulBee from Christopher Guzman's Facebook post.
Unfaithful Endorser. There was a rumor that a woman with large shades and bandana was discreetly ordering food at Jollibee. While she was eating quietly, some customers recognized that she was actually the Mega Star Sharon Cuneta. This rumor was spread at the height of her endorsement of McDonald's.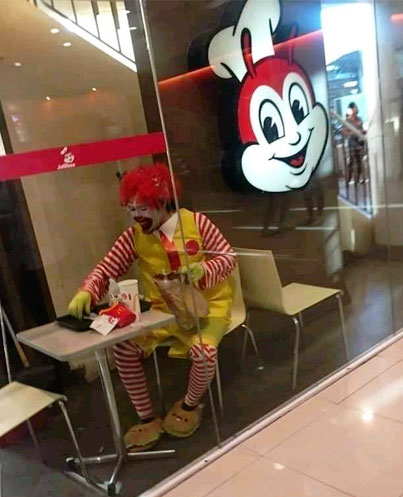 Hot meals in an ice cream store. When I learned that some customers were looking for hot meals on Tony Tan Caktiong's ice cream parlor before becoming a Jollibee store, I was reminded of the scene from the movie Ant-Man below. The difference is that Tony didn't get upset with the customers but upgraded to meet the demands.
Jollibee vs McDonald's
According to a CNBC report, McDonald's has been dominating the fast-food industry in every country it enters aside from the Philippines. It's been trying to be the number 1 fast-food chain in the country over the last 40 years but it can't beat Jollibee. What I haven't seen in their report is how Jollibee has also beaten McDonald's in Vietnam. Mcdonald's has 22 stores there but Jollibee has 125 stores already. It could be because of Vietnam's political climate before that made it hard for McDonald's to start a business there.
For me personally, one of the reasons why I prefer Jollibee over McDonald's is the number of food options. Both of them have burgers, chicken, spaghetti, fries and sundaes but Jollibee has palabok fiesta, hotdog sandwich, spring rolls and more breakfast meal choices. They also have more side dish options as well. Despite the rivalry, Ronald McDonald and Jollibee are good friends. Ronald even eats there sometimes while Jollibee endorses McDonald's on certain occasions.
Culture
Jollibee commercials put great emphasis on Filipino culture and family. Themes related to romantic love, parenthood and bond with grandparents are very common in their advertising campaign. During my childhood days, its commercials have fun jingles that would really linger on your mind. Their most popular one is the "I love you Sabado" jingle which was started by the kid Boy2 Quizon in the early 90s. This jingle has been revived and revised to be a dance song.
I overheard some colleagues talking about how a Jollibee's commercial can make you cry. I found it ridiculous because it takes time to build up your connection to the characters before you reach that point. So I tried watching their commercials and proved myself wrong. I didn't expect that a two-and-a-half-minute commercial would bring tears to my eyes. Check out one example below:
To sum it all up, the reason why Filipinos abroad seem insane in waiting 18 hours for just a Chickenjoy meal is because of the wonderful memories they had in Jollibee since childhood. I bet that every bite reminds them of their fun moments with their friends and family in the Philippines. Walking inside a Jollibee store gives them a feeling that they're back at home. It's a great spot for them to be nostalgic and to momentarily ease their homesick hearts.
As its tagline goes: "Sarap ng Pilipino, at home sa Jollibee" which talks about a delicious taste made for Filipinos and how you're at home at Jollibee.