The Royal Palace Park is an oasis in the midst of the loud and busy streets of Phnom Penh. With a size of 115 meters by 74 meters, this public park is wide enough to keep the smokes and noisy horns of the vehicles at a good distance. Visitors can also enjoy a pleasant view of the Tonle Sap river in front of it. A short leisure walk by the riverbank while getting blown by its gentle cool breeze is quite refreshing.
Royal Palace Park Promenade
Upon reaching the park, the first thing that caught our attention is the number of pigeons around. I haven't seen any parks in the Philippines with that many pigeons so it was such a delight to see them. Juliet can't help but shoo them away to see how graceful they look as they fly and scatter. If we only knew about them beforehand, we would have brought something they can eat.
Looking far and wide, it was nice to see something all green after a hot city tour. The one thing that I felt missing in this park are chairs. If you're planning to have a late afternoon siesta here, you can bring a mat instead. It was only close to 3 PM when we went here that's why there were no other visitors yet.
Moonlight Pavilion
One of the elements that make this a "royal" park is the Moonlight Pavilion behind it. Its name in Khmer is Preah Thineang Chan Chhaya which is quite long. Unlike the old temples in Siem Reap, this is clearly a modern version of Cambodian architecture. There's a good similarity with Thai architecture perhaps because of their occupation of Cambodia in the past. Traces of Chinese and Indian influence can be noticed as well.
The large photo in the Moonlight Pavilion is King Norodom Sihamoni. There are other establishments in Cambodia with his large framed photo since he's the current king. This Pavilion is mostly used as a stage for Khmer traditional dances. It has a platform that can be used to watch parades which reminded of the Terrace of the Elephants in Siem Reap. Cambodian kings used to stand on that terrace whenever they have parades long ago and it seems that the tradition is continued in this new platform.
Tonle Sap River
It was a pleasure to have a quick stroll near the Tonle Sap River which is just in front of the Royal Palace Park. The walkway is very wide and there were some locals biking on it. The Tonle Sap River is actually a smaller river branching out from the larger Mekong River which can be seen nearby.
The different flags indicate that international summits are occasionally held in the area. A small shrine added beauty in the river park area. Its name is Preah Ang Dorngkeu Shrine.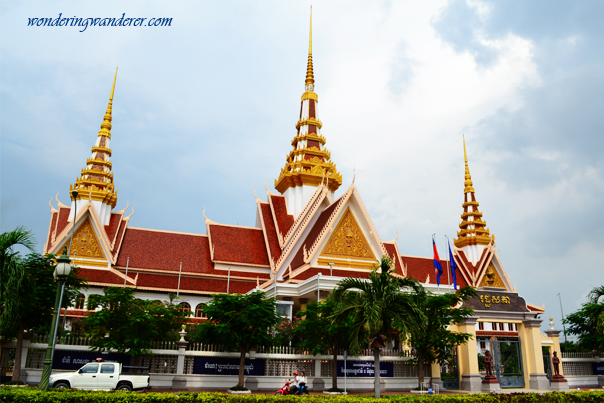 Royal Palace
Strolling around the park in front of the Royal Palace and the river park was already good for us so we decided to skip entering the Royal Palace. We've seen online how the palace was just slightly bigger than most of the other government buildings in Cambodia but they practically look very similar. One example is the House of National Assembly that we passed by before getting there. With a cost of $10.00 per person, we didn't find it practical. But if you have the time and money to spare please take note of its opening hours below.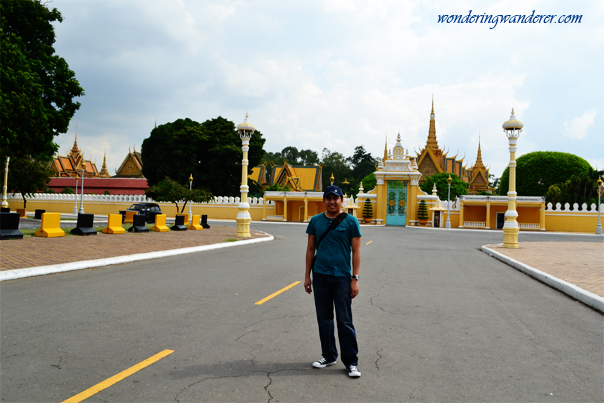 Royal Palace Info
Address: Samdach Sothearos Blvd (3), Phnom Penh, Cambodia
Opening Hours
7.30am – 11.00am
2.00pm – 5.00pm
Entrance Fee: $10 including camera
Guide: $10/ h
*They have a strict attire policy. The skirt's length should be below the knee and they also prohibit wearing sleeveless.