Binondo Church which is also known as the Minor Basilica of Saint Lorenzo Ruiz is one of the most beautiful Roman Catholic churches in the Philippines. Its magnificent facade is decorated with wonderfully crafted bas-reliefs and statues. The Italian High Renaissance architecture of the church is a masterpiece that is truly timeless.
A feature that makes it stand out is its grandiose octagonal bell tower. This design is not common in most of the Spanish-era Catholic churches in the Philippines. A closer view of its elegantly laid out pillars, classical style balusters and perfectly-shaped dome will make one appreciate more of its splendor.
History of Binondo Church
Binondo Church was founded in 1596 by Dominican priests after successfully converting the Chinese and Filipino residents of Binondo to Roman Catholicism. The Chinese community of Binondo already existed long before the arrival of the Spaniards to the Philippines. They were traders who adhered to Buddhism and Taoism before converting to Christianity.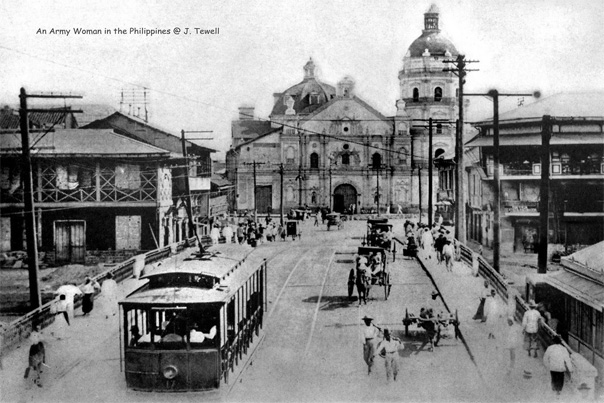 The Chinese-Filipino Saint Lorenzo Ruiz used to be an altar boy and trained in this church before coming to Japan as a missionary. After his persecution and murder in Japan, his martyrdom was recognized by the Catholic church. As a result, he was beatified to sainthood by Pope John Paul II. This made which made Saint Lorenzo Ruiz the first Filipino saint. In honor of him, Binondo Church added Minor Basilica of Saint Lorenzo Ruiz in its name.
Series of Destruction
Since its establishment in 1596, it encountered several events that caused its destruction. The first was in 1603 during the Chinese revolt, the second was 1762 during the British occupation of Manila, the third was in 1863 because of an earthquake, the fourth was in 1872 when the British forces made it their headquarters then set it on fire and lastly, in 1944 when the Americans bombed it, leaving only the walls and the tower intact.
Our Visit at Binondo Church
After our morning exploration of the Intramuros area, we decided to check out Binondo. The first landmark that caught our eyes is its majestic old church. Its remarkable design will take you back to the glory of the middle ages. After seeing some of the old Roman Catholic churches here in the Philippines, we found it undeniable that this church is more beautiful than most.
Plaza San Lorenzo Ruiz
Right in front of the church is a wonderful plaza name after Saint Lorenzo Ruiz. A classy European-style fountain gracefully stands at its center. The fountain has some charming cherubim statues along with some real ones who are taking a swim inside it.
Its noble pillars with inscriptions about the Binondo church are unfortunately vandalized. At the plaza's entrance is no other than Saint Lorenzo Ruiz himself. Besides from the plaza name, a dignified statue in his honor was erected to be a front of the plaza. A visit to this church when exploring the Binondo area is highly recommended.