Loboc River Cruise can't be something optional if you don't want to miss a superb experience on your Bohol countryside tour. Imagine yourself enjoying a buffet lunch in a festival-themed floating restaurant while enjoying the cool breeze blowing inside it as it traverses Loboc's clean river which is surrounded by lush green plants. It was truly an amazing experience that I never expected. Eating lunch has never been this fun and relaxing.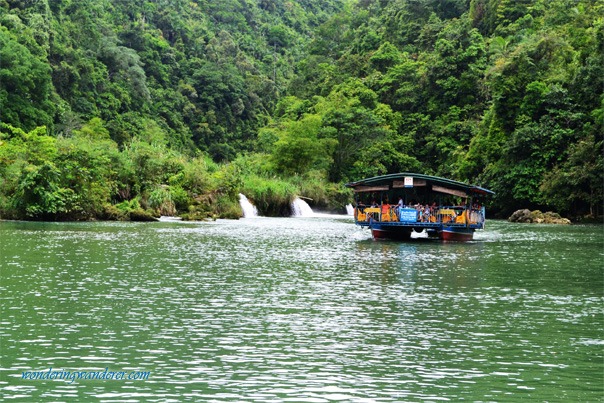 Loboc River Cruise Experience
I like that they served food that is strictly Filipino. Typical party food like spaghetti and macaroni salad won't fit their native theme. This made me feel very at home as a local but if you're a foreigner, I hope you'll enjoy the exquisiteness of the meal which is exotic to you. But frankly, most of the food served only reached the average mark at most but because of the scenic view, party atmosphere and affordability—every bite was a delight.
Night Cruise
They also offer a night cruise which is perfect for a romantic dinner. We saw several lanterns in the trees during our day trip which I'm sure would look great at night. We were told by one of the staff that the river boasts its other side of beauty at night because of the fireflies coming out its bank regularly. Witnessing the river's charm in the evening while watching those fireflies glow like constellations would have been a great experience but unfortunately, our time was short for that.
Serenade
The fun doesn't stop there because they have a group of singers waiting to serenade you. You can even sing along with them! You don't need to know their regional language because most of the songs they're singing are popular English songs. Some even danced with them. All of these reflected the warmth of Filipino hospitality, sense of community and joyful attitude.
A cruise along the river starts either from the Loay Bridge or at the Poblacion of Loboc. The Loay Bridge is 20 kilometers (12 mi) from Tagbilaran City while the Poblacion is about 25 kilometers (16 mi) away. Small motorized bancas can be chartered for a minimal fee. The boats can accommodate up to 50 people.
Loboc River Cruise Updated Rates 2022
Loboc Bohol Floating Restaurant Cruise Prices and Schedules:
P450.00 – River Cruise and Lunch
P100.00 – Maintenance, Safety and Security Charges
Total: P550/per person
Children:
0-3 years old – free without drinks
4-8 years old – 50% with drinks
9-11 years old – P250.00 per child
12 years old and above – P550.00 per person
Address: Poblacion Sawang, Loboc Municipality, Bohol Province
Email: lobocriverwatch@gmail.com
Telephone Number: (038)–537–9460
Cellphone: 0948-407-6476, 0917-306-0010, 0999-582-4655
Website: https://lobocriverwatch.com/
Note: Guests are requested to be at the complex 30 minutes prior to the scheduled time. Prices may change without prior notice. Booking is necessary.