Bosay Resort is one of Antipolo City's best spots for a swimming escapade. With a travel time of just one hour or less from Metro Manila, it's definitely cheaper and less stressful to visit compared to the most popular resorts and waterparks around NCR. This 3-hectare resort boasts an Olympic-size swimming pool, a wave pool, an indoor pool, kiddie pools with showers and more.
This resort is great for weekend family outings, team-building activities and excursions with friends. They have plenty of cottages for those who want to have a day-tour only and several rooms as well for those who want to stay overnight. On top of that, they have three conference halls and a large convention hall which are ideal for retreats, seminars and special events.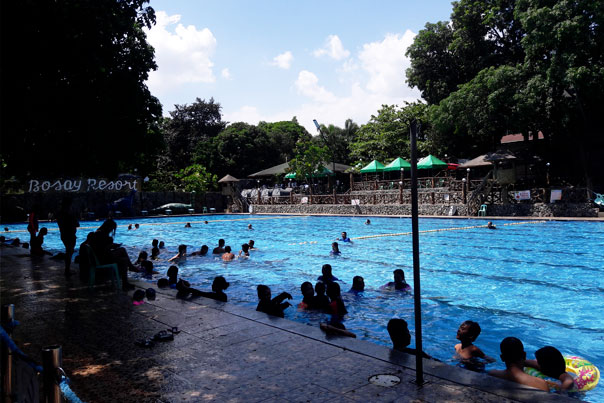 Exploring Bosay Resort
As a resident of Taguig City, getting here was quicker for us since we're closer to Antipolo City compared to most of the cities in Metro Manila. It only took us a 50-minute drive to reach this resort. After getting here, I was a bit surprised to see how many people are lining up at their ticket booth and how their parking space is almost full. As a first-time visitor, I never expected that this resort would be that popular.
We somehow managed to get a cottage near the swimming pools. Their smallest cottage is big enough for the five of us. It was great to know that the guests can feel free to bring their own food without any corkage fees aside from alcoholic drinks. There are barbeque grills near the huts where you can feel free to cook your own food. Whether it's squid, pork, fish or beef, eating them hot from the grill will surely make your gastronomic experience more delightful in this resort.
Swimming Pools
This resort actually has 10 swimming pools. They labeled the swimming pools as follows: Turtle Pool, Pool with Slide, Private Pool with Jacuzzi, Disco Pool, Kiddie Pool, Kiddie Pool with Bubbles, Therapy Pool, Infinity Pool, Olympic Pool and Storm Wave Pool. Given how the pools were named, you can see how they cater to different age groups and types of individuals.
The Therapy Pool is good for seniors while the Disco Pool is great for those who are afraid of the sun because that's an indoor pool. The Olympic Pool was the one that drew me to come here because I'm guaranteed a deep swimming pool. Introverts and those who want a solemn and relaxing swim can take advantage of their Private Pool with Jacuzzi while the rest are great for kids. The Storm Wave pool, of course, is great for everyone.
Strict Policy
Make sure to avoid the mistake that I did when I failed to bring in their required swimming wear. I was free to swim in most of their pools using my boxer shorts but not in the Olympic pool because of their strict swimwear policy. I ended up buying a swimming trunk in their shop which costs P150.00 just to get inside the Olympic pool. My family laughed at me when I wore it because it's a super fit trunk.
Resort Ambiance and Aesthetics
To make the resort's atmosphere look more fun and child-friendly, large figures of different animals and dinosaurs were put up in the area. I noticed that this has been a trend in newly built resorts and some existing ones are following the style. They seem to give you a feel that you're in a remote jungle where pre-historic creatures are still existing.
The resort's provincial environment definitely is a good fit for the figures. Filled with towering lush green trees and thick bushes, you're guaranteed to enjoy fresh and clean air in this resort. Adding more to its countryside feel is their large hall that is mainly made out of wood and decorated with bamboo crafts.
This resort is a great option to consider if you're planning to have a swimming spree near Metro Manila.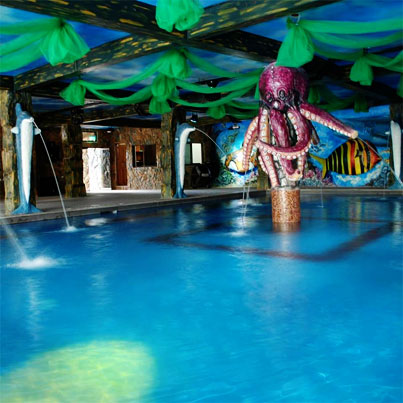 Bosay Resort Rates
Entrance Fee  
Day swimming (7 am to 5 pm)
Adult: P180.00
Child (4ft. below): P150.00
Night swimming (7 pm to 5 am):
Adult – P200.00
Child (4ft. below) – P150.00
Accommodation
Cottage rates: P600.00 – P3,000.00
Room rates: P2,000.00 – P15,000.00
Club House: P30,000 – P40,000.00
Conference Halls: P6,000 – P15,000.00
Convention Hall: P125,000.00
Location & Contact Details
Address: Near Galang/Roco Farm Marigman Road. Brgy. San Roque
Phone: 8661-9011 to 12 or 86951807, 86951806
Email: info@bosayresort.com / bosayreservation@gmail.com
Website: https://bosayresort.com
Related Post: Sierra Madre Hotel and Resort