Where to Eat in Siargao? Beyond surfing, the small island of Siargao is big in food choices. Considering the number of international visitors coming here to surf or have a vacation—the locals can't help but cater to the gastronomic demands of their foreign guests. Local and Western cuisines are thriving here because it makes the visitors feel more at home while satisfying their curiosity about dishes that are exotic to them.
Where to Eat in Siargao
Mama's Grill
Address: Dapa-Union Gen. Luna Rd, Catangnan, Siargao
This is the best spot that we've seen where you can gorge on local food. Their famous Chicken Inasal (grilled chicken) is one of the most peculiar and delicious Chicken Inasal that I've tasted. I like that its sauce is thick, sweet and a bit spicy. As a resident of Negros Occidental, which is known to be the hub of Chicken Inasal varieties, I can say that what Mama's Grill offers can compete with the Chicken Inasal of the famous restaurants here.
Although the Chicken Inasal is already tasty on its own, dipping its tender meat to a soy sauce with calamansi and chili pepper will give you the best taste. They also serve it with a lot of atsara (papaya relish) which is its perfect partner. The grilled vegetables with their special sauce tasted great as well. On top of that, they're also serving grilled tuna, hotdogs, squids, pork and much more.
Another reason to chow here is their great variety of drinks. They have fruit shakes, smoothies, juices and even cocktails. If you've slept too late the night before and is feeling drowsy, they also have brewed and iced coffee. Desserts like leche flan, mais con yelo, halo-halo, mango float, buko pandan and fruit salad are available here as well.
Mama's Grill Video
Trattoria Altrov'é
Address: Purok 3 Tourism Road, General Luna, Siargao
When it comes to great ambiance and fine dining, Trattoria Altrov'é is one of Siargao's finest. Its dim candlelight setup, lush garden and mahogany wood theme make it look more solemn and intimate. Despite the formal look, you can't get inside the restaurant without removing your shoes or sandals. Getting around the restaurant barefooted and seeing the nipa and wooden theme around you will give you a greater feel of the local culture.
To heighten our native experience, we chose their table where you need to sit down on the floor and cross your feet. They have pillows where you can lean on to relax a bit while waiting for your order. You can't help but notice how everything in this restaurant is clean, organized and well-presented. It may have a Filipino theme but it's actually an Italian restaurant.
Menu
The restaurant's name Trattoria Altrov'é is an Italian word that means tavern elsewhere. This makes sense because they serve alcoholic beverages and have a good variety of them in their mini-bar. Popular local and foreign brands of liquors from beer, rum, whiskey, champagne and more are available here but I missed to check if they're also offering "tuba" which is a local coconut wine since there are plenty of coconut trees in the area.
When it comes to main course meals, you can expect a great variety of pizzas and pasta offerings on their menu. The kinds of pizzas you can order here is more than the usual compared to what we've seen in other pizza restaurants. Our son loved their veggie pizza that he almost ate an entire platter. You can definitely say that you get what you paid for because of their pizza is riched in ingredients and cooked perfectly.
Their pizza price ranges from P350.00 – P645.00.
Aventino's Pizza Pasta
Address: Poblacion, Purok 2, General Luna, Siargao Island
Since our son loves eating pizza a lot, we decided to check out Aventino's pizza during our stroll to the town proper. It's very accessible since it's just close to the big church and is just by the main road. The venue looks decent and its space can be compared to your average café. What's important is that they're serving vegetable pizza because our son hates meat.
The quality and taste of their pizzas are better than your average commercialized pizzas from known franchises. I personally think that the pizzas' thick cheese and perfectly baked crusts made them tastier. I guess that unlike the Italian Trattoria Altrov'é, the theme of this restaurant is Mexican because they're also serving tacos and burritos. This restaurant is a good option for something more affordable.
Their pizza price ranges from P150.00 – P235.00.
Kobe's Bite Dessert House
Address: Tourism Road, General Luna, Siargao
If you're still craving for sweets after having a sumptuous meal, you might want to consider buying some desserts from Kobe's Bites. This small café has plenty of goodies that will surely give you a sugar rush. From popular Filipino desserts like leche flan and halo-halo to western desserts like cupcakes, cream balls, mango float, banana split and more.
We decided to try one of their mango floats but ended up ordering one more because we really loved it. They didn't follow the traditional mango float formula by adding cream and extra ingredients to the float.
What we found unique about this dessert café are the leche flan variations that they have. Some examples are the blueberry flan, ube flan, cookies & cream flan, yema flan, strawberry flan and much more. I wish that we checked the tarpaulin sooner and tried at least one of those.
Kobe's Bite is just a short walk from Trattoria Altrov'é.
Where Else to Eat in Siargao?
La Carinderia
Kitya's Place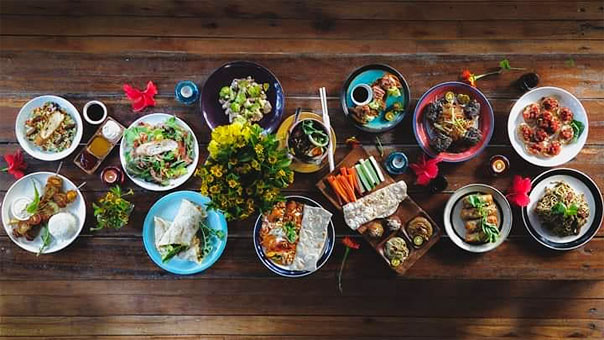 Barrel Sports Bar Siargao (Open almost 24/7)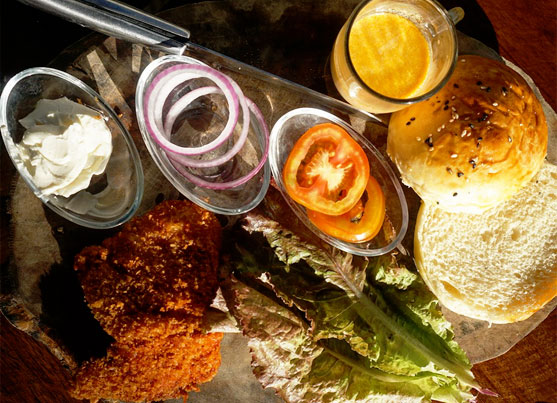 The Pleasure Point Cafe
Deli Street
The Smoking Joint BBQ Siargao
During your Siargao Island hopping, the best place to eat is in Daku Island.