Burnham Park is a blissful place in Baguio City. It's a great place to relax or to have a family picnic because of its serene, fresh and clean environment. The lake at the center of this park gave it more charm and made its view more picturesque. Visitors can enjoy riding its swan boats which have an elegant design that enhanced the lake's aesthetics.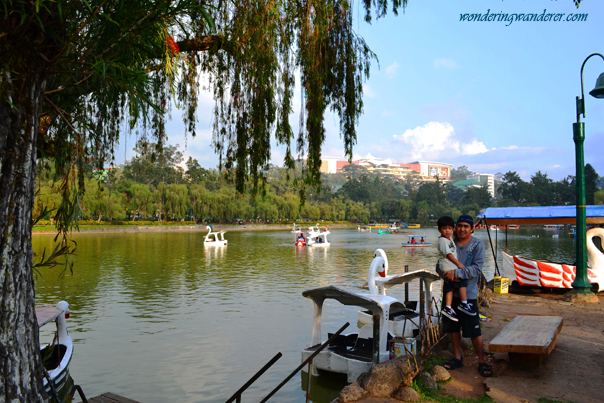 The park beams out a relaxing and serene aura that can help rejuvenate your worn-out body after a long and tiring trip from Manila to Baguio City. It's a great place to clear out your mind, meditate and reflect while enjoying its scenic view that is rich with lush green conifers. Enjoying a leisure walk or having a quiet fun paddling its swan boats will give you that pleasant afternoon exercise.
Construction of Burnham Park
This marvel was conceptualized by the famous American architect Daniel Burnham (1846-1912) who came up with a fantastic idea of putting a man-made lake at the center of the park where people can enjoy boating and give it a romantic pinch at the same time. His elegant design of its concrete pathways which is perfect for biking and skating was given an added charm by its lush gardens filled with plants that flawlessly blends with the pine trees.
Exploring Burnham Park
It was good to see how well-maintained this place is as we didn't see any clutters during our stroll. It's also evident that its plants were well-trimmed and regularly watered based on their splendid look. There were some street vendors who were decently dressed and are just staying put in a particular section of the park unlike other street vendors on some parts of the country who keeps on loitering and are very aggressive in selling their products.
My wife and I had fun boating with my mother and our son using the swan boat. I was perfect for us because it can carry four people. It has a foot paddle instead of the conventional hand paddle which I find easier to use and navigate with. This lake is really wide. We only circled it twice and it already took up the 30 minutes time limit. But of course, I was taking my sweet time paddling around to enjoy more of its wonderful view. We were slowly digesting every beautiful element we see. It's really nice to have a fun conversation with your family while enjoying an outdoor activity like this. Burham Park is one of the best spots in Baguio City.
Burham Park Rates
Boating Fee: P100.00 for 30 minutes
Bike Rental: P35.00 single and P40.00 with a sidecar for 1 hour