Guimaras is an island province that used to be a sub-province of Iloilo until its independence in 1992. It was formerly known as Himal-us back then. This island which is known for its white-sand beaches may be small in size but it's packed with natural wonders and resources. For this reason, this province gets its income mostly from tourism, mining and agricultural farms. Guimaras' most popular agricultural product is its world-renowned sweet mango. Their mangoes are so sweet that it was even featured in the news that those were served in the White House and Buckingham Palace.
Guimaras' white sand beaches are known for their rock formations and yellow stones. The rock formations may not be as imposing as the ones in other provinces, but their peculiar shapes and color make them uniquely astonishing. We were able to get a nice view of the beach by climbing some of them. Make sure to take caution when climbing these rocks because they have crooked and sharp surfaces that makes them a bit of a challenge to climb. You can get a bad scratch if you get outbalanced while climbing one of these.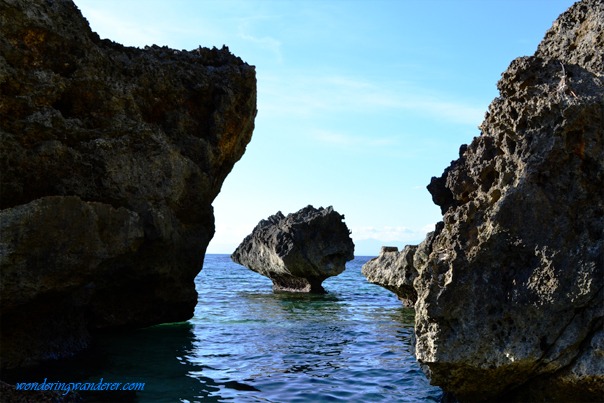 Although the sands look white at midday, they are a bit yellowish in the afternoon which blends well with the island's yellow rocks. The sands are fine and feel relaxing to the feet as you slowly step into the beach's clear waters. The white sand was so fine that our son really had a fun time playing with them. The beach's cleanliness reflects how the residents take good care of their environment. I hope they keep up the good work of doing so and that the tourists would do the same.
Guimaras also has some historical and religious sites which reflect the three hundred years of Spanish occupation of the Philippines. The most popular one is the Guisi Lighthouse which was put up by the Spaniards in the 18th century. Its oldest Roman Catholic Church is the Navalas Church which was built in 1880. The devotees also put up the Holy Family Hills which is a 52-hectare land with plenty of statues depicting the crucifixion and resurrection of Jesus. We've also seen other statues like the statue of Pope John Paul II, Archangel Michael battling a devil, St. Francis of Assisi and much more.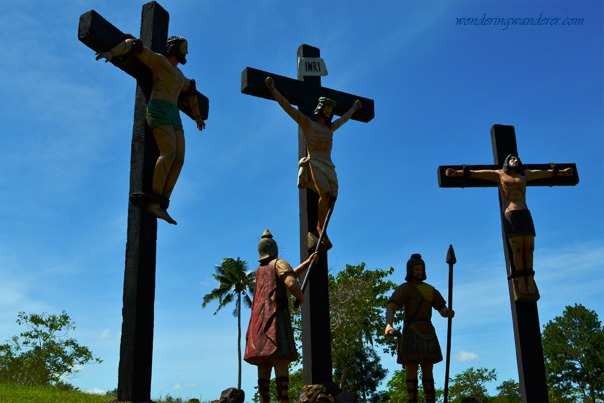 Guimaras Island Map

Tourist Attractions:
Navalas Church
Alubihod Beach
Roca Encantada
Guisi Lighthouse
Guisi Beach
Trappist Gift Shop
Where to Stay in Guimaras Island:
Abelardos Beach Resort
East Valencia Buenavista Guimaras 5044
Mobile: 09159413103
Alobijod Cove
Alubihod Beach Road Nueva Valencia Guimaras 5000
Landline: (6333) 396-0028
Mobile: 09228626972
Email: alobijodcove@gmail.com & alobijodcove@yahoo.com
Baras Beach Resort
Lawi Jordan Guimaras 5045
Landline: 0333382249
Mobile: 09274801027, 09173030282
Bella Cove
Puyo, Poblacion Nueva Valencia Guimaras 5046
Mobile: 09107002359
Cabaling Beach Resort
Espinosa Jordan Guimaras
Mobile: 09284879644, 09279824215
http://www.cabalingbeachresort.com/
Cabugan Adventure Resort
Brgy. Tando Nueva Valencia
Landline: 6333-3201805
Mobile: 09088695940
https://www.facebook.com/cabuganadventureresort
Camp Alfredo Adventure Resort
Ravina Sibunag Guimaras
Mobile: 09081232977
https://www.facebook.com/pages/Camp-Alfredo-in-Guimaras/194925340538279
California Coral Beach Resort
Alubihod Beach, Nueva Valencia
Mobile: 0927-727-0145
http://www.californiacoralbeachresort.com/
Costa Aguada Island Resorts
Inampulugan Island Sibunag
Landline: (0632)896-5422 / (0632) 7523688
Telefax: (0632) 890-5543
Mobile: 09208161906
http://www.costaaguadaislandresort.com/
Eco Pen Hauz
San Miguel Jordan Guimaras
Landline: (6333) 2371332
Mobile: 09173009942
Guisi Clearwater Resort
Dolores Nueva Valencia Guimaras 5046
Mobile: 09195636688
https://www.facebook.com/pages/Guisi-Clearwater-Resort/149521808428563
Hill Side Fisherman's Resort
Magamay Nueva Valencia Guimaras 5046
Isla Margarita Resort
Comian Sur, San Roque Nueva Valencia Guimaras
Landline: (6333)3965737 / (6333) 3204936
Mobile: 09283190102
http://islamargaritaresort.com/
Isla Naburot Island Resort
Sinapsapan Jordan Guimaras 5045
Landline: (6333)3211654
Mobile: 09189098500
https://www.facebook.com/IslaNaburot
Jannah Glycel Beach House
Talisay Nueva Valencia Guimaras 5046
Landline: (6333)5821003
Mobile: 09292816498
http://jannahglycelbeachhouse.com/
Jesa Mar Island Resort
Naoway Island, San Isidro, Sibunag
Mobile: 09072816142, 09487199655 or 09104239983
JM Backpackers Hometel
San Miguel, Jordan, Guimaras
Landline: (6333)5812164
https://www.facebook.com/pages/Jm-backpackers-hometel/216479878543017
Kelapa Gading Beach Resort
Address: East Valencia Buenavista Guimaras
http://kelapabeachresort.blogspot.com/
Kenyama Beach Resort
Dolores Nueva Valencia Guimaras 5046
Mobile: 09394276433, 09272525111, 09399175495
http://kenyamaresort.jimdo.com/
La Puerta Al Paraizo
San Roque Nueva Valencia 5046
Landline: (6333)8576630
Mobile: 0926413 5970, 09168642598
https://www.facebook.com/pages/La-Puerta-Al-Paraizo/127408813966982
Legita-Tayo Mountain Resort
Tanag Buenavista Guimaras
Mobile: 09202411555, 09272333305
Magic Island Resort
Sitio Dungcaan, Brgy Lucmayan, Nueva Valencia, 5046
Mobile: 09106243770
https://www.facebook.com/magicislandresortguimaras
Nagarao Island Resort
San Isidro Sibunag Guimaras
Landline: (6333)3202186, (6333)3290078
Telefax: (6333)3202186
Mobile: 09189080730
https://www.facebook.com/NagaraoIsland
Natago Beach Resort
Sinapsapan, Jordan, Guimaras
Mobile: 09173029906
Nature's Eye Resort
Tando Nueva Valencia Guimaras
Mobile: 09088948474
http://natureseyeresort.webs.com/
Nature's Trail Camp And Resort
Sebaste Sibunag
Neptune Pittman's Garden Resort
Buenavista-Jordan Rpad, Buenavista,
Landline: (6333)5802286
https://www.facebook.com/NPGardenResort
Pagatpat Guesthouse
East Valencia Buenavista
Mobile: 09065727080
Punta Punting Beach Resort
Sabang Sibunag
Mobile: 09198759293, 09194325694
https://www.facebook.com/pages/Punta-Punting-Beach-Resort/157288224287603
Playa De Paraiso
San Enrique San Lorenzo
Mobile: 0917-9910399 / 0919-8140095 / 0926-6750898
https://www.facebook.com/pages/Playa-De-Paraiso/496489387066400
Raymen Beach Resort
Poblacion Nueva Valencia
Landline: (6333)3960252, (6333)3960383
Mobile: 09185207271
http://raymenresort.com/
Retiro de Navalas Beach Resort & Eco-Tourism
San Miguel Buenavista
Landline: (6333)3203075, (6333)3280779
Mobile: 09162567556
Rico Beach Resort
Poblacion Nueva Valencia Guimaras
Telefax: 09184210943
Shirven Hotel
San Miguel, Jordan
Landline: (6333)2371608
Mobile: 09217205242
http://www.shirven-hotel-guimaras.com/
Sidewalkers Pension Inn
San Miguel, Jordan, Guimaras
Small Wings
San Miguel, Jordan
Mobile: 09276107515
Sto. Niño Island Resort
Sitio Cumian, San Roques Nueva Valencia Guimaras
Mobile number: 09397615480, 09152330270
http://www.santoninoresort.com/
Tequero Adventure Resort
East Valencia Buenavista
Mobile: 09179465781, 09097466165
https://www.facebook.com/pages/Tequero-Adventure-Resort/12504930099
Valle Verde Mountain Resort
Ravina Sur Sibunag
Mobile: 09187303446, 09185940958
http://valleverdemtnresort.com/
Vilches Beach Resort
San Enrique San Lorenzo
Mobile: 09276852637, 09177173203
http://vilchesresorts.com/
Villa Encarnacion
Zaldivar Buenavista
Landline: (6333)5805638
Mobile number: 09156127558
Villa Hideout Resort
San Miguel Buenavista
Mobile: 09067276818
Villa Igang Beach Resort
Poblacion Nueva Valencia
Landline: (6333)3940024
Mobile: 09177170260 / 09263753634
https://www.facebook.com/villaigangbeachresort
Zemkamps Chalet
San Miguel, Jordan
Landline: (6333) 237-1388;
Mobile: 0929208-5645
http://www.zemkampschalet.com/
How to get to Guimaras Island:
Iloilo City is the main gateway to Guimaras Island. Most airline companies have direct flights from Manila to Iloilo City. Once you're in Iloilo City, your next step is to reach the Ortiz Wharf by either taxi or jeepney. Once in Ortiz Wharf, you can take a pump boat ride heading straight to Jordan Wharf, Guimaras for only 14 pesos. The travel time is just around 15 minutes.
If you're coming from Negros Occidental like we did, depending on what part of the province you're coming from, you have three options to get to Guimaras Island.
The most inexpensive option is through Pulupandan Wharf. The cost is 75 pesos only with an estimated travel time of 45 minutes.
The second cost-effective option is the Valladolid Wharf. The estimated travel time is 2 hours and costs 150 pesos.
The third option is to take the Bacolod to Iloilo ferry. The travel time takes 1 hour and the rate depends on what ferry company you'll take.
Weesam Express' rate starts at 200 pesos, Supercat starts at 380 pesos and Oceanjet starts at 515 pesos. Please check out the links below to see their corresponding schedules.
https://www.weesam.ph/rates-promo/
http://www.supercat.com.ph/Fares/fares.asp
http://www.oceanjet.net/fare-and-schedule/bacolod-iloilo
Where to Eat on Guimaras Island:
Banzada Restaurant – Ravina, Sibunag | 09237165018
The Pitstop – San Miguel, Jordan | 09278949395
Sa Payaw – San Miguel, Jordan | 09477431286
The Grillers – San Miguel, Jordan | 09278949395
Miewa Pension House – Mclain, Buenavista Ms. Leah Nakano | 09279962223
Explorer's Tip:
Despite the fact that we reside close to Valladolid, Negros Occidental,  we decided to take the Bacolod-Iloilo route because my wife is not confident in riding small boats compared to bigger ferries–especially since it was raining a bit that season. During our trip from Iloilo to Bacolod, there was a strong storm that caused large waves that made our travel unsafe. It forced the captain to halt the ferry for a moment before proceeding again to Bacolod. This made us realize more that we made the right decision.