La Trinidad Strawberry Farm in Benguet is a common side trip by visitors of Baguio City. People come here to have a glimpse of its lush strawberry farm, have a personal experience of picking strawberries and buy varying strawberry products. Some of these products are strawberry jams, wines and ice creams. I'm not really sure if they make strawberry pies in the nearby bakeries. This place is so near in Baguio City that the travel time takes about 25-30 minutes only.
Exploring La Trinidad Strawberry Farm
The first thing we've done here was to explore the farm and pick some strawberries. Seeing our son having fun picking some strawberries is priceless. He was having a great time and he's doing it so seriously—that we can't even interrupt him. He won't even pause for a second for us to be able to get a picture of him facing us while holding the mini-basket with strawberries. If you have a kid like ours, make sure to watch out that he/she doesn't eat the strawberries in the basket before it's washed because these are sprayed with chemicals.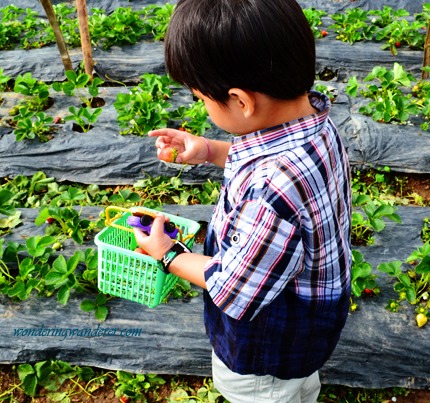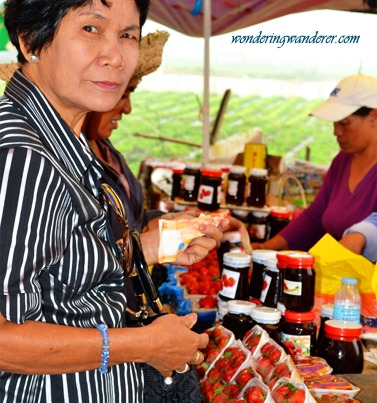 Strawberry Rate
The ironic thing is the price of the strawberries that you're picking on your own is double of what's in the market. During our visit, we were told that the price of the strawberries that we're going to pick using their small basket is P300 per kilo yet it's around P150 per kilo only in the market. Okay, so you went straight to the source and helped them pick the strawberries so you should be getting half the price instead of double, right? Well, like I said, watching our son pick some strawberries is priceless. Perhaps it's a reasonable price for something priceless. And maybe the reason most visitors are still paying for this activity despite the cost is for the experience—I guess it's part of their tourist attraction fee.
Strawberry Ice Cream
There are lots of souvenir shops and general merchandises selling low-cost items just beside the farm. My mom brought some brooms for my aunties as a homecoming gift. There was a street vendor who sold us some strawberry ice cream for only P10 per cone. In spite of the cold weather, everyone brought the ice cream. The strawberry ice cream's taste was really fantastic and with just the right sweetness. Perhaps the ingredients used to it are fresh strawberries instead of artificial flavoring, I'm not really sure. This ice cream is one thing you can't miss to try when you visit La Trinidad Strawberry Farm.
Restroom Area
You might wonder why I'm being laughed at while I'm holding the chair with a hole in the middle. My son actually cried that he needs to poop but we're in the far-middle of the farm. I told him to use the chair with the hold in the middle as a toilet since we're very far from the restroom.  My son hysterically declined and they all laughed. Since he wasn't comfortable doing that,  ran a long way to our AUV to get his chamber pot then rushed to the nearest restroom. He's not comfortable using a big toilet either so we always bring his plastic chamber pot. It's nice to bring kids during long travels but make sure to prepare for something like this.
Thick Fog of La Trinidad Strawberry Farm
Before we left, very thick fog is already blanketing the farm area. The cloud seemed so far away at first and in just a few minutes it already covered the entire farm. It's amazing to see how the farmers were able to adapt to and continue to work in a setup with zero visibility. After our vehicle left the farm, the thick cloud was still following us and is covering most of La Trinidad's establishments. Make sure to avoid late afternoons when coming here if you don't want your strawberry picking experience get spoiled by the thick fog.