The Magellan's Cross is an iconic tourist attraction in Cebu City because of its historical and cultural importance. Ferdinand Magellan erected this Christian cross on April 21, 1521, to introduce Christianity to the Philippines.
A hollow Tindale wood cross encloses the original cross the Ferdinand Magellan planted according to the engraved account below the cross.
The Augustinian Bishop Santos Gómez Marañon ordered to add the enclosure in 1835 to protect the cross from people chipping its parts for a souvenir.  Some people who chipped it believe that it has miraculous powers and may have used it like an agimat (amulet).
Exploring The Magellan's Cross
Filipino's Religious Beliefs
Prior to the introduction of Christianity in the Philippines in 1521 and Islam in the 14th century, Filipinos' faith background has traces of Animism, Buddhism and Hinduism. This is evident until now as we have stories related to diwata (originated in Hindu's devata comparable to fairies) and Anito statues. The locals believe that these represent the nature-spirits or spirits of dead ancestors for guidance and protection.  What I find interesting is the ancient belief in Bathala who is considered a Supreme and Omnipotent Creator God. This is very similar to the concept of God by Abrahamic religions.
Magellan's Cross Chapel
The Magellan's Cross is housed by a small chapel with marble walls.  Its Sistine Chapel-like painting which depicts the events related to Ferdinand Magellan's activities in Cebu looks majestic. The interior is very clean and well-maintained.
This is located at the center of Cebu City and is one of its most popular tourist attractions.  Its popularity made it an iconic symbol of travel magazines and websites to represent the Cebu province. It's even in Cebu City's official seal.
Unexpected Visitors
Upon reaching the site of the Magellan's cross,  we were surprised to see a large crowd swarming its small chapel. We got a bit concerned because it seemed impossible for anyone to get inside to see the cross. So we took a closer look and found out that it's because there they are again…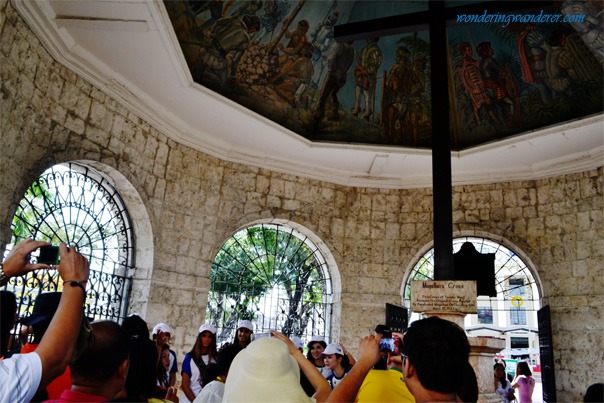 The candidates of Miss Earth 2011 went there ahead of us when they left us in Fort San Pedro (based on my previous post).  Struggling to take a picture of them from afar made me feel like a paparazzi.
They added color to the already colorful ceiling of the chapel. Upon our arrival, we saw them watching some women in uniform who are holding candles and singing prayer songs. One of them is carrying a Santo Niño (Baby Jesus statue). It was great to see a diverse group of people watching someone's expression of faith with respect.
Our Video of the Magellan's Cross