The Cebu Taoist Temple is one of the most popular attractions in Cebu City because it can take its visitors to the ancient realm of China. This temple complex is filled with classical Chinese architecture, sculptures and calligraphy.
Exploring Cebu Taoist Temple
Cebu Taoist Temple is located in Beverly Hills Subdivision, Cebu City. This was built in 1972 by Taoism adherents of Cebu's Chinese Community. This temple which is open to both worshippers and non-worshippers is a very popular tourist attraction in Cebu.
Since it's a temple, they strictly require visitors to observe silence. Taking pictures of the temple's interior is prohibited. We saw some teens reprimanded by the security guard for doing a jump shot picture even if they did it quietly. Maybe it seemed like they're quietly horsing around which the security guard found to be inappropriate.
About Taoism
Taoism played a big role in shaping China's rich culture as it existed in the early years of Chinese civilization. It was founded by Laozi (Lao Tsu) who lived around 6th Century BCE. Their main bible is the Tao Te Ching. This book contains the main foundation of Taoist philosophy written by Laozi and Zhuangzi.
Chinese Architecture and Sculptures
This colorful temple retained its ancient Chinese architectural style. Its uniqueness looks very attractive in the heart of a modern city. Built on high ground, its visitors can enjoy a nice view of the city while getting relaxed by the cool breeze blowing its terrace.
We'll find several well-sculpted guardian lions and dragons in this temple. They're believed to have mystic protective benefits. There were no real lions in China back then when these lion sculptures came out. Some studies said that the sculptors possibly based their mold on what they heard about lions from Buddhist priests and travelers who brought lion pelts from Central Asia.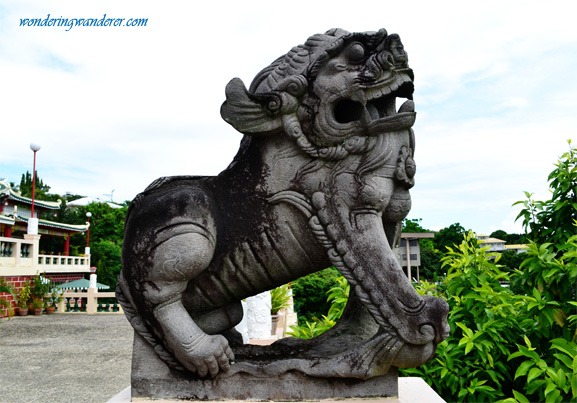 This could be the explanation of why their lion statues look very different from the real one but their fox and boar statues look right. Lion statues like these are very common in entrances of Chinese restaurants, temples, hotels even malls which always come in pairs.
Miniature Great Wall of China 
The Great Wall of China is truly a marvelous man-made wonder. This Taoist temple gives you a feel of what it's like, through its smaller replica. The original wall was built between 220–206 BC by China's first Emperor Qin Shi Huang.
A short tour in this Temple was really a time-bending experience of what it's like in Ancient China and how rich and colorful their culture is. It's really good to see that you can experience a slice of the Great Wall of China in this temple without spending much because it's close to home.
Cebu Taoist Temple Entrance Fee
In case some of you are wondering if there's an entrance fee—there's none but there are donation boxes. You may have been to temples with entrance fees in other countries but this temple definitely doesn't have one. We highly recommend visiting this place when you go on a tour in Cebu City.