Sky Experience Adventure in Cebu City is not just about walking on the edge of Crown Plaza's roof-top with a safety rope—but is about a suite of other thrilling activities and entertainment packages as well. It lets you enjoy overcoming your fear of heights in ways like riding their Tower Zip zipline, taking a stroll on their Skywalk Extreme, or by simply sitting secured in their Edge Coaster. If you want to go pro, you can challenge yourself with the more advanced Cliff Hanger which has some difficult wall-climbing angles. It's designed in a manner that lets you see a full view of the city below you and gives you a feeling of climbing a real mountain because of the strong wind blowing on top of the skyscraper.
Other Fun Activities
If you're with some senior or children with you who wants to have a different kind of fun while waiting for you to finish the activities not suited for them, Sky Experience Adventure offers other forms of entertainment like 6D movies, Backlight Mini-golf and Vivo Playroom. They can also just simply enjoy a charming view of the city in the viewing deck while having some refreshments on the Sky Bar.
It's hard for me to pass on something like this due to the fact that I've been fond of climbing since I was a kid. I can't forget the time when I climbed the edge of our roof to see who's below. I will then poke fun on the person using a fire-cracker. I'm happy that nothing bad happened to me because we have an elevated and dusty roof.  I could have slid accidentally with my head first. This Skywalk Extreme activity is the perfect time for me to recall those unsafe thrills I had as a kid and how I had chills doing so.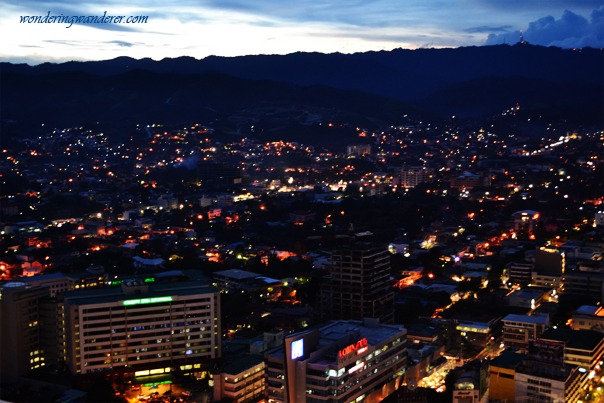 Sky Experience Adventure Thrill
Walking at the edge of the Skywalk Extreme pathway while looking down at the cars and buildings below you was really a hair-raising fun experience. Our guide even made fun by pretending he's going to slip. He did a clumsy move which placed half of his foot on the edge of the pathway. This made the women scream then laugh. It would have been more fun if he really slipped then hung on the rope like Tarzan.
Surprisingly, the Edge Coaster was more nerve-wracking than Skywalk Extreme. It's scary even if you're just sitting down to it as it circles around the roof-top. The most hair-raising part is when it tilts. The only thing you'll see when it tilts is the city below while your blood rushes in your face. The frightening part is the idea of the possibility that the metal lock will malfunction and cause you to slip. What's nice about it is that in only tilts for a short time without your control. There's a push-button on the chair that lets you put the chair back in the proper position.
After your fun activities, you can pig out on their Sky Fiestaventure Dinner Buffet which costs 1,000 pesos. The kids can take advantage of their Kid Buffet bundle with 6D movie pass for 600 pesos only.
Updated Rates and Schedules:
http://www.skyexperienceadventure.com/page/rates-and-schedules
Related Post: Cebu Taoist Temple