The People's Park in Davao City is a charming place where you can slow down, relax and give yourself a quick break from the loud and busy urban streets after a tiring day-tour. This 4-hectare tourist attraction is a perfect place to promenade and enjoy recreational activities with family and friends in the heart of the city. Its elegant lighting and decor rich surrounding make it a romantic rendezvous for lovers as well. Couples would have a wonderful time strolling here while having a fun conversation.
Exploring People's Park
It was around four-thirty in the afternoon and a Monday when we went here. We just had a tour at Samal Island. Since it's a weekday, the park wasn't crowded but has a fair amount of visitors. The first structure inside this park that caught our attention is the Durian Dome which is also very visible from outside. Its name was derived from Davao's most popular fruit which is the Durian which looks very similar to a jack fruit. This fruit has a reputation of having a taste like heaven but smells like hell. We can see that the dome has spikes similar to a Durian fruit.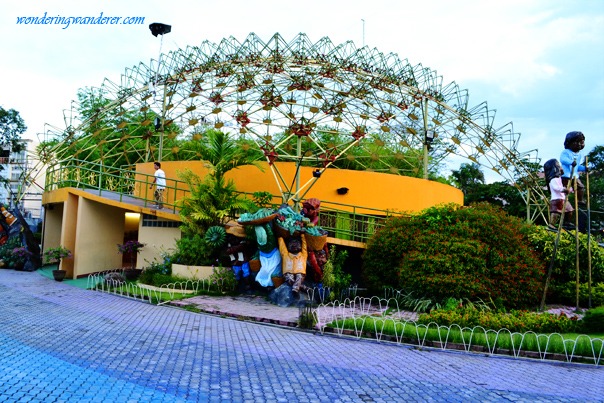 Our most favorite statue here is the Philippine Eagle statue. They must have put it there to show everyone how the Davao City government values the preservation of this bird and other wildlife as it's the home of the Philippine Eagle Foundation. The craftsmanship of the makers of this statue is really amazing. Despite its large size, we can how realistic the eagle looks like.
Lumad Representation
Most of the other statues are representing the Lumad People. Lumad is a term pertaining to Davao's varying groups of indigenous people. You'll find a lot of these statues at almost every corner of the park; most are in groups and some are alone or in pairs. They make a good symbolism of unity in diversity and a good impression to the visitors how rich in culture the Davao region has.
Mini-Forest & Koi Pond
If you want the freshest air and the coolest part of the park, you can hang out on its mini-forest which is filled with thick-leafed trees very close to each other. We checked out the park's long stretch of koi pond where we've seen large kois being fed by a visitor—listening to the splashing water while looking at the kois bumping with one another is both fun and relaxing. Other amenities we've seen here are the children's playground and a small gym.
People's Park Schedule
The park is open from 1:00pm to 10pm.
There are fountain shows every Friday, Saturday and Sunday from 7:00pm until 8:00pm.