Siquijor Island is feared by many locals because of its reputation related to paranormal occurrences and witchcraft. Years ago, I've seen a TV segment entitled "Siqui-horror!" which featured Siquijor's ghost stories, sorcery and a man who can make paper dolls dance using his mind alone.
This was shown in a popular TV program here in the Philippines called Magandang Gabi Bayan (Good Evening Citizens) as part of their Halloween special.
Watch the video below and see how the man makes two paper dolls dance… without strings?
Siquijor Island's Sorcery
I can't help but notice the part where he was about to throw the paper dolls. You'll see that he was carefully lifting them up as if those were hanging on a laundry line before throwing them.
If you backtrack a bit to the part where he's placing them on the floor, you'll notice how he was very careful in putting them down as if he's trying to hang their armpits on a string.
In magic, there's this so-called invisible thread. This thread is sliced several times to be super thin that a naked eye can't see it. Magicians use it to lift very light objects to give an impression of mind control. It seems like Siquijor has its own version of the classic trick.
University Study
I found an interesting article by John McClenon (dated 1985) which talks about his study on Siquijor's sorcery. Some of the things that caught my attention were his notes about the president of the renowned Siliman University claiming to have personally witnessed the product of sorcery and a certified physician recommending a lawyer to consult a mananambal (folk healer) for cure to his strange illness. The lawyer later discovered that he was sorcerized by a man related to one of his cases and some facts related to his case were accurately described by the mananambal.
Should these kinds of stories scare you away from this beautiful island? Here's one bigger fact to consider, as of April 2012, Siquijor still holds the title of having the lowest crime rate in Central Visayas according to the Philippine Information Agency's website.
Okay, so the sorcery and black magic stories on the island are somewhat disputed but the crime rate? I don't think so. Some say that this place is also loaded with all kinds of ghosts and evil spirits, but so far, I haven't heard of any news about someone murdered or robbed by ghosts. So I guess the low crime rate status offers a better deal.
2019 Update: Mysterious Ghost Ship of Siquijor Island
Ghost Ship Revealed
How to get to Siquijor Island
If you're coming from Metro Manila, it's best to take a plane straight to Dumaguete City then ride a ferry going to Siquijor (Ferry fare is P160.00 + P15 terminal fee) which takes 40 mins.
In our case, we were staying in La Castellana, Negros Occidental when we went there. We took a bus from La Castellana to Kabankalan City which is a two-hour commute then had our lunch first. From Kabankalan City, we took a bus going straight to Dumaguete City which took us about 6-7 hours.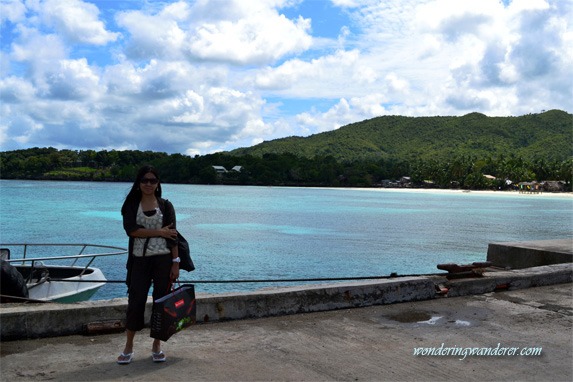 A startling beauty welcomed us the moment we stepped there. The water is very clear and the green landscape looks very relaxing. Our worn-out bodies (because of the 9-hour travel) came to life after getting a peek of this wonder.
Touring the Island
When we got to the terminal, we looked for the most cost-effective way to tour the whole island. We checked a tourist van and was offered P2,000.00.  Since it's just me and my wife and we don't really need air-conditioned transportation—we decided to take the offer of the friendly tricycle driver "Tata" who agreed to tour us in the whole island for P900.00.
He immediately handed us a tourist map showcasing the best spots on the island. So if you want someone to pick you up in the terminal right away to head straight in your resort room without hassle,  you can contact Tata using his mobile number: 09351927565 to set up an appointment with him.
Enchanted Balete Tree
Before Tata took us to our resort room, we stopped by the famous Enchanted Balete Tree. According to folklore, a kapre (giant bearded tree demon smoking big tobacco) resides in trees like this.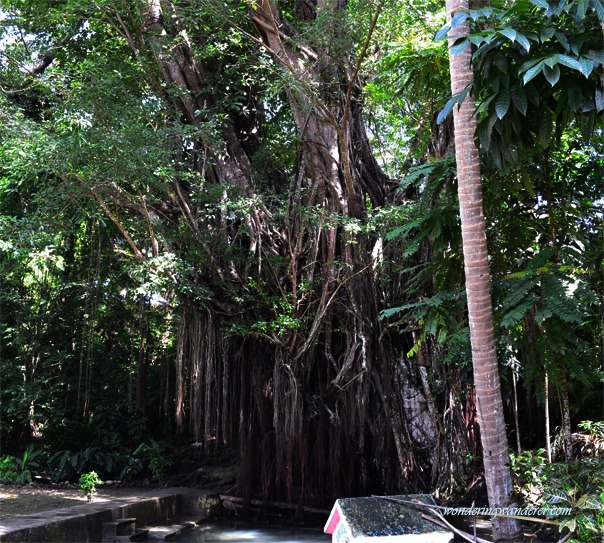 He told us that the water in front of it is mostly used by local residents to wash their clothes. This sounds like a perfect place to drop by before leaving the island with bags full of dirty clothes. *smile*
This is just an introduction to our "Siquijor Wanderings" series, we hope that you'll check the rest of the posts for this series to discover Siquijor's true beauty.