The Tarsier Conservation Area is a sanctuary in Loboc, Bohol where you can have a close encounter with the tarsiers and learn more about their nature. This endangered creature is one of the iconic symbols of Bohol. The province has several tarsier sanctuaries to ensure their preservation.
The Philippine Tarsier is considered as one of the smallest primates in the world. Unfortunately, it already belongs to The World's 25 Most Endangered Primates. The main reasons are its vulnerability and the absence of law protecting it from hunters in the past.
Exploring the Tarsier Conservation Area
The moment we entered the sanctuary, we were guided to the briefing area.  The short briefing is about the sanctuary's policies and guidelines on how to properly interact with the tarsiers. What we learned here is that the tarsier is a nocturnal type of animal which feeds on insects, lizards and small birds.
When you tour this sanctuary, you need to strictly observe silence to avoid interrupting their sleep. Turn off your camera flash and keep the right distance to avoid any chances of touching them by accident.
Nature and Diet
This creature is so delicate to the point that it will commit suicide when it gets too much stress. You can't place it inside a cage because it will continuously bump its head to the metal bars until it dies.  These tiny critters may look sluggish and weak during the day but they are like Master Yoda at night. They can do very large hops (forty times their size) to catch the insects and are very swift to evade predators.
Our close encounter with these creatures was a great learning experience. They're undeniably cute and cuddly as if they were Puss in Boots doing his eye technique. These adorable animals look so behave and harmless—you'd wish that you can have one as a pet.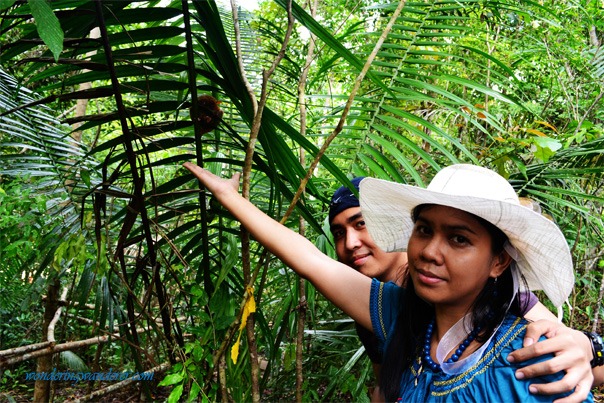 Tarsier Protection Law
The proclamation 1030 on June 23, 1997 states that "the possession of the Philippine tarsier is only allowed for educational, scientific, conservation-centered research purposes upon certification of the Department of Environment and Natural Resources (DENR) Secretary." In short, you can't have a tarsier as a pet.
The sanctuary also gives you the opportunity to empathize with them further—by giving you a feel of what it's like to be a tarsier. My beloved wife and I had a fun time posing like tarsiers in their tarsier shaped mold. They have a creative use for dried coconuts.
If you're planning to visit Bohol, we highly recommend visiting the Tarsier Conservation Area in Loboc. It's a great privilege to see them up close and personal. This rare creature is something that you won't practically see anywhere else in the country. A trip in this tarsier sanctuary won't just help you realize the importance of tarsiers, but of all the animals as well.
Tarsier Conservation Area Entrance Fee
Regular: P60.00
Student: P50.00