Tibiao is an adventurous spot in Antique. With its wild river, waterfalls and mountainous landscape comes exciting activities like white water rafting, rope climbing, swimming, cliff diving and even cooking yourself. Visitors of the famous Boracay can have a quick side-trip in this fascinating place to enjoy a different kind of thrill. The travel time from Boracay is just almost 2 hours.
Tibiao is a fourth class municipality in the province of Antique, Panay Island in Western Visayas (Region VI) of the Philippines. After a week-long seminar in Boracay, we were looking for an off the beaten path for a side trip. This is when we found out about the overlooked charm of Antique.
Activities & Attractions in Tibiao, Antique
River Rafting
You don't need to visit CDO to experience white water rafting. During rainy seasons, the Tibiao river comes to life! We only paid P250.00 each for our 20-minute kayaking. You may notice that the waters are gentler in our pictures compared to typical rafting photos. It's because they were taken in the month of April. I guess we find them wild enough for beginners like us.
Despite the gentler river flow, we found the experience a bit scary considering the size of the solid rocks where we could get hit. It's hard to imagine doing this on a typhoon season. We can't help but scream on the rapid part where we're slightly falling down.
The guides were following us all the time to ensure our safety. Compared to typical circus rides, the kind of experience that we enjoyed in this nature adventure is on a different level. Kudos to our guides who were able to capture our experience blow-by-blow.
The Famous Tibiao Kawa Bath

Do you want to have a taste of yourself? The locals of Tibiao would happily help satisfy your curiosity by letting you cook yourself. They came up with a unique concept of pampering their visitors through their Kawa Hot Bath.
Making yourself appear like a captive of cannibals is quite a fun way to relax. Who could resist getting an Instagrammable photo for this hot bath service? Perhaps they called it Kawa Bath because it would make you look kawawa.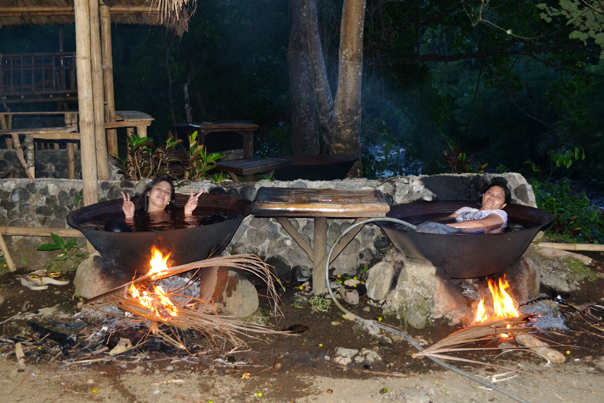 The Kawa Bath has evolved from a simple bath with floating herbs to several fancier selections. Please check out their updated rates below.
Tibiao Kawa Bath Options & Rates:
a. Kawa Salt Bath (299+/person/30min)
b. Kawa Calawag Bath (399+/person/30min)
c. Kawa Coffee Bath (399+/person/30min)
d. Kawa Milk Bath (399+/person/30min)
e. Kawa Beer Bath (399+/person/30min)
f. Kawa Wine Bath (599+/person/30min)
Tibiao Fish Spa
After getting yourself cooked, you can now let yourself get eaten by the fishes. Tibiao's another brilliant way of rejuvenating their guests is through their fish spa. You can simply sit down and relax while the cute and tiny fishes are giving your feet some baby bites. These are quite tickling but soothing at the same time.
The spa's surrounding is very cozy as well. The roof made out of nipa and the bamboo walls make the spa look more relaxing. Sitting on a banig (native mat) with the smell of fresh air coming from its garden is a bliss. Everything here is a perfect picture of a simple but wonderful provincial lifestyle.
The rate is P120.00/person/30min with a free foot massage.
Hanging Bridge
This is just a short walk from our home away from home, the Kayak Inn. Hanging bridges like these always uplift my adventurous spirit. There are several action movie scenes that are set on hanging bridges considering how frail they are. They're also challenging to pass by on a quick phase because of how wild they sway.
We noticed that it's actually rocking harder the more you're closer to the center. Our guide has done a great job taking our photos in different angles. Passing by on a hanging bridge like this is a great way to kick start another adventure that's waiting for us.
Trek to Bugtong Bato Falls

Bugtong Bato falls is one of the seventeen waterfalls of Tibiao. It is directly connected to the Tibiao River, a white water rafting haven during the rainy months. It is about 30 to 45 minutes walk from the Kayak Inn.
We started climbing up to reach the falls using the wooden stairs that the locals installed. The section where you need to climb up further using a rope only was the nerve-wracking part. You can see in our picture how high we went up for this thrill. It's hard to picture out what would happen if one of us slipped the wrong way. After the climb, we were able to have a quick dip in its refreshing waters.
After climbing up the Bugtong Bato Falls, we continued our nature exploration. Along the way, we saw some rice paddies, scarecrows, cows and carabaos. Our trek gave us a pleasant experience of the simple life in the province.
Side Trip Recommendation
It is also possible to have a side trip at Malumpati Cold Spring in Pandan which is very near Malay, Aklan as well as Malalison Island in Culasi town. You can also visit the province's capital, San Jose and the town of Anini-y for Siraan Hot Springs and Nogas Island. Iloilo City is just 2.5 hours away by bus from San Jose.
How to Get There
We left Boracay at around 9:00 a.m. then took a tricycle for P50.00 special rate. The outrigger boat going to Caticlan is P25.00 and the terminal fee was P100.00. Yes, you have to pay the terminal per way. The first boat leaves Boracay early in the morning at 5:00 am and the last trip from Caticlan to Boracay is around 10:00 pm. The ferry crossing of Tabon Strait from "Caticlan Jetty Port" to "Cagban Jetty Port" in Boracay takes about 10 minutes.
I saw Boracay's newest fast craft named MV Oyster Ferry. Please check out their schedule below and you can also visit their website for more information.
Regular Trip Schedules

Caticlan to Cagban | Cagban to Caticlan
Departure Departure
6:00am 6:40am
7:20am 8:00am
8:40am 9:20am
10:00am 10:40am
11:20am 12:00nn
12:40nn 1:20pm
2:00pm 2:40pm
3:20pm 4:00pm
4:40pm 5:20pm
6:00pm 6:40pm
*6 pm to 6 am Charters Only
Reference: www.oysterferry.com
In Caticlan, you can just walk to the Bus Station from the Jetty Terminal. There are several restaurants to choose from if you want to have a quick meal. Look for the Ceres bus going to San Jose, the capital of Antique and it will pass by Tibiao. The fare is less than P100.00 only for the two-hour trip.
Those who are coming from Iloilo City may take the V-hire or Ceres bus passing Culasi. The travel time is about three hours. From Molo terminal (Iloilo), ride a van (Php 200/person) going to Culasi and just tell the driver to drop you to Tibiao—specifically the Kawa in Brgy. Importante. You can also mention the name Kayak Inn or Calawag Mountain Resort. Then ride a habal-habal or motorcycle (Php 50/person) going to any of these resorts as they are just beside each other.
Inns & Hotels in Tibiao, Antique
Kayak Inn
Address: Brgy. Tuno, Tibiao, Antique
Mobile: 09093602165/0998 579 7412
Facebook Page: https://www.facebook.com/kayakinn/
We stayed at the Kayak Inn in Brgy. Tibiao, which is another thirty to forty-five minutes habal-habal ride from our drop off point in Brgy. Importante. This is situated just along the highway. We had some difficulty catching any network signal in there, so make sure to take note of that.
At that time, we paid P500.00 for an overnight stay for two at the Kayak Inn. Kayak Inn is in Brgy. Tuno, Tibiao, Antique. It is just beside a new resort, Calawag Mountain Resort. They offer plated meal options for breakfast, lunch and dinner for P100.00. Selections include grilled chicken, pork or fish that are served with rice.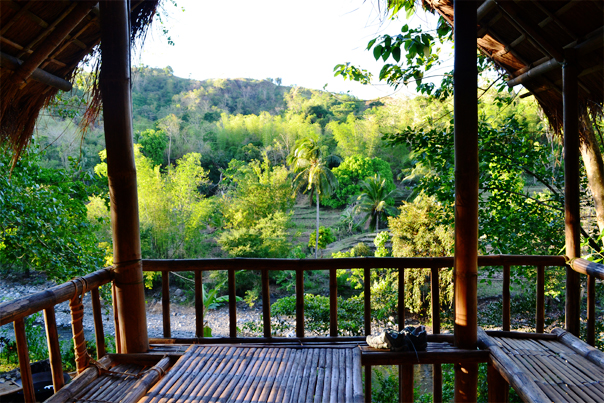 Kawa Bath Rates:
a. Kawa Herbs (250/person/30min)
b. Kawa w/ Salt (300/person/30min)
c. Kawa w/ Milk (350/person/30min)
Guests may stay overnight in their bahay-kubo at Php300 per person per night. You may also ask one of their staff to buy some "emergency" stuff from the Poblacion at a minimal service charge.
Calawag Mountain Resort
Owner: Flord Calawag
Address: Brgy. Tuno, Tibiao, Antique
Mobile: 09174503121/09475316518
This resort is just beside Kayak Inn, meaning, you will get almost the same ambiance and scenery. They offer plated breakfast for Php 179.00 for a choice of Hotdog, Corned beef, Tocino ,A choice of scrambled egg, sunny side up, A choice of coffee, juice served with Rice, Dried fish, Vegetables, Fruit. Guest may also try their "boodle" for lunch and dinner Php 749.00 (2 pax) Php 1749.00 (5 pax). Selections include chicken adobo, grilled fish or pork Chicken papisik served with vegetables, pancit, rice, food, drinks.
Kawa Bath Rates:
a. Kawa Salt Bath (299+/person/30min)
b. Kawa Calawag Bath (399+/person/30min)
c. Kawa Coffee Bath (399+/person/30min)
d. Kawa Milk Bath (399+/person/30min)
e. Kawa Beer Bath (399+/person/30min)
f. Kawa Wine Bath (599+/person/30min)
I like that this resort offers several types of guest accommodation.
Treehouse (499+/person/night)
Bahay-kubo (999+/room/night)
Family rooms (399+/room/night)
They also offer other activities like water kayaking, water rafting, water tubing, trekking, body massage and tour. Before, guests have to go to the town proper to try the fish spa. It is great that now, they also offer Tibiao Fish Spa for P120.00/person/30min with a free foot massage.
Kasa Raya Travelers Inn & Cafe  
Address: KM 172, Iloilo-Antique Road, Tibiao, Antique
Mobile: 0917 524 7875
Facebook Page: https://www.facebook.com/kasarayainn/

Blue Wave Tourist Inn
Address: Brgy. Tuno, Tibiao, Antique
Mobile: 0927 917 0005 / 0908 429 2043
Facebook Page: https://www.facebook.com/osog23
Kawa Inn Tibiao
Address: Purok 12, Brgy Malabor, Tibiao, Antique
Mobile: 0917 450 3121
Facebook Page: https://www.facebook.com/Kawa-Inn-1683252068574261/
Come visit the hidden gem of Antique. Enjoy a thrilling escapade in Tibiao!