Boracay is Aklan's most celebrated island! Flocked by tourists all year round, it has a record high of 1.7 million tourists in 2016 which is 250,000 more than the previous year. I'm sure that more are coming because the visitors can't help but share their wonderful experience in Boracay's powdery white sand beaches, scenic views, romantic sunset coral reefs and more. During night times, this island transforms into a party paradise because of the great number of restaurants and bars that have sprung up to it. These establishments try to add more life to the party by providing entertainment like live bands and fire dance shows. There's definitely a good reason why Boracay topped the ranking of the international magazine Condé Nast Traveler as the World's Best Island of 2016.
Exploring Boracay
Boracay is the first white sand beach that I've visited that's why my experience here is really remarkable. The memory of my excitement when I was about to land in this amazing site will always be fresh. My wife and I were really amazed about how the water is crystal clear and how the fishes were visible from the boat when we reached its shore. Our late afternoon walk was a real delight because we unexpectedly got ourselves caught by the captivating beauty of Boracay's sunset. That was the start of our wonderful journey around this bliss and we can't help but explore further to discover more of its beauty.
Point of Reference
Our experience here as a couple was so unforgettable that the phrase "compared to Boracay" became our favorite line, later on, is whenever we visit other beaches in the Philippines and abroad. It became our standard when trying to estimate how good the quality of a beach is–especially the sand. For me, I can say that Boracay's sand is still number one in my list after visiting some of the most popular white-sand beaches in the Philippines, Bali and Phuket while El Nido in Palawan comes in a close second.
My most memorable moment of it all is the time when I just sat quietly with my wife while enjoying the fascinating view of the horizon's clear blue sky and azure waters as the gentle waves make a relaxing sound. That moment made me reflect on life and it also helped me muster more energy to face the upcoming challenges and stress of my busy city life. It was truly a wonderful experience that made me ponder about how great God's creation is and how grateful I am to have been given the privilege to enjoy it.
Boracay Map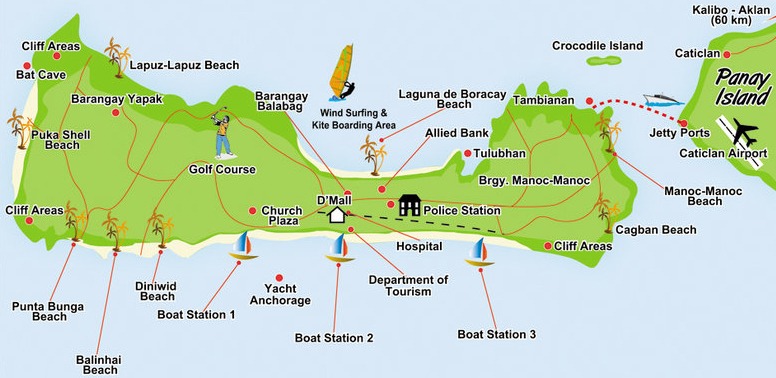 10 Cheap Beach Front Resorts in Boracay
La Isla Bonita Resort
Address: White Beach Front, Boat Station 3, Barangay Manoc-Manoc, Malay, Aklan, Philippines
Phone/Fax: +63 (036) 288 35 01
Mobile: +63 0918 962 6098, +63 0999 812 9950
E-mail: laislabonitaboracay@yahoo.com
Cheapest room: 1,400.00
http://www.boracayislabonita.com/documents/rates.html
Alla Luna Rossa Resort
Address: Station 2 Beachfront, Malay, Aklan, 5608, Philippines
Phone: (036) 288 4441, 501-7408
Mobile: Smart: 0908-417-3066 / 0999-910-9224 |Globe: 0977-889-9133 / 0927-614-1895
Cheapest room: 1,127.88 (seasonal)
http://www.allalunarossaboracay.com/
Victory Diver's Resort
Address: White Beach Station 2, Malay Aklan 5608
Phone / Fax: +63 36 288 6056
E-mail: infovictorydivers@gmail.com
Cheapest room: 1,606.00
http://www.victorydivers.com/
Taj Resort & Spa
Address: Station 2, Frontbeach, Balabag, Malay, Aklan, Philippines
Phone: (036) 288 4628
Fax: 036 2885695
Mobile: 09989832677 / 09176372030
E-mail: tajboracay@gmail.com
Cheapest room: 1,410.00
http://tajboracay.com/
Hostel Avenue Boracay
Address: 3rd and 4th-floor Pats Creek Bar Barangay Balabag, Station 2, Malay, 5608 Aklan
Mobile: 0917 323 5423
E-mail: hostelavenueboracay@gmail.com
Cheapest room (dormitory style): 399.00
https://www.facebook.com/hostelavenueboracay/
ZEN Rooms Station 2 D'Talipapa
Address: Balabag, Station 2, Boracay Island, Boracay 5806, Philippines
Mobile: +62 877 8080 3550
E-mail: care@zenrooms.com
Cheapest room: PHP 1,589.00
https://www.zenrooms.com/
Sundown Beach Resort
Address: Sitio Angol, Brgy Manoc Manoc, Philippines
Mobile: +63 36 288 3406
Email: peter_packy@yahoo.com
Cheapest room: 1,246.00
http://www.sundownresortboracay.com
Tree House Beach Resort
Address: Station 3, White Beach, Malay 5608, Angol Road, Malay, Aklan
Phone: (036)2883601
Mobile: 09088100738
Cheapest room: 1,692.00
https://www.facebook.com/tree-house-boracay-226714360989/
Boracay Huts
Address: Ambulong Stn 3, White Beach Path, Malay, Aklan
Mobile: 0917 635 8209
Cheapest room: 2,500.00
http://www.boracayhuts.com/
Casa Pilar Beach Resort
Address: Boat Station 3, Manoc-Manoc, Malay, Aklan, 5608, Philippines
Phone Number: +63-36-2883202
Email: casa_pilar@yahoo.com
Cheapest room: PHP 1,000.00
http://www.casapilarboracay.com/

Getting to Boracay:
Caticlan is the gateway to Boracay.
From Caticlan's Jetty port, you can take a fast craft or motorboat going to Boracay with the following fees below:
Terminal Fee: 100
Environmental Fee: 75
Fastcraft Fee: 50
Banca Fee: 25
Travel time: 20-25 minutes
Regular Trip Schedule Caticlan to Boracay / Boracay to Caticlan
Departure Times
6:00am 6:40am 7:20am 8:00am 8:40am 9:20am 10:00am 10:40am 11:20am 12:00nn 12:40nn 1:20pm 2:00pm 2:40pm 3:20pm 4:00pm
4:40pm 5:20pm 6:00pm 6:40pm 7:20pm 8:00pm
Note: there are boats available early at 4 am up to 10 pm
Other times will require you to rent a boat for 2,000.00. This can be shared with other passengers.
How to get to Caticlan:

By Bus (Roll-On/Roll-Off):
Philtranco Bus Company offers a bus trip from Metro Manila to Caticlan.
Rates:
Pasay to Caticlan = 573.55
Cubao to Caticlan = 586.75
https://www.philtranco.net/reservation/
By Sea:

2GO
Overnight Ferry schedule
Batangas Pier to Caticlan Jetty Port = 9:00PM – 6:00AM
Caticlan Jetty Port to Batangas Pier = 8:00AM – 6:00PM
Fare (per way): 715.71 + 212.40 tax = 1,014.00
Manila to Batangas Buses:
Cubao to Batangas Pier = 175.00
LRT to Batangas Pier = 157.00
https://www.jam.com.ph/fares-and-schedules/
By Air:
Cebu Pacific
Air Asia
Philippine Airlines
SEAIR
The good news is that major airline companies have flights straight to Caticlan now.
In the past, only small airplanes from SEAIR and Asian Spirit (which became Zest Air then was acquired by Air Asia) have flights here.