Wat Preah Ngok is a small shrine that is sitting in the middle of the woods within the Angkor Thom complex. The shrine's architecture is modest but elegant. The peculiar design of this shrine reflects a creative craftsmanship that is uniquely Cambodian. It's one of the many religious quarters in Cambodia that strongly indicates the thriving Buddhism influence in their culture.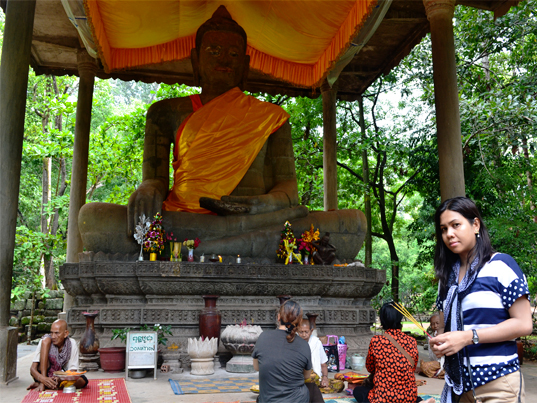 We came across this shrine after exploring the Bayon Temple. Wat Preah Ngok may be small in size but its Buddha statue is big. Unlike most of the Buddha statues that we've seen, this particular statue has its eyes open. The statue also has eyeballs that are uniquely black and visible. It is sitting in a well-decorated platform that's filled with artistic patterns.
Wat Preah Ngok Prayer for Visitors
The monks were just sitting quietly when we arrived there but they seem to be expecting some visitors. A monk came to us later and offered to pray for us for blessings. Juliet agreed to be prayed upon by the monk. A thread was tied around her wrist as the monk prays for her. Later on, the monk gave an incense to Juliet and guided her to put those on the large tray at the altar. We weren't charged for the prayer but we gave a small amount in their donation box.
Some locals came in later to pray and meditate. We had to be very quiet while taking pictures to avoid interrupting their prayers. Everyone had to remove their shoes before they can step inside the small shrine as a sign of respect. Observing them made me realize for the first time females are allowed to be monks. It made me wonder at first because I haven't seen one in any movies with Buddhist monks that I've watched.
The Shrine's Tidiness
There were baskets and plastic bags near the altar but this shrine is definitely clean. I really can't tell if all of the items in front of the temple are just the personal belongings of the monks or if some of them are gifts. The giant robe of the large Buddha statue and the curtains above are shiny clean as well. The regular washing of these giant fabrics and putting them up high under the shrine's ceiling must be a real challenge.
Our short and sweet visit here is a nice cultural experience with the locals. Interacting with them with courtesy and respect as they warmly welcome you and pray a lot of good things for you is simply wonderful.